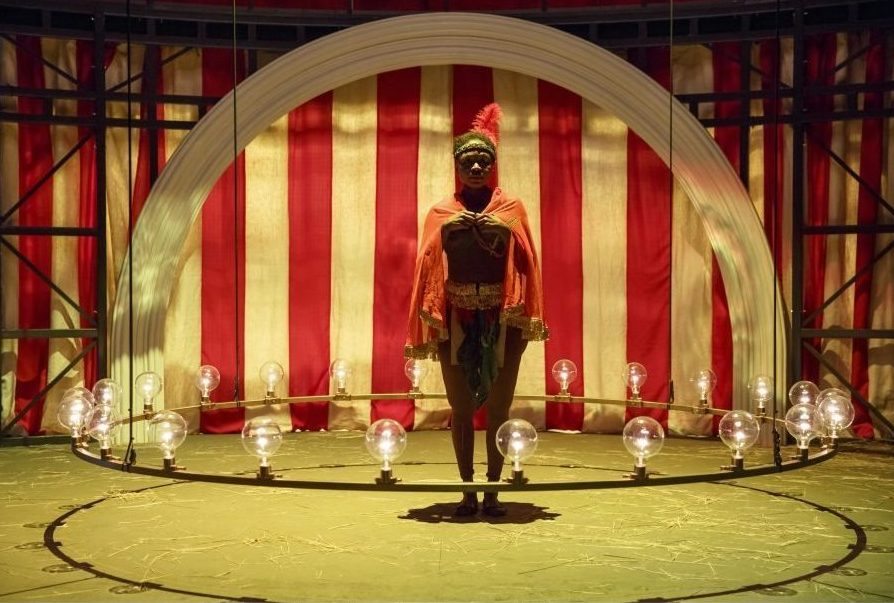 Women's bodies have been put on display and fetishized throughout history. In the thought-provoking Venus, now playing at the Signature Theatre, playwright Suzan-Lori Parks explores the mania that a particular female body type engenders. Venus tells the true story of Saartjie Baartman, also known as The Venus Hottentot, a Southern African woman brought to England in the early 1800s to be exhibited in a freak show. Proven immensely popular due to her large buttocks, The Venus is put before crowds who alternately love and despise her, and is basically treated like an object, a freak and an animal.
The wonderful Zainab Jah plays Baartman/The Venus Hottentot wearing an evocative bodysuit that gives her accentuated breasts and butt. Jah gives a spectacularly humanistic portrayal of a woman who is passed from man to woman to man as an object of spectacle, desire, and, ultimately, science. The routine study of her body by her lover, the Baron Docteur (John Ellison Conlee), eventually leads to the deconstruction of that body.
Directed in a highly stylized manner by Lear deBessonet, the play is performed almost entirely like a sideshow, with the Negro Resurrectionist (Kevin Mambo) serving as ringmaster and the ensemble playing The Chorus and the band of freaks (Birgit Huppuch, Adam Green, Tony Torn, Julian Rozzell, Patrena Murray, Hannah Cabell, Reynaldo Pacella). The sideshow is run by The Mother-Showman (Randy Danson), a salty woman desperate for money. She sees The Venus as a show-stopping money-maker but also reveals a bit of a soft spot for the girl.
Adding to the heightened style of Venus are the anachronistically neon colored costumes, wigs and makeup (Emilio Sosa and J. Jared Janas) that The Chorus wears. Although these colors would never be seen in England in the 1800s, they are cleverly made after the fashion of that era. The set (Matt Saunders) is a red velvet curtained amphitheatre in which the sordid events of the play unfold. This is the where the boundaries of the sideshow and the play blur.
Parks has a mastery of language, her lines bursting with poetry. Venus has a dark and difficult subject matter that Parks treats with utmost humanity, and the beauty of the language does much to counterbalance the brutality of The Venus' life. There is much to invoke disgust at the way she is treated, exoticized and subjected to the destructive male gaze. Her life does seem to be steered by one person after another trying to take advantage of her, but she manages to regain agency by acknowledging her power as a woman and taking the horse by the reins from time to time. By striving to better her position and loving herself just the way she is, she is able to transcend her subjugation and become empowered.