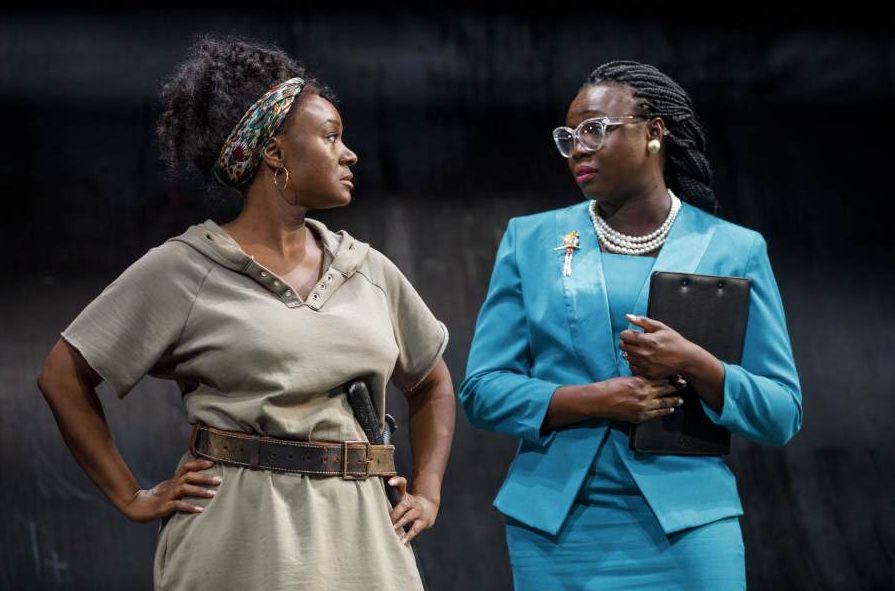 A chorus stands in judgement of Hester, La Negrita, the protagonist of Suzan-Lori Parks' In the Blood, directed by Sarah Benson and loosely based on Nathaniel Hawthorne's The Scarlet Letter (playing, along with its sister play, Fucking A, at the Signature Theatre). Saddled with five children from five different fathers, Hester (the wonderful Saycon Sengbloh) is living in dirt poor conditions, reliant on a broken welfare system and a friend's shady business transactions to keep her and her children alive. The chorus sputters and shames, complaining that they/the government shouldn't have to pay for someone like Hester, a woman with no husband, no skills, and not a penny to her name. They may as well fashion her a red letter A.
When it's apparent that Hester can barely feed her children, let alone herself, she starts looking for her deadbeat baby daddies to see if they will pony up. Hester's first love, Chilli (Michael Braun), with whom she had her first-born, Jabber (also Braun), has been seen around town by her double-dealing friend and sometimes lover, Amiga Gringa (Ana Reeder). There's also the soapbox preaching Reverend D. (Russell G. Jones), father to her youngest, Baby (also Jones), and the unscrupulous road-side Doctor (Frank Wood), father to Trouble (also Wood). None can save her, not even the corrupt welfare caseworker (Jocelyn Bioh), who has played her own part in keeping Hester under water.
Hester is a pitiful character yet her spirit prevails; she's always looking for that moment when she can "get a leg up." The laying on of shame doesn't faze her at all; her five bastards are her "treasures" and no one can tell her otherwise. She is a woman who applies her sexuality freely but doesn't apologize for it. Sengbloh's performance is pure American realism. Her Hester is as authentic a person as the homeless woman living on the street and Sengbloh pays homage to that, warts and all. Perhaps the largest diversion from the source material is that this Hester is not presented as nobly as Hawthorne's. She is not always a good person, but she's true to herself.
What's perhaps most uncomfortable and also admirable about In the Blood is that you're presented with a protagonist who society tells you not to sympathize with. She's a drain on society, she's stupid, worthless, careless with her body and the lives of innocent children. And perhaps this thought runs through your head throughout the performance. However, the theatrical space gives you permission to think these thoughts while simultaneously presenting a parallel narrative, one that challenges notions of how society "should" be run and who should benefit. In the Blood is not just a challenge to the expectations placed on women and especially mothers, it's also a challenge to a social order that keeps poor people poor and continuing to struggle against impossible odds.