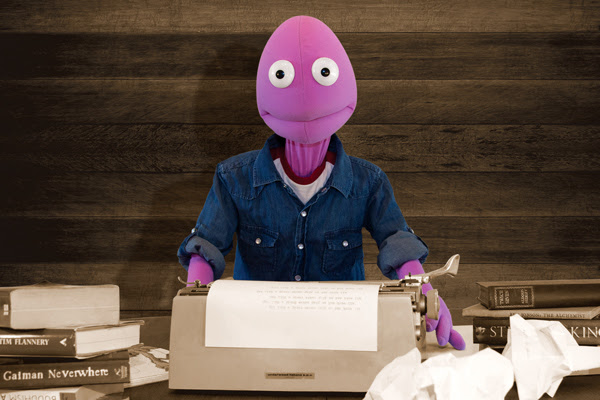 It's time to face your fears and have a good laugh at them because Randy, a purple Australian puppet, is at the Clurman Theatre on Theatre Row to share his own fears in his one-man show, Randy Writes A Novel. With a countenance and potty mouth straight from Avenue Q, Randy spins a good yarn while endearing himself to his audience, no matter how willing they are to participate. Standing behind his desk, complete with typewriter, surrounded by piles of books, Randy attempts to read from the newly finished draft of his novel, "Walking to Skye."
While ostensibly a comedy show -- Randy does everything from crowd work to telling jokes about flying to breathlessly spouting off Ernest Hemingway's entire biography in five minutes -- it turns out Randy Writes A Novel is actually about the existential dilemma of figuring out what your legacy will be after you die. In other words, great fodder for comedy! It turns out the subject of his very show is Randy's greatest fear -- the prospect of reading his novel aloud freaks him out. The fear of rejection, the criticism, the negation of years of hard work is almost too much for him to bear. So while bracing himself to read from his novel, Randy distracts himself and the audience with hilarious stories, such as a crazy Craigslist interaction featuring a distraught bookshelf-seller.
The creator of Randy does a great job of blurring the line between man and puppet. The audience never sees the puppeteer, presumably also called Randy, even while the puppet Randy's movements are so specific and human-like. There are no credits for the creation of the show other than Randy, so one can only assume that Randy the puppet flew from Australia, hopped in a taxi at JFK, and got himself to the theatre for his show. It's a wonderful blend of performance art, comedy, and weird.
Randy Writes A Novel is great if you want to see a felt creation be vulnerable while facing down his fears. You may even chuckle once or twice.