Review: Karen Jones Meadows is Electric as Harriet Tubman, Age 6 to 90, in 'Harriet's Return'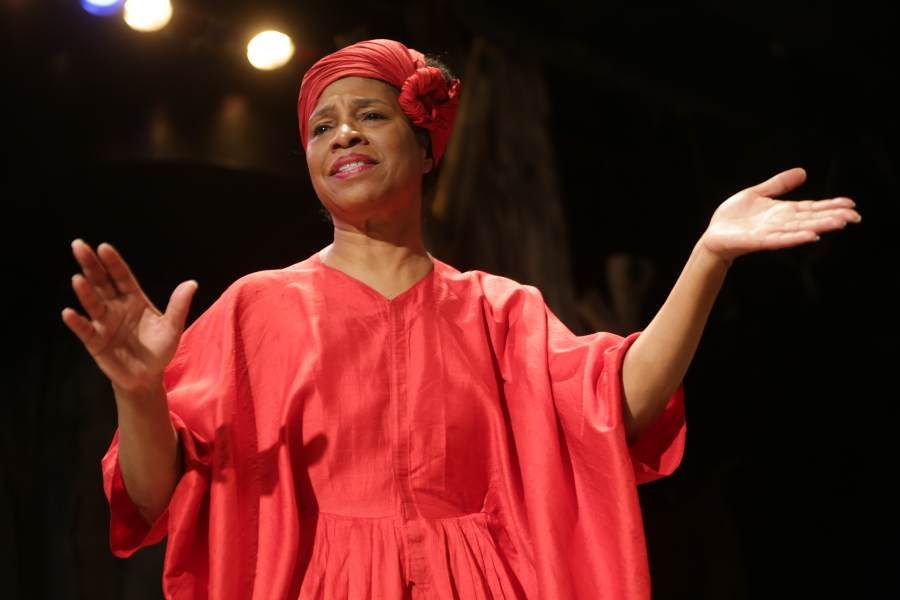 I have mixed feelings about solo shows, so I wasn't sure what to expect from Karen Jones Meadows' one woman show Harriet's Return (written and performed by Meadows under the direction of Clinton Turner Davis). But once the show got going, I just found myself wishing it would never end. Playing Harriet Tubman from age six to ninety (and other characters), Meadows' performance surges with power, catching the passionate, fighting spirit of Harriet herself. It's a power that transcends time and place and finally passes from Harriet to the audience.
Astutely written as well as performed, Harriet's Return traces Harriet Tubman's life from willful slave girl to Civil War spy and women's rights activist. It covers her early marriage, her escape from slavery in Maryland, her many rescue missions via the Underground Railroad, her meeting with abolitionist John Brown, and even the retirement home she founded later in life.
But this is much more than just a history lesson. With each episode, Meadows' Harriet emerges more clearly as a deeply human hero. She loves others to her own detriment. She tries to ignore, then understand, and finally follow the voices in her head. She aches to be a wife and mother. She learns to be fearless. She gives others a home, only to lack one herself. She's illiterate, but she has a primal wisdom. In many ways, she's a Joan of Arc figure: acting on the voices in her head, leading her people to freedom, but at a personal cost. It's no wonder many people took to calling her "Moses."
Presented through a combination of Woodie King, Jr.'s New Federal Theatre and Castillo Theatre (the latter is also the venue), Harriet's Return may be a "solo show," but it's clear that other people than Meadows and Davis were involved in production. Take, for instance, the varied costumes by Ali Turns, which signal changes in Harriet's age or position, and keep the action feeling fresh and lively. Or take Chris Cumberbatch's set, reminiscent of a primeval forest - which illuminates Harriet's struggle to emerge from the darkness of prejudice and oppression, but also recalls Harriet's vague, shadowy sense of her heritage.
Meadows' performance is electric. There were times when the audience around me couldn't keep from cheering out and applauding, such as when Harriet steps up to the porch of the Quaker woman who will set her on the road to freedom, or when Harriet realizes that running away to the North will be both the hardest and the best thing she'll ever do. I found the end of the play most moving, when Harriet speaks at the first meeting of the National Association of Colored Women and realizes that, without having children of her own, she's become a mother to thousands.
That may include the people who have just lived with her through 90 or so years via Meadows' performance. At the end of the piece, Harriet/Meadows turns the lights onto us - inviting the audience to keep fighting the good fight. "We the ones," she says: we're the ones who have and are going to change the world.
Meadows' rare gift for storytelling includes the ability to project the power of the story onto her audience - imbuing us with the strength and energy of her heroine. Somehow, somewhere along the way, we have all become Harriet without realizing it. It fits with the play's first scene, which jarred me at first but which now I understand. Harriet's Return means more than just the return of Harriet's story onstage. It means a collective return to the clear sight and fearlessness of "Mother Harriet."