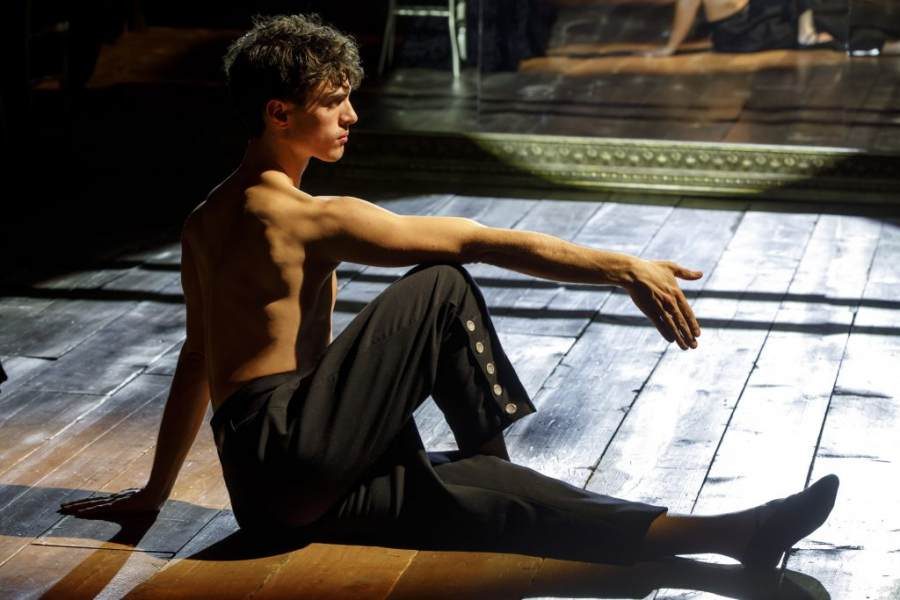 Passion and art take center stage in Terrence McNally's new play, Fire and Air. Directed by John Doyle and playing at Classic Stage Company, Fire and Air looks at two geniuses in the Paris ballet scene during the early 20th century.
The play tells the story of the famed Ballets Russes and its visionary Russian founder, Sergei Diaghilev (Douglas Hodge). Diaghilev has a unique vision for his company, which incorporates music from some of the greatest composers of the day -- Debussy, Satie, Stravinsky, Prokofiev -- and visual art and costumes from the likes of Picasso, Dalí, Matisse and Coco Chanel. Diaghilev is passionate, talented, and hopelessly in love with one of his best and most famous dancers, Vaslav Nijinsky (James Cusati-Moyer).
Nijinsky is a reluctant lover but recognizes that his career hangs in the balance. In particular, Diaghilev gives Nijinsky vast creative control to choreograph his own ballets, including the controversial L'Après-midi d'un faune. But, as Nijinsky continues to waffle and toy with Diaghilev's emotions, Diaghilev's long-time friends Dima (John Glover) and Misia (Marin Mazzie) and housekeeper Dunya (Marsha Mason) are forced to step in to help him keep his passions at bay. Will he be able to move on from the beautiful, young dancer? Will his dreams for the Ballets Russes ever fully be realized? Will he simply fall into the arms of the next fresh-faced talent, Leonide Massine (Jay Armstrong Johnson)?
McNally writes reverently about the art form without showing much dancing at all on stage. Fire and Air is more about the creative process and what happens when one has to sacrifice and suffer for one's art. The sparse set design (Doyle) is mostly chairs and semi-blurry mirrors which, along with some beautiful lighting design by Jane Cox, make it feel like you're in an open ballet studio. In fact, even when the actors are backstage, they're visible, making the theatre feel like one large workshop for a dance piece.
The torment one can feel for unrequited love is universal and Fire and Air mirrors it quite admirably. Particularly, Hodge's remarkably anguished performance allows the audience to feel the weight of the emotions Diaghilev must have felt. You can almost perceive it in the off-stage ballet, in the dance of the mind.