Suzan-Lori Parks is easily one of the most ambitious playwrights writing today. Using athletically poetic language, stunning imagery, and complex characterizations, she creates worlds that are visceral, hard-hitting, and indubitably theatrical.
Her latest play is only a part of what is perhaps her most ambitious project to date. Father Comes Home from the Wars (Parts 1, 2 & 3), now playing at the Public Theater, is the first three installments of a series that will eventually consist of nine. Taking place in the Civil War-era South, the play's central focus is a slave named Hero (played by Sterling K. Brown, who beautifully brings out Hero's stoicism and fear), who is given the choice to help his master fight for the Confederacy in exchange for his freedom. In "Part 1: A Measure of a Man", Hero flip-flops between going to the war and staying at the Texas plantation where his fellow slaves and girlfriend Penny (Jenny Jules) live and work. When a past betrayal against a fellow slave named Homer comes to light, Hero is disgraced and decides to leave for the war. This brings us to "Part 2: A Battle in the Wilderness", which explores the relationships that Hero has with his Confederate owner and Smith, a Union soldier he has captured. In "Part 3: The Union of My Confederate Parts", Penny is presented with a dilemma similar to that faced by Hero in Part 1: whether to run away from the plantation with a ragtag group of runaway slaves, or stay and wait for Hero to return.
Over the course of three intense and fast-paced hours, Parks uses Hero's epic journey to explore what we sacrifice in order to obtain freedom, even when the meaning and promise of freedom is questionable and vague. Her prose carries us swiftly through the play, and while a few monologues either belabor their point or repeat information we already know, she takes the audience on an emotional roller coaster, from boundless joy to devastating heartbreak.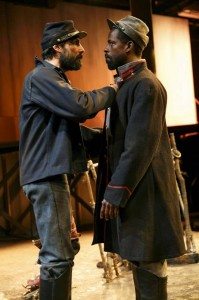 Director Jo Bonney allows the emotional extremes to shimmer brightly, which makes her the perfect partner for Parks' play. The sets and costumes, respectively designed by Neil Patel and Esosa, are simple yet evocative of the period.
Parks' play allows the actors plenty of opportunities to shine. The charismatic Russell G. Jones leads the "Chorus of Less than Desirable Slaves", strongly played by Julian Rozzell Jr., Tonye Patano, and Jacob Ming-Trent. Peter Jay-Fernandez has an affective turn as "The Oldest Old Man". Ken Marks, as Hero's deceitful master, chillingly delivers the most gasp-inducing monologue in the play. Jacob Ming-Trent has a hilarious turn as Hero's runaway dog, aptly named "Odyssey Dog" (pronounced "Odd-see" due to his crooked eyes).
Acoustic accompaniment, courtesy of Steven Bargonetti, complements the action beautifully.
The three parts that are presented in this production are satisfying as a standalone play. I look forward to seeing where Parks goes with her next installment of Father Comes Home from the Wars.
Father Comes Home from the Wars (Parts 1, 2 & 3) continues its run at the Public Theater through November 16. For more information and tickets visit https://www.publictheater.org/