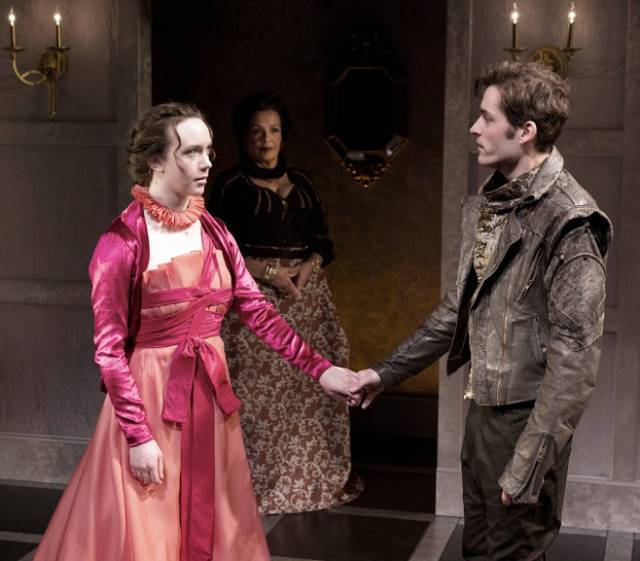 John Ford's drama 'Tis Pity She's a Whore has been making audiences uncomfortable since its premiere in the 1630s. Its current incarnation, produced by the Red Bull Theatre Company and playing at the Duke Theatre on 42nd Street, manages to elicit sighs of consternation and awkward giggles from its audience, who understandably squirm at its depiction of a passionate romance between Giovanni and his sister Annabella. For a play with this subject matter, it's difficult to have any other reaction.
However, incest isn't the only vice running rampant in this play. Vengeance, lust, malice, betrayal, and murder each make an appearance. As Giovanni (Matthew Amendt) and Annabella (Amelia Pedlow) begin their lustful affair, we discover that their father Signor Florio (Philip Goodwin) wants to marry off Annabella. She has three suitors: The Roman soldier Grimaldi (Tramell Tillman), the foppish Bergetto (Ryan Garbayo), and the suave Lord Soranzo (Clifton Duncan). The latter finds himself in hot water with Hippolita (Kelley Curran), whom he bedded then abandoned. She has vowed vengeance against him for depriving her of her virtue, and has enticed Soranzo's servant Vasques with the promise of sex in exchange for his assistance in exacting her revenge. Meanwhile, Hippolita's husband Richardetto (Marc Vietor), believed dead, shows up disguised as a doctor in order to ascertain her promiscuity. He enlists the help of Grimaldi to murder Soranzo for stealing Hippolita's virtue.
Obviously, there's a lot going on in this play, and attention is required to keep up with who's sinning against whom. Nonetheless, the 17th-century text still has the power to provoke thought in the audience, even as their stomachs squirm. The language is heightened, passionate, yet still easy to follow, in spite of the jam-packed plot.
Most of the cast turn in splendid performances. Kelley Curran is fierce as the spurned Hippolita, and Philip Goodwin is a compassionate Signor Florio. Significant comic relief is provided by Ryan Garbayo's flamboyant Bergetto, Ryan Farley's Poggio (Bergetto's servant, in a low-key performances that still manages to wring out many laughs), and Franchelle Stew Art Dorn as Putana, Annabella's liberal tutoress. Dorn's performance in particular gives us a character who is sassy, fun, and genuinely caring about her charge's happiness. As a result, we are sad to see her character meet her tragic fate. Christopher Innvar and Rocco Sisto are fine as Friar Bonaventura and the Cardinal, respectively.
As the two sibling lovers, Amendt's Giovanni is unmatched by Pedlow's Annabella. Amendt makes an excellent case for Giovanni — he is earnest in his affections, and will do all it takes to satisfy them. He wants the world to understand his love, but is frustrated that in their eyes, his one true love, his sister, isn't a valid match for him. Ms. Pedlow looks beautiful and turns in an admirably restrained performance. However, this proves to be a detriment. The fire and passion which Annabella possesses is nowhere to be found in Pedlow's performance. While she doesn't appear uncomfortable with the subject matter, she seems very detached from her role. Considering the passion that Amendt inhabits with his performance, it's a shame that his level of feeling isn't matched by his onstage romantic partner.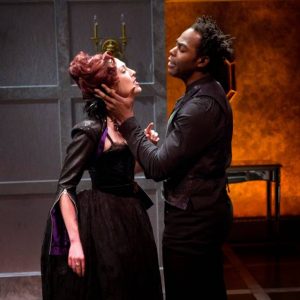 This unevenness also lessens the play's impact. One of the key elements of Ford's play is that he doesn't vilify the "incest mongers", as one of them is called during the play. He presents their love as something normal that others are understandably disgusted by. We should be persuaded that these two belong to one another, and that in another life, when they're not siblings, they could be the loves of each other's lives. The more we're persuaded of this, the stronger the lack of comfort will be, which could make for a much more interesting and stronger presentation of the play.
Director Jesse Berger creates some beautiful stage pictures (watch out for the chandelier effect in the second act), but his production moves at a meandering pace. It feels more like it lumbers to its bloody climax rather than rushing towards it in a gradual mounting of dread. It almost feels that the director was afraid of making the audiences too uncomfortable. While letting the subject matter speak for itself is a noble move, it doesn't give much of a reason why this play needs to be seen again. He isn't helped by the production's design. While David M. Barber's set is appropriately dreary, Sara Jean Tosetti's costumes are a mismatch of contemporary and period.
Overall, the play is still worth seeing, if only for the strength of the text. However, that is likelier to be appreciated on the page than in this particular production.