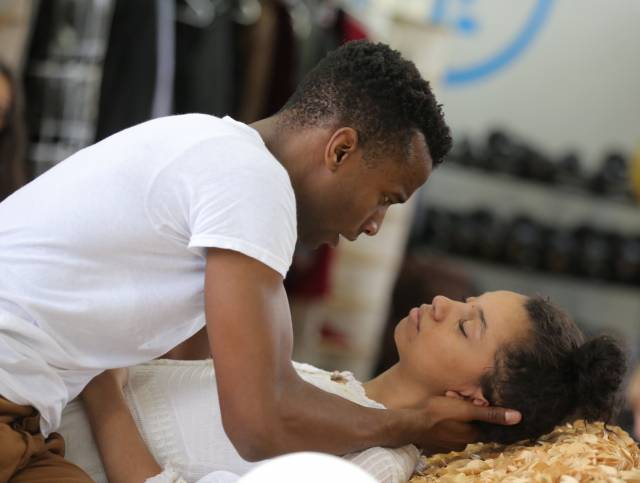 Fresh off its three week run of playing to audiences in prisons, hospitals, schools and libraries, the Public's Mobile Unit returns home for its spring production of Romeo and Juliet. In keeping up with Joseph Papp's original vision of offering theater for all, the Public presents this legendary Shakespearean play with all of the passion and none of the frills. Making due with basic props like ladders and small tools to re-create classic scenes, the focus is on the action and the relationships between the characters. It's proof that lofty and elaborate sets are not always necessary for great storytelling.
This diverse cast breathes new life into this classic tale, under Lear deBessonet's strategic direction, with plenty of humorous moments as well as emotional hook points. Sheldon Best plays the handsome and misunderstood Romeo and Ayana Workman plays the infectious and naive Juliet, both embodying the beauty and joy of young love with their playfulness and laughter. It is thrilling to witness their relationship develop. Casting choices seemed a bit off, age-wise, for Lady Capulet (Mahira Kakkar) and the nurse (Maria-Christina Oliveras), who appear much too young for their respectable roles; both exude a more youthful nature than is typical, which while refreshing to watch, seems out of place when it comes to this family's dynamic. Juliet's relationship with her father, Lord Capulet (David Ryan Smith), however, is chilling; you see her disappear into the shell of a timid child as he asserts his power over her future in his insistence on her marriage to Paris (Max Woertend Yke).
There is no denying how spirited this cast is, as they infuse immense energy into their roles and keep audiences engaged for the complete hour and a half. The lovely music from the chorus (Marques Toliver) creates a soulful and romantic ambiance suitable for Romeo and Juliet. With style and charm, the Mobile Unit is sure to amaze.