An Interview with Members of the St. Bart's Players on 'A Little Night Music'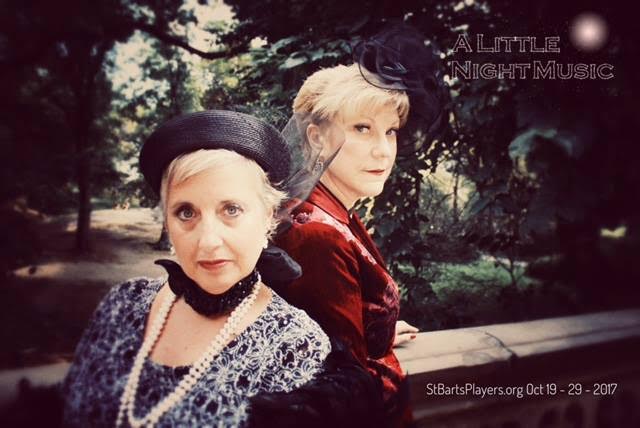 As part of their 90th Anniversary season, the St. Bart's Players presents Sondheim's A Little Night Music. New York's longest running community theater group infuses new energy into this classic musical centered around the complexity of human relationships.
StageBuddy had a chance to catch up with director and choreographer, Alex Perez, about what it means to work with the St. Bart's Players; their new twist on this classic musical; and what audiences will take away. Additionally, we had a chance to play a round of four questions with a few cast members to get their take!
Q&A with Director and Choreographer, Alex Perez:
What does it mean to work with the St. Bart's Players during their 90th anniversary season? Can you talk about what stands out most to you about this close-knit and welcoming community?
St. Bart's feels like home.  After 90 years, it's quite an accomplishment to continue to provide quality work in NYC and continue to thrive, adapt, and be present in the ever-changing theatre landscape. I believe the best quality is the approachability and willingness to change with the times, while still maintaining the structure of the group.
A Little Night Music is certainly one of the most memorable Sondheim musicals. What are the most challenging and gratifying elements of directing a Sondheim production?
Having a stellar cast with great voices truly helps! Also, a cast willing and open to explore the text. The relationships dive into the interwoven nuances so cleverly written in the score and text.
How does your vision and creativity bring a fresh twist to this classic?
I thought exploring elements of light and dark were important in this piece. There are so many references to the moon, the sun, and time. It was important to stress that in the costumes, the set, and the lighting.  I also felt it was important to pay special focus to the text and score. Staging the show without props and adding a layer of mime, was an interesting way to tell the story.  As a cast, we've created a new language on stage that's fun to build, and hopefully fun to watch.
What would be the best way to describe the music of the show and how it differs from other Sondheim musicals?
Emotional. Intense. Communal isolation. Contrasting.
In thinking about your cast, what do you admire most about their enthusiasm and readiness to dive into the material?
Their willingness to explore. Ask questions.  Tireless efforts. Joy.
Can you talk about what audiences will take away and what lessons/themes may linger with them after the final curtain drops?
Like any art piece, I hope the audience takes away what they will from it. You can see this piece on many different levels.  I'm sure that if you see the show more than once, many visual and aesthetic aspects will appear that you didn't catch before. The cast is quite lovely to watch. The creative team worked very hard on all aspects.
---
A round of four questions with cast members Michael Trainer who plays Henrik; Melissa Broder who plays Madame Armfeldt; and Michael D. DeShields who plays Frederick:
Name your favorite Sondheim production.
Michael Trainer: Sweeney Todd!
Melissa Broder: Probably the original Sunday in the Park with George with Mandy Patinkin and Bernadette Peters. I was obsessed with it and saw it three times.
Michael D. DeShields: Assassins.
Can you describe some of your favorite moments of A Little Night Music?
MT: My favorite moments in A Little Night Music have to be "Every Day A Little Death" for the raw emotion and "Weekend In the Country" for the musicality of the entire scene!
MB: I love all the comedy in the show, and the fact that is has all been brought out by our amazing director. It is so visually stunning to look at — the costumes are out of this world and elevates an already very strong production across the board to the next level. It is also very, very moving at times, particularly "Every Day A Little Death," "Send In The Clowns," and the last scene.
MD: Anything Charlotte does is AMAZING. She really is a great part that I wish I could play. So much sass mixed in with some really honest emotion.
In thinking about your character, what do you hope to convey and are there facets of your character the audience may not pick up on at first glance?
MT: Henrik is a tough character, he's battling so much throughout the duration of the show. The question of who he wants to be, the struggle of first love. I hope the audience is able to look past then angst and anger Henrik may have and see a person trying to find himself and create some good.
MB: I love my character, Madame Armfeldt. She is the wisdom of the show, an anchor. She and her granddaughter set up the whole show in the opening scene, and then they come full circle at the end. I love that Madame A is both hilarious, but you also get to see her soft and regretful side when she talks about her first lover, a Croation Count, and the wooden ring he gave her, but she tossed him away, and at the end of her life realizes he may have been the love of her life, even though he wouldn't have been able to give her the physical riches of all her other lovers.
MD: I hope to convey that Frederick is a complete mix of strength and stability as he is confused and weak, but that pure passion is what really drives this logical person.
What feeling would you love to leave audiences with?
MT: I hope they leave feeling annoyed that they will never get the phrase "A Weekend In The Country" out of their head ever again (laughs!)
MB: A feeling of pure joy and bliss, and a since of compete satisfying from enjoying a truly first-rate production. It's a perfect gem of a chamber musical.
MD: Don't settle for anything. If you. Really want something, GO FOR IT.
A Little Night Music will be performed October 19th-29th at the Hudson Guild Theatre, 441 W. 26th St., New York, NY 10001. Tickets can be purchased by calling the St. Bart's Players Box Office at 212-378-0248, in person in the church lobby or online: https://stbarts.isecuresites.com/group/A-Little-Night-Music