Interview: Migguel Anggelo On His Return to Joe's Pub and Being a Poetic Activist in Today's World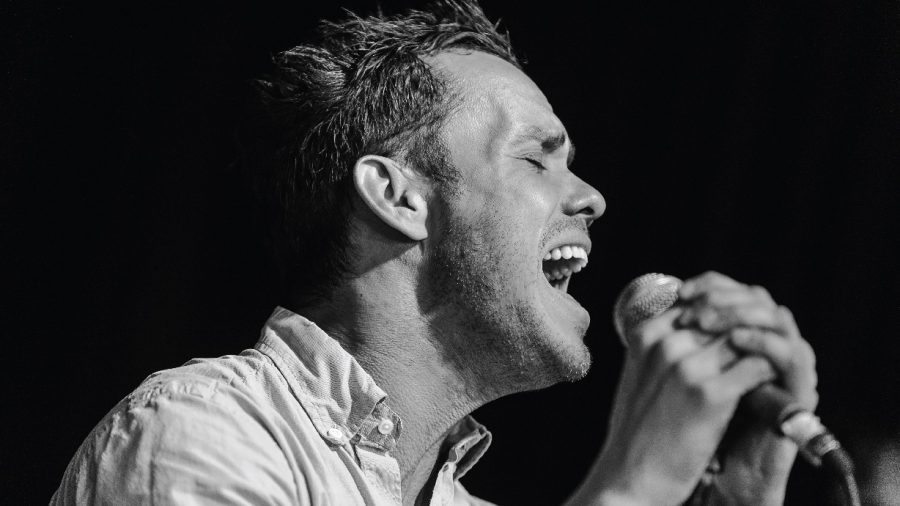 International artist and performer Migguel Anggelo returns to Joe's Pub this May with a new show, So Close: Love & Hate, that explores the human condition in an exciting and emotional way. Anggelo draws on his life experience as a Venezuelan-born immigrant who has lived in several countries, including Germany, Argentina, and the United States, to relate to people of all backgrounds.
StageBuddy had the chance to catch up with Anggelo about his background and influences; creating this new show and returning to Joe' Pub; and what it means to be a poetic activist in today's world.
What are you most looking forward about your return to Joe's Pub? Can you talk about how a venue like this makes for a unique performance experience?
We are so excited to be back at Joe's Pub with a brand, new show! This piece has a different instrumentation than Another Son of Venezuela, our last show in which my beloved band, The Immigrants, were a huge part of the fun. Mau Quiros (my Musical Director, arranger and co-writer) and I wanted to experiment with a new sound for this one. Mau is playing the keyboard and the loop while cello, flute, clarinet and bass clarinet complete the ensemble.
There are a lot of fun, hilarious surprises in this show, but it's also serious in that it addresses divisiveness, hope and humanity, through music and in a very poetic way. I am excited to share what we have been up to, especially at Joe's Pub which has become a second home for us. Joe's Pub is such a special place. They encourage and embrace artists that don't quite fit into categorical "boxes" and celebrate their uniqueness, encouraging them to experiment. We feel very, very lucky to be part of such a family.
The music of So Close: Love and Hate will encompass a variety of musical genres. How will the music help bring the story to life?
While there are technically several musical genres employed in this song-cycle, our many, new, original compositions alongside the handful of classics that will be reinterpreted have been written or chosen for their ability to convey meaning and are unified by Mau Quiros' brilliant arrangements. This is not a cabaret collection of "favorite songs." It's a sonic rumination about discord vs. optimism in the world right now, and the characters that emerge from within the music reinforce that.
In a performance venue like Joe's Pub, how do you hope to connect with audiences and what type of impact do you hope to have?
Before coming to New York, my experience performing in Latin America was on the big stage -- giant theaters where you had distance from the audience and as a performer, you had to play it big which is probably more natural for my innate high energy! It was a very new experience to be in an intimate setting like Joe's Pub where you see and feel the audience up close and personal and where subtlety often goes further. Initially it was scary for me to be that close to the people. I thought I might fall on them or spill one of their drinks when I danced. But that has not happened . . . yet!!
Seriously, though, David [Drake, director], Mau, and I work a lot on the choices of songs and the segues with the goal of giving an unexpected theatrical arc to the show. We like to seduce the audience and let them think our show might be more of a classic "cabaret" "act," but then, when they least expect it, the show takes a turn and becomes about something very personal and universal and unexpected. So Close: Love & Hate has less dialogue than Another Son of Venezuela did, but we intend it to be as moving and as meditative. This time the take-away is: Don't forget love. It's the medicine that cures hate.
What has music, dance, and performing meant to you, as a form of self-expression throughout your life and career?
Music and performance are my everything. Art making is not a choice but something I must do.
I have been an immigrant in many countries over the years – from Argentina to Germany to the United States. When there was not a "production" to be in as a performer, when I was alone and didn't have anyone, when I did not have money (which was pretty much all the time), I could always write songs. Writing music was free. It did not require being hired to be in a show. It did not require a work visa. Music was my companion when I was lonely and missing my family and friends.
The music and shows that I now write with my collaborators Mau Quiros and David Drake are like souvenirs of my experiences and journeys and are from the perspective of a person of two worlds living in the United States of today. I've never gotten the hang of writing pop love-song stuff. Instead, the songs we create hopefully hold a mirror to those that don't often find their experiences reflected on the stage. It's my own tiny way of being an activist, but a poetic one. That's important to me.
As an artist who has lived all over the world, what are some of the biggest lessons you've learned about identity through your experiences? Can you also talk about how travel has influenced you?
You know, at the end of the day, we are all people, right? We all have loves and hates and difficulties and triumphs and no matter where we are from, no matter how our governments rule, all people love music. This past summer, I and The Immigrants had a truly remarkable experience. We were invited on a performance tour of Russia as a Cultural Attaché on behalf of the U.S. Department of State, and we learned this first hand, performing in 10 cities across the country. Our governments are very different, and right now, especially, relations are not great, but the people, the people were as warm and welcoming as people anywhere. That stays with me, even with all the terrible things you see in the news daily.
Living in other countries, not always being able to speak the language and communicate with ease, music has continued to be my bridge. Being a Latino immigrant in the United States of today, I want to create music and theater that is not only enjoyed by other Latinos, and I don't want to be typecast as a salsa singer either (which has plagued me since my youth). Rather, I want to make art that is universally enjoyed by people from all backgrounds, celebrates my heritage but also explores the identity of who I am NOW, and my director and co-writer David Drake and I talk all the time about making work that comes from a deep, honest place. When you share the deep-down personal, it will touch others quite deeply as well.
Looking ahead, what other types of work would you like to be involved in?
David Drake, Mau Quiros and I have been developing an original, immigration music-theater piece which we are excited about. We are thankful to the fine folks at BRIC in Brooklyn who awarded us a BRIClab residency to begin the process of developing this piece, and last September we had the first public, work-in-progress showing of the results of that residency. The reaction was wonderful, and we know there is quite a bit of potential. Since September, we have been expanding upon the work, strengthening our characters and storyline, and writing, writing, writing. It's one of our goals to evolve this piece into a full, glorious production.