NYMF Q&A: Justin Moran, Adam Podd, David Rossetti, and Jonathan Roufeael on 'Peter, Who?'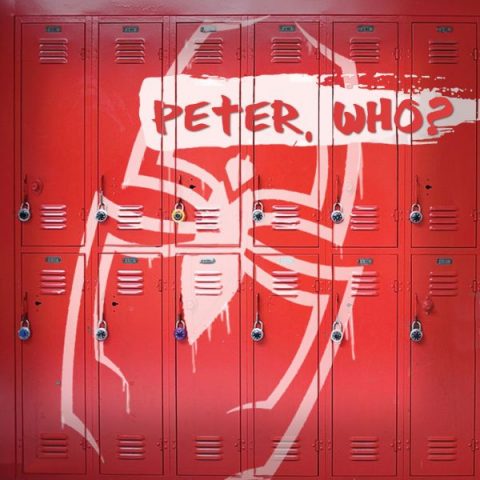 The New York Musical Festival continues through August 5, offering 12 productions as well as lectures, readings, and more! We spoke with Justin Moran, Adam Podd, David Rossetti, and Jonathan Roufeael about their musical Peter, Who?
Tell us about your show!
Justin: PETER, WHO? tells the story of a nerdy social outcast who wants more than anything to be special… until he's bitten by a radio-active spider and rlearns how difficult being special can be. It's an unauthorized Spider-Man parody musical.
Originally conceived in the wake of a big budget superhero musical, our show was written in a single weekend, produced in two weeks, and for no money whatsoever became the first Spider-Man musical to open in NYC back in 2011.
Doug: PETER, WHO? is the answer to the age old question, can a couple of friends write and produce a full length Broadway worthy Spiderman musical in under a month from conception to execution for less than 70 million dollars?
Jonathan: PETER, WHO? is an 80-minute smile on your face. It's a show that's been fueled by nothing but passion; from the 2011 one-night-only production we put together in only 30 days for absolutely no money, to the 2018 musical we've kept developing and putting up to sold-out crowds for...yeah, still no money.
Adam: PETER, WHO? began as a self-inflicted test of creativity, nerve, and sleep-deprivation in 2011, and surprised everyone (perhaps most-of-all its creators) with its heart, humor, and solid story-telling… not to mention a kick-ass score.
Fill in the blank: my show is a cross between ______ and ______.
Justin: Spider-Man and Avenue Q.
Doug: Satire and Actual art.
Jonathan: A comic book and an 80s rock album.
Adam: A publicity stunt and a potential off-Broadway smash success 🙂
What was the musical that made you want to write musicals?
Justin: Pirates of Penzance… The Gilbert and Sullivan!
Doug: West Side Story.
Jonathan: Oh man, my answer is so not of the caliber of my fellow authors, but to be completely honest it was Joseph and the Amazing Technicolor Dreamcoat.
Adam: Growing up on Disney movies… Beauty and the Beast, Lion King, etc.
What have been the most exciting things about seeing your show come together?
Justin: The most exciting part is watching the piece take on a life of its own. As the actors make the material theirs, and the musicians fill out the sound, and the technicians complete the aesthetic; it goes from being an amorphous idea in your head, to a realized idea right in front of you, it͛s amazing!
Doug: How, when going to rehearsals, I thought the subway would drop me off several blocks from the rehearsal space, but instead it was directly across the street!
Jonathan: The first time we did this show, the most amazing thing I saw with this project was how everyone - I'm talking improvisers, famous composers, Broadway performers, even reporters, wanted to jump in and get involved with this project in any way they could because they believed in its mission. It's more amazing now to see that, even though it͛s been 7 years, that's still the way it is.
Adam: Anytime in real life you can get that feeling (usually reserved for movies and tv shows) of getting the band back together or reassembling the old team, there's an undeniable element of fun you can't get in quite the same way anywhere else. So much of this team, cast-included, has been with this project (among others) since its inception, so walking into the first rehearsal to pick up where we left off is priceless!
Who are your favorite musical theater writers, past and present?
Justin: Greg Kotis (Urinetown), Larry Gelbart (...Forum), and W. S. Gilbert (of Gilbert and Sullivan fame) and honorable mention to Howard Ashman for how well he understand structure and using it to get an audience on board for crazy concepts.
Doug: Crazily, it's always about the book. And while it's weird for a composer to say that, it's true. Lapine, and yes, Howard Ashman, and of course Hammerstein, and a quick shout out to his partner Richard Rogers for insisting that melody and form actually help character.
Jonathan: Larry Gelbart for sure. I think Forum is a work of pure genius. Greg Kotis for Urinetown, because that͛s the best time I've ever had in the theater. Ashman defined my childhood, so yeah. And absolutely Andrew Lloyd Webber.
Adam: Rodgers and Hammerstein, Sondheim, and Jason Robert Brown. Sorry if that's a hat-trick of cliche answers… but not really… best in the biz!!
What would you change about the current state of theater?
Justin: It's waaaay to expensive, and in trying to lure tourists in is making itself irrelevant.
Because it's so hard to make money off a show, and it costs so much to get a show off the ground in the first place, fewer risks are taken in producing new material… it's the reason every single Best Musical nominee at the Tonys was a movie musical. So many of the shows opening are Safe bets which end up being uninteresting to ticket buyers anyway since there is already a great sense of familiarity with the work. If I could change one thing, it would be wishing Broadway shows could open for about a tenth of what they cost now… Or that somehow we remove the stigma that for a show to be noticed in a national market it has to have played on Broadway. It's one street, in one city, in a very big country full of theater, but in licensing a Broadway flop licenses better than an Off-Broadway hit.
Doug: If producers could allow one performance each week to be free or under $20, it could take 1/8th longer to recoup, but theatre would be available to the masses, and change their lives as it has changed mine.
Jonathan: I wish that it was cheaper to both produce and attend shows. I lived in NYC for years, and I'm a theater guy. I went to less than 10 shows in my time in NYC. I wanted to go to more, but I couldn͛t afford it. Though I think it's interesting that a lot of cheaper alternatives to Broadway are available - I love that. I think that just goes to show that people aren't as interested in a lot of spectacle as they are in good stories told well.
Adam: Better avenues for original stories and scores. Jukebox, movie musicals are getting exhausting… plain and simple.