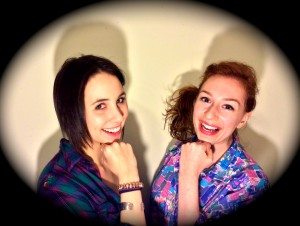 Six Tee Collective's play "Tina and Amy: Last Night in Paradise" is a glimpse of the life we all wish Tina Fey and Amy Poehler lived as roommates in Chicago circa 1997. Wouldn't it have been perfect if the Golden Globe Goddesses were once the endearingly dysfunctional roommates their T.V. personas suggest they could've been? If their dreams of success came true, there's hope for us little people.
The play tells the story of Tina Fey's last night as a nobody, before she moves to New York to write for SNL. Her roommate and writing parter, Amy, is convinced that this is the end of their collaboration and the beginning of Tina's life as a corporate drudge. Oh, how wrong you are, fake Amy.
In a way, "Tina and Amy" can't fail. It offers something so appealing: a chance to revel in the successes of our generation with other people who love the things we love -- and also to laugh at our role models and, by extension, ourselves. As long as the Six Tee delivers some of that, they've done something worth the $10 ticket.
And they do deliver! Maria Gilhooley (Tina) and Antonia Lassar (Amy) clearly know their muses. Their tones and gestures were so overtly (but not quite satirically) "Baby Mama" that they probably could've left out some of the gratuitous cheese humor. Otherwise the writing is fast-paced and fairly seamless, excepting one scene in which the actors break from character in an unprecedented moment of emotional fatigue, apparently caused by their own stress over Gilhooley leaving the show for graduate school. The self-referential bit could've easily been incorporated into the script without the saccharine interlude. These two would be better off laughing at themselves alongside the audience.
The play comments on the role of women in entertainment (Six Tee calls its work "lady theater with ladies"). Women written by men versus women written by women -- which is better? Six Tee answers with a nod towards the epic careers of the "strong funny ladies" that inspire them.