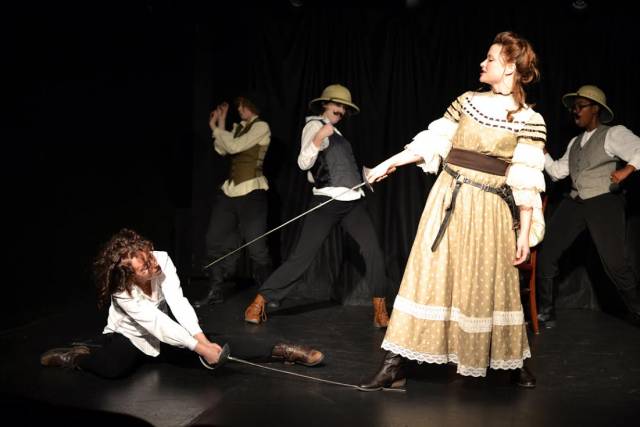 Evenings of multiple one-act plays are almost always a joy. With the limited time most off Broadway productions have to put themselves together, shorter pieces allow each of the ensembles more time to polish a production.  With their If on a Winter's Night, Everyday Inferno Company has mostly accomplished this success with their four one act plays, roughly bound together thematically with the the concept of "Adventurous Women".
Jump It, written by Phoebe Farber, directed by Anais Koivisto, and starring Peter Sansbury and Leslie Marseglia, is a very human story, the simple tale of a married woman in a questionably rewarding marriage, whose car needs to get jumped. The roadside mechanic that shows up turns out to have childhood history with the woman, sparking memories, lost desires, and the hint of things besides cars getting jumped.
Stella Starlight, written by W. M. Akers, directed by Katherine Sommer, and starring Nathalie Frederick (as Stella), Lee Solomon, and a very versatile Eddie Shields, is a childhood fantasy in which some of our favorite sci-fi movie scenes come to life on stage. Alas, while the talent was there, the payoff at the end wasn't quite worth waiting through all the sci-fi.
Five Nights in Question, written by Eleanor Burgess and directed by Taylor Reynolds, stars Grace Painter and Will Jacobs as two very young adults trying to negotiate the emotional dangers of love as they make their way into adulthood. They reflect back over time as to why they never quite connected, despite both wanting to, each character blaming the other for bad timing, and bad decisions. While not quite as pointed as similar stories about older couples who have suffered irreparable loss, this is nonetheless touching and gives two thoughtful performances.
The Splendid Adventurer's Club, written by Nick Izzo and directed by Christine Zagrobelny, has the largest of the evening's casts; it stars Sydney Mitchell and Meghann Garmany, with Whitney Mignon Reed, Sam Bruce, Hannah Roze and Alice Rose Turner. This story caps the evening theme of adventurous females. Based on many of the funniest and wildly farcical stories that play on the narrow-mindedness of the Victorian era, it takes place in "The Adventurer's Club", an English members only men's club. We witness a bold and successful female adventurer apply for membership. Broad comedy, complete with British cliche's ensue, spiced by good bits by the two stars and supporting cast.