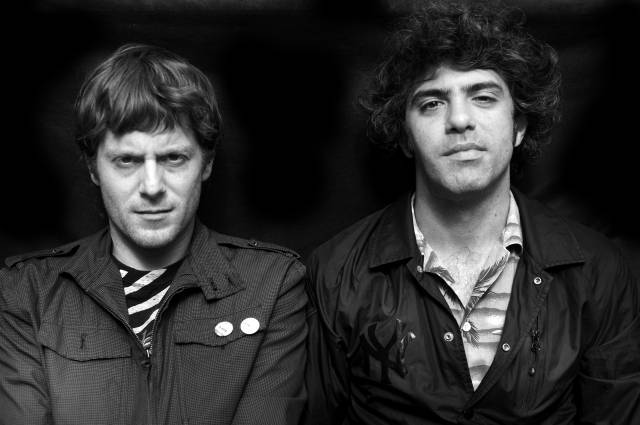 When the lead singer of a band is compared to someone as iconic in music as Lou Reed from The Velvet Underground, you know that at the very least they're going to be intriguing. Your 33 Black Angels, or Y33BA for short, had me hooked from the very beginning with their name alone, and their music most certainly did not disappoint. The band's music has been described as "an inimitable electro-decadent take on space pop," and if that doesn't entice you to take a listen then I'm not sure what will.
Y33BA has released 5 albums in the past, and now their next one is on the horizon. On May 12th, Y33BA will be releasing their 6th album, Glamour, and the release party for the album will be held a few days later on May 15th at Aviv in Brooklyn. The show starts at 8pm and will also feature three other artists – Yonatan Gat, DJ Joel Stones of Tropicalia In Furs, and Altopalo. I had a chance to chat with the band about their new album, what they love about it, and what they as a band are all about.
Your 33 Black Angels is quite the interesting name - what's the story behind it?
There was an old song we had that was worthless, except for a line that became the name of the band.
There are a lot of you (and also some lineup changes over the years). How many members does Y33BA's current incarnation have, and how did you all come together to form the band?
It's really more of an aspect or apparition than an incarnation...since "incarnation" refers to flesh, and we're dealing with specters. About 4 or 5 in shows -- probably more than that for our album release party coming up (May 15 at Aviv).
This is your 6th album - how did the creation process for Glamour compare to your other five albums?
That's a good question, since it was very different...But we're not sure how. I guess we just made sure we liked all the songs this time? I'm O.K. with the last two records, but the one before that just plain sucked. Mea culpa.
What song from Glamour are you most excited for people to hear?
Tie..."Cruise Fun" and "Run to the Night" because we tried hard, but maybe didn't completely over-do things. And that would be rare, for us.
If you could choose any band or musician to cover one of your songs, who would it be and which song?
Ney Matogrosso...covering "Summer Fall" with that grand and melancholy voice...and taking it a few steps slower.
Do you have any crazy or heartwarming stories from the making of this album?
It was a long but peaceful process.