Interview: Eskimeaux's Gabrielle Smith on "Poetic Bedroom Pop", Bjork, and Her New Album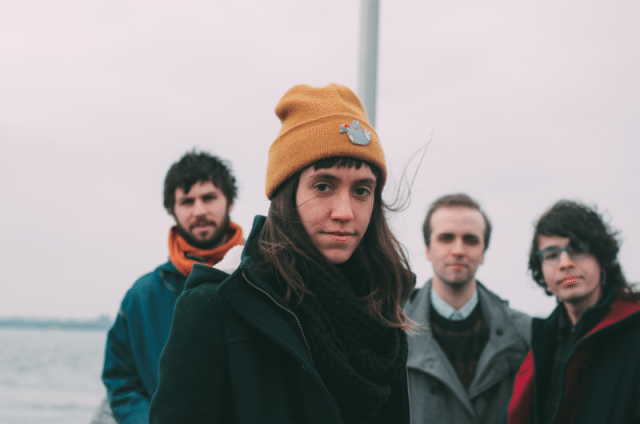 Eskimeaux's O.K., out today on Double Double Whammy, is full of breathy, honest pop and lyrics that will inspire you for days. We spoke with singer/songwriter/producer Gabrielle Smith about her project, and found her answers were just as intriguing as her music.
You've described your sound as "poetic bedroom pop" - what does that mean to you?
Poetic bedroom pop was a term that Oliver [Kalb] and I came up with. My lyrics are the most important part of my songs, in my opinion, so the term "poetic" is used to highlight that there's more to it than just melody. The "bedroom" part is just literal; the songs are written and recorded in my bedroom, wherever that may be at the time. The use of "pop" is to connote that it's not meant to be received as "folk" or "punk". Play it on the radio! Even if it's made in a bedroom! I work hard to make my music as thick and high quality as possible, even if I just make it myself.
Which song off of O.K. is your favorite? And which gave you the most trouble while writing/recording?
I think that right now "Sparrow" is my favorite track on the album. I'm really proud of it and it was the most natural song to record.
It's hard to say whether it was "Broken Necks" or "Everything You Love" that gave us the most trouble during the recording process. When we were working on "Everything You Love" Jack [Greenleaf]'s computer crashed and we lost the whole project file. That was really stressful! I think, however, that "Broken Necks" was the hardest. Before this record, I'd been trying to make a better-than-demo-quality recording of that song for about three years now. We also did two separate, totally different versions of the song before making the final one. It was definitely the hardest one to get to feel like it was totally finished.
My personal favorite is the last on the album, "That's OK." Can you talk a bit about where it came from?
That song was the final song for a song-a-day project I did last May with Frankie Cosmos, Florist, Small Wonder, and Japanese Breakfast. Each of the songs leading up to it were written while my partner was on tour, but "That's OK" was written the day he came home. I wrote it in a rush so that I could go downstairs and hang out with him and get to enjoy that he was home, so it was truly a little time capsule of exactly what I was feeling in that moment. I feel like I got really lucky with that song. I didn't realize that it was any good until Emily (Florist) told me that she liked it so much that we should do a split tape with our songs from that project!
Do you have one specific place where you do a lot of your songwriting, or does it sort of happen everywhere?
Lately, especially with the song-a-day projects I've been trying to do, it happens literally everywhere -- in the car, on the subway, on a dog walk, in Seattle, etc. I've also been working on a lot of comics, lately, that sometimes get turned into songs. I realize that sounds weird, but, for example, the song "Alone at the Party" has a lyric, "Now I'm bruised and buckling / Did you notice we were touching?" That was originally the caption for two panels of a comic I made last year. Those lines got re-purposed into lyrics and put on the new album!
What or who is your biggest musical inspiration?
My biggest musical inspiration ever is Björk. The first album I got by her was Medulla and it changed my life.
You'll be playing at Shea Stadium in Brooklyn for your record release on 5/15.  If you could play a show anywhere (town, venue, abandoned alleyway, etc.), where would it be and why?
I want to play at Iceland Airwaves (nudge nudge...)
What's the greatest thing you've ever been told by a fan?
"Meeting you is like...it's like meeting David Bowie. I used to listen to your music all the time in high school." - Alex G
Eskimeaux's O.K., out May 12th on Double Double Whammy, is available on iTunes. And don't miss Eskimeaux at Shea Stadium on May 15th at 8pm.  Tickets are $8 in advance/$10 at door.  For more information, click here.