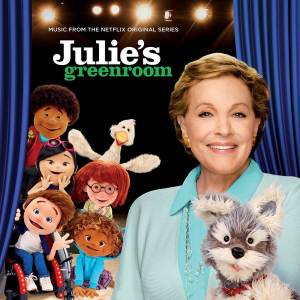 If you're a theatre buff, you've probably heard that Julie's Greenroom, the binge-tastic new Netflix series from the brain of Dame Julie Andrews and daughter Emma Walton Hamilton, is a preschool masterclass not to be missed. Chock-full of big Broadway talent and packed with poignant, inspirational and relevant lessons, it's not hard to see why the program has so quickly captured the hearts of all its viewers — yes, even those slightly out of the targeted demographic of kids aged 3-5.
And with all the praise surrounding the series itself, it's no surprise that the forthcoming album of music from the show, out April 14th on the Varése Sarabande label, is just as uplifting and enjoyable.
Each track, plucked from the episode in which it's featured, provides listeners with cute toe-tapping tunes performed by a bevy of Main Stem heavyweights, including Tituss Burgess, David Hyde Pierce, Alec Baldwin and (yes!!) Carol Burnett. Not to mention, too, the superb clan of puppet students, the majority of which are voiced by a gaggle of Avenue Q alums.
Talent-wise, one noteworthy standout is Giullian Yao Gioiello, who portrays Ms. Julie's trusty right-hand man, Gus, on the show. A relative unknown up to this point — at least in the theatrical world — he's in fantastic voice throughout the album, with his dulcet tones brilliantly utilized within every song he sings. (His delivery of the theme song is particularly winning!)
To boot, each number — much like the episode from which it's pulled — provides information on a specific department within the theatre even as it buries a moral of sorts within its lyrics, pertinent to both for the characters involved and the viewers watching. The songs offer significant lessons like "No matter what we look like… we all have stories, and our stories must be told", "You can view so many views when you put on someone else's shoes" and "Take a leap of faith….'cause when you leap, you fly!", and it's great to see these ideals instilled in these kids at such a young age, especially now, at a volatile time when such positive reinforcement is needed most.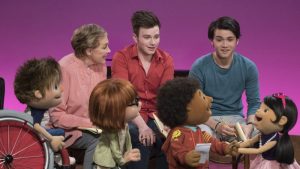 On that note, kudos, too, to the lyricists, for challenging their listeners and not "dumbing down" the material, so to speak, for the kiddos. Specifically to this point, the Baldwin-led "When You Act" not only contains nods to child-friendly characters like Sylvester the Cat and Winnie-the-Pooh, but also includes more advanced references, such as Shylock, Fanny Brice, and even Streetcar's Stanley Kowalski. In this sense, it's educational, but not talking down to its young listeners — a beyond brilliant move on their part! (Besides, why wait 'til high school to teach kids that iconic "STELLA" line? Teach 'em young, I say!)
And while, yes, there is a fair — nay, excessive — amount of instrumental music peppered throughout the album as a whole (though expertly composed by Grammy winner ‪Ryan Shore), the lyrics of the sung-through songs are just so razor-sharp and goshdarn clever that it more than makes up for the loss. (My one gripe is that lessening the instrumental tracks could have made room to showcase the "wickedly talented" ‪Idina Menzel and golden-voiced crooner ‪Josh Groban, both Broadway alums and both in equally full form while delivering their original songs within the series. Why they, of all people, were left out of the album's starry lineup is a mystery yet to be solved.) It's these lyrics, too, that provide the enjoyment for the adults, who will presumably get a chuckle out of the clever intricacies ("Tomorrow… I'll play Annie!"), while the youngins are absorbed by the bouncy melodies.
Most importantly, however, in their aim to promote acceptance of all people, regardless of shape or size, both the album and the series stress that "many parts make up the arts (and each brings joy to all our hearts)," giving equal focus to the areas of costuming, set building, light and sound design, and writing the piece, in addition to the stereotypical "front and center" role of the performer. (Echoes Ms. Julie, "Every part — big or small — is important to our play.")
It's exactly the series' all-inclusive championing of acceptance that makes its content shine. And it's why, regardless of your age, "if you're captured by the magic of the curtain up," (as Gus so eloquently puts it in the opening number) this is the album for you.