Review: Patti LuPone Pleads "Don't Monkey with Broadway" on Sensational New Double-Disc Album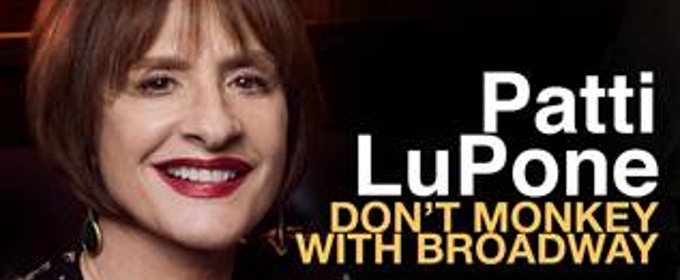 "I have played some of the strongest and brassiest women on Broadway, but that is never, ever how I perceived myself." Such is the bold and honest statement made by two-time Tony winner Patti LuPone, midway through the first act of her retrospective solo show, "Don't Monkey with Broadway," performed last January at the John W. Engeman Theater in Northport, Long Island.
Arranged so as to answer the question, "How did I become a Broadway performer?," the 90-minute concert, crisply captured by the Broadway Records label in a masterfully sleek two-disc live album, explores her intimate connection to the demure roles she always thought she'd play, and the songs that accompanied them, which encapsulated her childhood. Spanning the entirety of her illustrious stage career, from all the way back in her amateur days at Norwood Avenue Elementary School right through to her most recent turns in the most iconic roles on Broadway, this album is a true journey in the fullest sense of the word… and La LuPone is no doubt delighted to have you along for the ride.
While the marquee name alone is certainly enough of a draw to attract musical theatre fans young and old, there's no question the appeal of this particular album lies in its eclectic set list.
In an attempt to rectify years of "song envy," LuPone meticulously uses the opportunity to blast through a variety of ditties from shows in which she appeared as a kid, but whose iconic numbers she was deprived of singing, as a result of being cast in another role.
And while you may argue that no Patti concert is complete without the "standards" — and fear not; LuPone's aware of your expectations, and arrives prepared with electrifying renditions of "Blow, Gabriel, Blow," "Don't Cry for Me, Argentina" and "The Ladies Who Lunch" —  it's fun, and frankly refreshingly, to see the indefatigable Grand Dame take on such atypical fare as "Easy to Be Hard," "I Cain't Say No," and — dare we say it — "Hey, Big Spender." ("I had no idea what the musical was about!" LuPone says, of her time auditioning for Sweet Charity at the end of her 12th grade year, before ending the number with the self-depreciating "How could I not know she was a hooker?").
Not that she doesn't revel and oh-precciate all the accolades and adulation she's received in playing all these acclaimed roles, but there's just something about hearing her sing those "unconventional tracks" that you can tell, even through the recording, she's truly at home. She's living every lyric, every moment, and reliving that defining time in her life — not because, as she explains, she then had any clear understanding of them, or any strong connection to the reason behind why they were being sung; she just sang it to sing it. And that's the key to the success and joy of this album.
Of course, that's not to say the evening is completely devoid of Patti's signature sass, which she activates to comment on the demolition of Broadway as she knows it; she's equally disgusted with Times Square's disheartening transformation into a "haven for Elmos" as she is with theatre's skyrocketing admission prices ("You have to take out a reverse mortgage to buy a ticket," she deadpans, unapologetically). But on the whole, it's a much more different, more intimate Patti than ever we've seen, and we love that she takes it all in and lives it up. The best part? In watching it, you can't help but get soaked in as well.
As if it wasn't enough to have the engagement preserved live in her hometown, LuPone brilliantly adds to the nostalgia effect by utilizing the Northport High School Tour Choir — the very group in which she sang as a child —  who join her in several rousing numbers in the second act.
Sure, they're a terrific group as is, golden voices and limitless talent abound, but there's an extra hidden layer to their inclusion. She's making a statement, acknowledging a significant part of her past and celebrating that for what it is, while also bringing it into present day and taking stock of its evolution — as the world has changed, so has this tiny band of singers.
That is, after all, what the evening's all about: opening our eyes to the change and evolution certain parts of our world have gone through. Well, isn't it?
Unfortunately for Broadway's evolution, as she sings, there doesn't seem to be much to celebrate, at least in LuPone's eyes. The Great White Way that she grew up on is rapidly disappearing. Perhaps then, there's a deeper subliminal message within her titular plea, and the evening in general, beyond just the jokes and jabs at our country's deteriorating political state.
Don't monkey with old Broadway. These are the songs that shaped her childhood, that ignited her passion for music, for theatre, and convinced her she had a place within this crazy community, and a longstanding career in this wacky business of show. In eradicating the theatrical landscape of old — with malls in Times Square and theaters named after airlines — it's erasing a part of her.
To that end, it's perhaps all the more poignant that she ends her show in her fullest form, aptly delivering "Give My Regards to Broadway," while taking note of those elements that have fortunately gone unchanged amid the turbulent transformation of the city. It's these elements that evoke the feelings of days past, keeping her grounded and giving her hope.
Lucky for us, one of those constant New York elements is LuPone herself. We're gladly giving our regards to Patti, because, whether on Broadway or off, despite the occasional break between projects, we know she won't be going anywhere erelong.
For the moments in the interim, we have this album — a pitch-perfect display of the OG diva at her finest, twisting and turning the classics like only she can. And all topped off with personal anecdotes detailing exactly how she stumbled onto each one? A more intimate evening we may never know! And we'll most certainly drink to that.
Patti LuPone: Don't Monkey with Broadway was recorded January 23 and 24, 2017 at the John W. Engeman Theater in Northport, NY. Joseph Thalken serves as musical director and pianist. For more information, visit www.broadwayrecords.com or www.pattilupone.net.