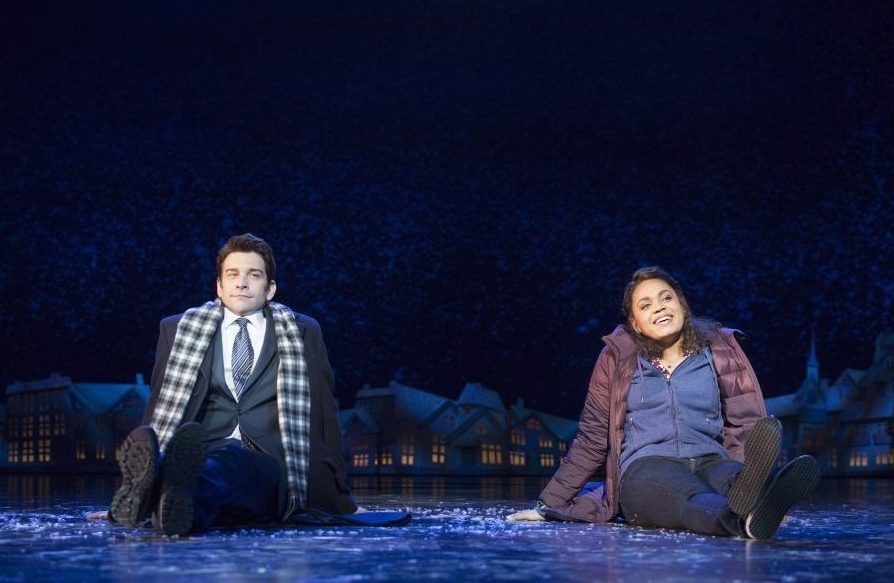 The Olivier Award-winning mastermind behind Matilda is at it again! Yes, composer Tim Minchin, the man who made a splash on the New York scene teaching us "sometimes you have to be a little bit naughty," is now back on the Main Stem letting us that "he's here and he's fine" with his new project: a stage adaptation (imported from London) of the hit 1993 Bill Murray film, Groundhog Day.
Now, haters, step off — while not 100% perfect, this show absolutely succeeds in its film-to-stage transformation and the score is a huge factor as to why. While the residents of Punxsutawney are oblivious to the fact that they're re-living the same 24 hours day in and day out, Phil Connors is consistently agitated, completely aware of this nightmare he's caught up in.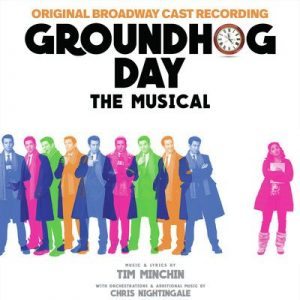 That means, rather than fall into the trap of repeating the same song ad infinitum (though they do do that at first, as a way to establish repetition… and it's HILARIOUS!) he can step out, and comment on the action and how he feels through song.
This not only moves the story "forward" within a structure that otherwise…well…wouldn't, but provides us a deeper look on the character himself and his inner thoughts and workings, aided by Minchin's carefully written and "meaty" lyrics, set to music that'll get your toes tapping and jazz hands a-swingin'.
Simply put, the score is infectious, and there's no doubt you'll find yourself listening to these songs over and over and over (no pun intended). P. S. do I need to mention the deliciously buttery vocals of Barrett Doss and — hello?! — Andy Karl?!
In honor of the cast album's physical release (it's now available on Broadway Records), we compiled a list of our favorite tunes off the CD, with commentary and analysis that explains why we love them so much. Check out our top five Groundhog Day numbers below!
"Day One":
Not only is this a fantastic opening number — sets the scene with a catchy melody to boot — but the lyrics, and how they're presented, are just so damn smart! I love the juxtaposition of the Punxsutawn-ians singing "There is no town greater than Punxsutawney on Groundhog Day"
vs. Phil's "There is no town smaller" and Minchin's careful choice to have those lyrics overlap. Really zeros in on Phil's POV and emphasizes how much he does NOT want to be there (/how much of a selfish jerk he is). And the repetition — both in musical vamps and lyrics; see: "One bar, one store, one clock, etc." and the final line of "Punxsutawney on…" repeated 3x!! — clearly foreshadows the insanity that's about to ensue. Such a genius move to represent it into the score! A+
"One Day":
The first true "I Want" song of the show — delayed 'til the end of Act One because of Phil's repetitive shenanigans. It's the first we really fully hear Rita sing (finally showcasing Barrett Doss' golden voice in full)… and, in a show primarily focusing on Phil, it's interesting that it's Rita who delivers such a climatic number. Then again, as we all know at this point in the show, she's much more level-headed than Phil is, so it makes sense that she'd give us such a thought-out declaration of her life goals, while the childish weatherman phil-anders around town, his early contributions to the song speaking of "making love in the sand [and] smoking half a joint" and inappropriately asking, "Can I get in your panties?" (He's not quite there yet). Love the juxtaposition here, too, of the company singing about how they'd give anything for that "one day" when they can rid themselves of their sins and insecurities versus Phil who only has that "one day" and desperately wants out. The fact that the song title is a complete reverse of the opening number is no coincidence either. What was supposed to be "day one" of many has now become just "one day" repeating itself over and over and over… and as we see at the end of this number, at this point in time, there's still no way out.
"If I Had My Time Again":
This number does LOADS to progress not only the Phil/Rita relationship, but also Phil's personal relationship to himself. He's still not there yet, but he's inching closer. I mean, sure, Rita waxes poetic on the profound ("I've always fancied learning how to climb…. I'd study math and search for meaning"), while Phil revels in the more childish antics ("I once masturbated seven times… a man my age… it's nice to know I can"), but Phil does pick up on all Rita's saying in later songs, so this is sorta that first glimpse of her rubbing off on him. The music exemplifies this change as well — notice how it's an upbeat head-bangin' hardcore rock tempo (accompanied onstage by a burst of color) that differs in style from all the songs that preceded it — it's waking Phil up to the excitement of the world around him, pushing him out of his suicidal spiral. It's a brilliant way to show this angle! Plus, any excuse to show off Doss' killer vocals is fine by me.
"Philanthropy":
First off, who doesn't love a groundhog on a drum kit? As Phil begins his journey-toward-good, he goes off on a whirlwind mission to inject positivity and save everybody's day from disaster. While a fun musical number to see onstage, the genius of the track also lies in the music: The whole journey's underscored with songs previously heard the show — in fact, it's pretty much all of "Day One" as an instrumental — but given that Phil's no longer an a**hole, the music is given new life. "Small Town U. S. A." is given a faster tempo, the addition of drums (hence: groundhog) and another trumpet to give it that jazzy feel, which also leads into a sped-up, snappier "There Will Be Sun." And the "Punxsutawney is a little town with a heart as big as any town" comes without Phil's bitter overlap. Everything remains exactly as it was — but it's looked at in a much more positive light, as is the case with Phil, who's now turned a new leaf and has become a more upbeat, positive guy. (He's changed, so the music's changed to reflect that, too). And yet, the repetition (of the word "Groundhog") still remains at the end, to give a little spark of what was, and remind us that although Phil has turned a new leaf, we've still been living the same day over and over again.
"Seeing You":
How could we not put this beautiful song on our top five list? Rumored to be Andy Karl's favorite number in the show, this crooner brings Phil's journey full-circle. After a harrowing couple of (same) days, making mistakes, indulging in improprieties, and trying to beat everyone to the punch, he's finally learned to step back and appreciate life in the moment. As a result, he's, as the song says, finally "seeing you for the first time," because he's taken the time to stop and look. The music suggests this, too. After the last few high-octane numbers, the melody slows down into a smooth bluegrass number that's easy on the ears but at the same time, so gosh-darn infectious. Like the music, Phil's slowing down. He's taking it all in. He's learned his lesson. All is gradually coming back to normal. And all is right with the world. And that's why, at the end of the number, a new day (finally) begins.