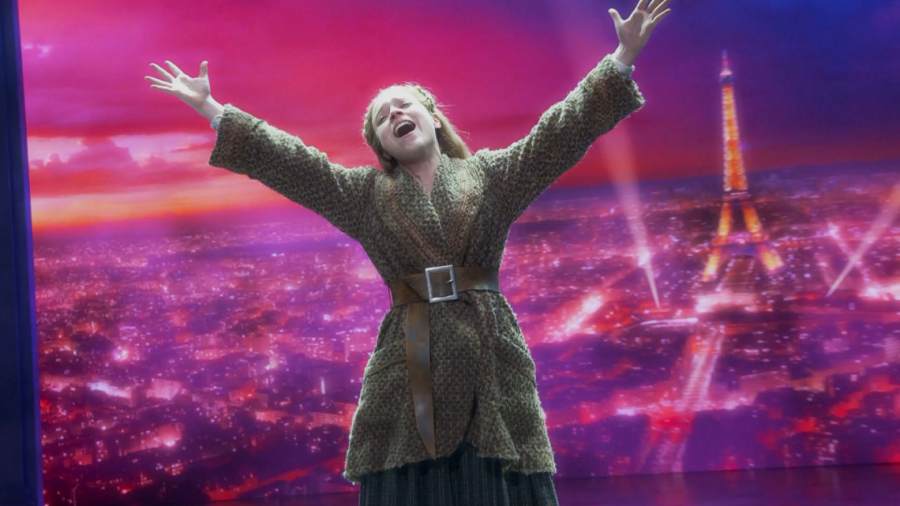 The Tony Award-winning creative team behind Ragtime has brought us a gorgeous new musical inspired by the legend of Grand Duchess Anastasia Nikolaevna Romanova. Set in 1920s Russia and Paris, Anastasia follows a young, amnesiac street-sweeper named Anya as she prepares to impersonate the missing Duchess, helped by two con-men and pursued by a Bolshevik revolutionary. As her memory slowly returns, Anya wonders if she could actually be the Grand Duchess Anastasia. And if you know anything at all about the musical, you probably already know the answer to that one.
With a score by Stephen Flaherty and lyrics by Lynn Ahrens, the soundtrack to Anastasia is enchanting, melodic, and delightful. Combine that with the sparkling vocals of Christy Altomare (Anya) and Derek Klena (Dmitry) and you've got a recipe for musical success. Then add Ramin Karimloo and Caroline O'Connor, and you've got yourself a show.
For your listening enjoyment, here are the top five songs from the Original Broadway Cast Recording of Anastasia.
1. Journey to the Past
It was a toss-up between "Journey to the Past" and "Once Upon a December", but after listening to "Journey to the Past" a second time, I couldn't resist putting it at the top of the list. This is Anya's big song, and it's a bit of a showstopper. The orchestrations sparkle, and Christy Altomare's pure voice practically glows. With Paris in sight, Anya hesitates for one final moment before jumping into her role as Anastasia and finding the family she's always longed for. The song's light, almost floatable opening matches Anya's hesitant yet yearning emotions: "Heart, don't fail me now! / Courage, don't desert me! / Don't turn back now that we're here. / People always say / Life is full of choices. / No one ever mentions fear! / Or how the world can seem so vast / On a journey ... to the past." But over the course of the song, Anya's fear gradually gives way to the flood of yearning and excitement she feels at the chance to finally meet her family and find her true home. As she does, the scope of both the orchestrations and Altomare's voice becomes more sweeping and grand, culminating in that final sustained note that Altomare pulls off like it's no big deal (but it totally is).
2. Once Upon a December
"Once Upon a December" is a unifying musical theme in the piece, sort of like a leitmotif. A brief version of the song opens the show, and there are several reprises later. But the song plays in full only once, in Anya's mid-first act solo. With a haunting melody, a music box opening, a gorgeous moving violin part, and a chorus that really truly sounds like a ghostly family of assassinated Romanovs, this song might just send chills up your spine. Of course, once again, Christy Altomare's beautiful voice lends its own beauty to the song, and her emotive emphasis on certain words perfectly captures the force of Anya's desire, as well as her frustration over her memory lapse.
3. Land of Yesterday
After "Journey to the Past" and "Once Upon a December," it gets trickier. But "Land of Yesterday," sung by Caroline O'Connor and the company, is such a swinging, jazzy song with such clever lyrics (and O'Connor kills it) that I couldn't resist putting it third on our list. With lyrics like "the night is young, and Russians are mad," "Let's live in the land of yesterday / live in the grand imperial heyday," and "we're not dead now / we're in France instead now," this song is a definite winner, and so catchy you'll have it stuck in your head for days afterwards - but you won't mind. Some Russian musical overtones make the song pop, as do O'Connor's sensual, fire-cracker vocals.
4. Quartet at the Ballet
I'm a sucker for quartet numbers in musicals. And this particular quartet is packed with so much musical excitement and tension that I could wish the show had a few more group numbers. Weaving in music from Tchaikovsky's Swan Lake Ballet, along with the "Once Upon a December" theme, this song combines the amazing voices of Christy Altomare, Derek Klena, Mary Beth Peil, and Ramin Karimloo, so what's not to love?
5. Still
Speaking of Ramin Karimloo, we'd be remiss if we didn't include one of Gleb's big solos on our list of top five songs. A Soviet charged with hunting Anya down and silencing her once and for all, Gleb alternates between his dedication to the cause and the strange connection he feels with Anya. In "Still" he wonders whether she really is as innocent and naive as she seems, or if, as he suspects, there's something more to her. Listening to "Still" it's hard to shake the feeling that this song wasn't written solely for Karimloo. It's also hard not to hyperventilate when he hits that final, ultimate note - and then his voice just keeps building. At any rate, this song's epic climax is only one of many exciting musical moments on the Anastasia soundtrack.