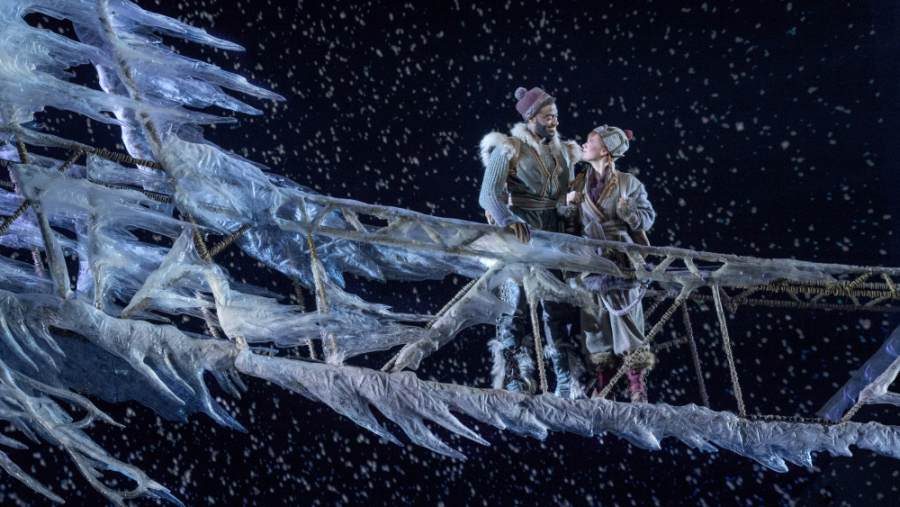 At BroadwayCon 2018, we got a first listen to Disney's newest Broadway musical: Frozen. Songwriting husband and wife team Robert Lopez and Kristen Anderson-Lopez (who worked on both the film and Broadway show) joined actor Greg Hildreth, who plays the lovable snowman Olaf in the Broadway musical, to talk about their songwriting process and expanding Frozen from an animated film to a full-length Broadway show. They also previewed a few of the show's new songs. Here are five things we learned:
"Let It Go" was the first song written for Frozen.
Robert and Kristen explained that they wrote Elsa's big number "Let It Go" first, then used it as a springboard for all the other songs in the film. For example, "Let It Go" includes the line "Don't let them in, don't let them see," which they then used for Elsa's part in "For the First Time in Forever." Even the song "Do You Want To Build A Snowman?" incorporates a musical motif from "Let It Go" that Robert and Kristen call the "Elsa's pain" theme.
Robert and Kristen also talked about the process of composing "Let It Go." Robert explained that they conceived of Elsa as "the buttoned-up one, the straight-A student with a secret to hide." They realized that they had to get Elsa from this buttoned-up girl to the snow queen, so they needed a "transformation song" that would accomplish this. Kristen decided it should be a song about letting go of others' expectations and finding empowerment, especially as a woman.
The couple were walking in Prospect Park when Kristen jumped up on a picnic table - while Robert reportedly blew in her face to imitate the icy wind - and imagined what it would feel like to just start "letting go of everything you've ever known, letting go of all of the promises and all of the people you've worked so hard to please your whole life" but also "finally letting go of all you've been holding in and letting your true power out" (according to Kristen).
Kristen said that idea was very freeing for them as lyricists, to not constantly be caring about what other people think.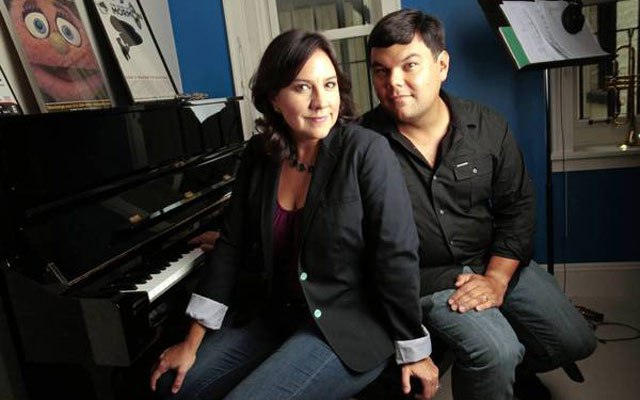 Songwriting is a family affair.
Kristen compared she and Robert's relationship and songwriting process to that of Sonny and Cher (but with a happier ending, hopefully, she joked). According to Kristen, "any line that sounds like it could be sung in a drag queen bar" comes from Robert. (For example, "the snow glows white on the mountain tonight, not a footprint to be seen. A kingdom of isolation, and it looks like I'm the queen.") On the other hand, the lines about female empowerment and being "the good girl you always have to be" come from Kristen.
But apparently their young daughter also sometimes contributes. In "For the First Time in Forever," Kristen and Robert had originally included the line "I hope that I don't vomit in his face" (sung by Anna). The rest of the production team told them that wouldn't fly, and they called Kristen while she was at the dentist with her daughter to tell her to change the line. On the spot, her daughter came up with "I want to stuff some chocolate in my face" and that was the line that made the cut.
The musical will use Bunraku puppets.
Greg Hildreth, who plays Olaf in the new Frozen musical and sang "In Summer" for the BroadwayCon audience, talked about the physical challenges of playing Olaf. Apparently, Olaf and Sven are played by a combination of actors and Japanese Bunraku puppets. In fact, the two men playing Sven have to plank for the entire show - on stilts. Greg Hildreth said he's been a lifelong puppet nerd, so while playing Olaf often leaves him in pain at the end of the day, "it's a good kind of pain."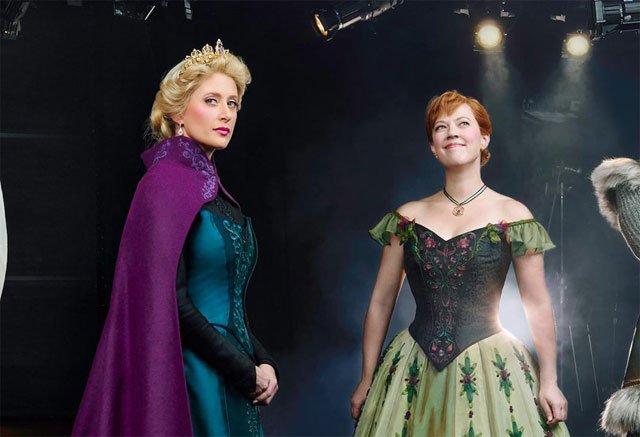 We'll get to hear a few of the musical's new songs very shortly.
Starting on February 23 (which just happens to be Robert's birthday) Frozen will release one new song every Friday for four weeks.
And if the taste we got at BroadwayCon is any clue, the new songs are definitely something to get excited about. Kristen and Robert sang snippets of several new songs, including one that Elsa sings early on. Kristen explained that "For the First Time in Forever" is Anna's I Want song, but they felt that Elsa needed one, too. However, she wondered, how do you write an I Want song for a girl who's not allowed to want anything? The answer was the song "Dangerous to Dream" which Kristen calls an I Want song with a twist.
Another new song is one to replace the wolf chase scene in the film. Kristen and Robert knew they couldn't pull off the wolf scene onstage (at least not without heavily invoking The Lion King), but they needed to somehow get Anna and Kristoff up the mountain to Elsa's ice palace, while also moving their relationship forward. So they wrote the song "What Do You Know About Love?" a fun, sparring song in which Kristoff questions Anna's love-at-first-sight experience with Prince Hans.
Then there's Kristen's favorite song: "True Love" sung by Anna after Hans leaves her. It comes late in Act III and plays on the musical theme from "Do You Want To Build A Snowman?"
Frozen has gone through some changes since Denver.
When an audience member asked if the creative team made any changes to the musical after its Denver run, Robert and Kristen revealed that the show has changed about 30% since Denver.
Frozen begins previews on Broadway February 22.