July 23, 2021
ISLANDER FROM LIZA BIRKENMEIER AND KATIE BROOK SET TO PREMIERE AUGUST 19 – SEPTEMBER 4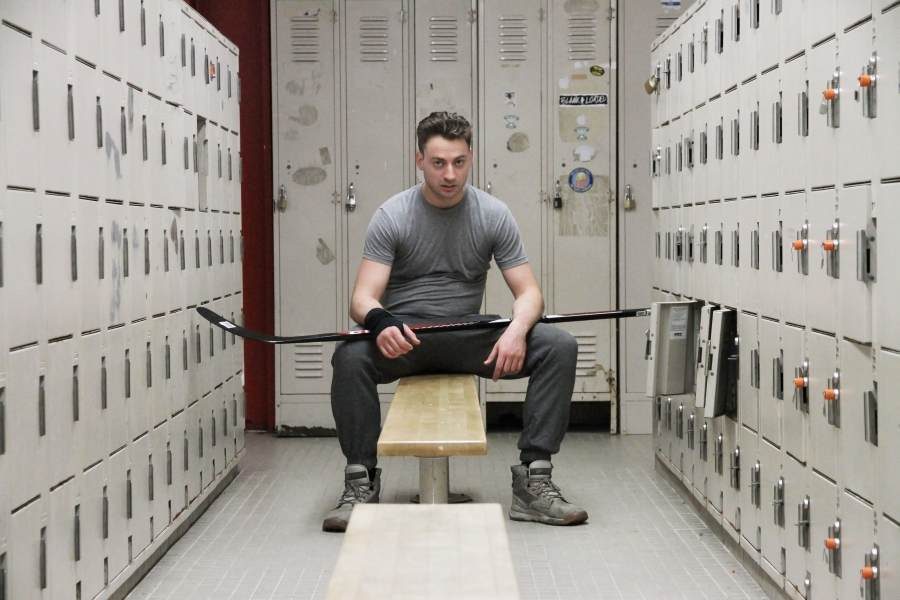 Following their 2019 New York Times Critic's Pick production of Dr. Ride's American Beach House, playwright Liza Birkenmeier and director Katie Brook are set to premiere their next collaboration, ISLANDER, as part of SubletSeries@HERE. ISLANDER repurposes verbatim NHL commentary from the abysmal 2017-2018 New York Islanders season into a sharp comedy about white male fragility, expressiveness, and shame. Previews begin at HERE (145 Sixth Avenue, Manhattan) on August 19, 2021, with an opening set for August 21, for a limited run through September 4, 2021. Tickets are on sale now at https://here.org/shows/islander/ .
ISLANDER, which was originally scheduled to premiere March 27–April 11, 2020, is one of the first canceled productions to reopen following the pandemic.

The 2017-2018 NHL season was an embarrassment for the New York Islanders. Displaced from their home rink and in danger of losing their captain, they never made it to the playoffs. ISLANDER packs all of the feelings of the rowdy, deceived, passionate New York Islanders fan base into one man's body. Birkenmeier and Brook explore the crisis of the team as the crisis of white male identity.

ISLANDER centers on one man who is determined to have a season of self-improvement. He knows he deserves to win. He can feel it. But as the weeks wear on, his situation only gets worse, in every way possible. A shadow of his former dominance, his current status is ever-crumbling and increasingly embarrassing. In ISLANDER, the humiliating 2017-18 New York Islanders season becomes a one-man dramedy about rooting for yourself even when you're terrible.
Writer Liza Birkenmeier and director Katie Brook commented, "The decentralization of the straight white male identity—and the angst that decentralization is creating—feels even more timely since we first started working on ISLANDER in 2019. We find America's obsession with White Male Comfort terrifying and pitiable. As we emerged following the pandemic, we think that this shaky-ground moment can be an interesting one for contemplation and growth for everyone and can be best, or perhaps only, explored through the perspectives of people who have not been privileged by it."
ISLANDER stars David Gould as Man and includes supporting performances by Dick Toth as Other Man and newcomer Aksel Latham-Mitchell as John Tavares..

The creative team for ISLANDER includes set and lighting designer Josh Smith, choreographer Katie Rose McLaughlin, and sound designer Ben Williams.
Sixteen performances of ISLANDER will take place August 19–September 4 at HERE, located at 145 Sixth Avenue, just below Spring Street, in Manhattan. Critics are welcome as of August 19 for an opening on Sunday, August 22. Tickets, which are free with RSVP from August 19–22 and $25 from August 24 – September 4, are available online at https://here.org/shows/islander/  or by phone at 212-647-0202. Standard ticketing fees apply.
Performances at HERE on Tuesdays through Saturdays are Vaccinated Only Performances; patrons attending performances on these days will be required to show proof of vaccination and be masked inside the building. Performances on Sundays are Accommodation Performances, for patrons who are fully-vaccinated or have a negative COVID test. On Sundays, audience capacity will be limited to 50% (less than 50 patrons), and all audiences will be required to complete HERE's health survey prior to or upon arrival at HERE. As part of the health survey and upon arrival at HERE, audiences are required to show proof of vaccination or a negative COVID test in the last 72 hours. Masking is required of all staff and audiences at all times while inside the building.
HERE's Comprehensive Site Safety and Reopening Plan can be found at reopening.here.org. The designated HERE Site Safety Monitor will be present at every performance and will be responsible for enforcing compliance with this Safety Plan.
ISLANDER is produced by Televiolet and was developed through a New Georges Audrey Residency. In its Supported Productions program, New Georges provides resources, mentorship and an institutional platform to its affiliated artists who are producing their work independently. The production is a part of SubletSeries@HERE: a curated rental program, which provides artists with subsidized space and equipment, as well as a technical liaison.
About the Artists
Katie Brook (director) is a director of new experimental plays and performance and makes original work collaboratively with her theatre company, Televiolet. Her work has been presented at various venues in New York City and beyond, including Abrons Arts Center and The Public Theater's Under the Radar Festival, where she was a member of the Devised Theater Working Group In the fall of 2019 she directed the premiere of Birkenmeier's Dr. Ride's American Beach House at Ars Nova. During the pandemic she created The MS Phoenix Rising, a new fiction podcast with Trish Harnetiaux and Playwrights Horizons. Brook has also worked as a creative producer at The Foundry Theatre, The Builders Association, and New York City Players, and is the Director of Production at StoryCorps. She received her BFA from NYU's Experimental Theater Wing and her MFA from Carnegie Mellon University's School of Drama. katiebrook.net

Liza Birkenmeier (writer) was the 2019-2020 Tow Playwright-in-Residence at Ars Nova, where her play Dr. Ride's American Beach House, directed by Katie Brook, premiered in 2019. Her most recent work includes Please Welcome Our Guest, commissioned by MTC for their Snapshot Series, and Honestly Sincere with Theater in Quarantine. She is a recent member of the Emerging Writers Group at The Public Theater. She is a Macdowell Colony and Yaddo fellow and received her MFA in playwriting from Carnegie Mellon University's School of Drama.
David Gould (performer) is a Televiolet regular, recently collaborating on Katie and Liza's Tragedy in Spades: A Crime Documentary. Other recent collaborators include Meghan Finn, Sarah Hughes and Julia May Jonas. He's a graduate of the Experimental Theater Wing at NYU.  

Dick Toth (performer) recent New York theatre credits include Charlses (The Brick), I'll Never Love Again (The Bushwick Starr), Heartbreak (New Georges/The Bushwick Starr), Dreamless Land (NYC Players). Recent film and TV: Hedgehog, The Blacklist, Billions, House of Cards. Other performance work includes traveling the country as a clown with Ringling Bros. and Barnum & Bailey Circus, and as a puppeteer with Hudson Vagabond Puppets. As a playwright he has developed and produced work with HERE Arts Center, Perseverance Theatre, California Theatre Center, Irish Repertory Theatre, Misery Loves Company (Prague) and The Weasel Festival.
Katie Rose McLaughlin is an NYC-based choreographer and director originally from Minneapolis, MN. Katie Rose is the Associate Choreographer of the Tony award-winning Broadway show Hadestown and recently she has been creating work as the Co-Creative Director for the Drama League Award-winning Theater in Quarantine. Notable theater credits include Orlando (Williamstown Theatre Festival), Indecent (Weston Playhouse), Bear Slayer (Ars Nova), Triplight (Joes Pub), SEAGULLMACHINE (La Mama ETC), and The Black Crook (Abrons Arts Center). She is a 2021 artist-in-residence at La Mama and CultureHub's Experiments in Digital Storytelling program. In 2013, she co-founded and became the Artistic Director of Designated Movement Co. Visit Katierosemclaughlin.com for more information.

Josh Smith (set and lighting designer) is a New York-based set and lighting designer. Recent projects include: Owen Wingrave (LOTNewYork), R&J and Our Town (Alabama Shakespeare Festival), The Power of Emotion (Abrons Arts Center), Bear Slayer (Ars Nova), Boy at the Edge of Everything (Lincoln Center), Million Dollar Quartet (Cape Playhouse and Bucks County), The Power Of Emotion (The Public Theatre: UTR ), ...Ichabod Crane (Park Avenue Armory), Feeling (New Ohio Theatre), Lady Han and Party in the USA (Incubator Arts). www.josh-smith.com
Ben Williams (sound designer) recently worked with Katie and Liza on Dr. Ride's American Beach House. He is a member of Elevator Repair Service and a founding member of minor theater with Julia Jarcho. He produces category : other, a platform for experimental audio. Awards for sound design: Obie, Lucille Lortel, Los Angeles Drama Critics Circle, and Third Coast International Audio Festival's inaugural Audio Unbound Award (for Jillian Walker's Songs of Speculation). benwilliamsdotcom.com

Televiolet (producer) is a theater and performance ensemble led by director Katie Brook that uses dramatic texts and real-world content to experiment with acting and dramatic form. Televiolet works created in collaboration with Liza Birkenmeier and Katie Rose McLaughlin include Tragedy in Spades (developed at University Settlement Performance Project) and American Realism (Invisible Dog and The San Diego Museum of Art). Televiolet has also been featured at Prelude, Little Theater, Catch, Under the Radar, and Abrons Arts Center, where their most recent production, The Power of Emotion: The Apartment, premiered in 2017.
Since 1992, New Georges has launched and sustained artists of assertive imagination -- individually, as collaborators, and as a community -- and advanced their exuberantly theatrical new plays. We serve the largest ongoing working community of women and tgnc theater artists in New York City with career-transforming productions; collaboration-based development programs; and The Room, our indispensable workspace. Honors for New Georges, its plays and its people include the National Theatre Conference's Outstanding Theatre Award, 3 Obie Awards, The Lilly Award, the Susan Smith Blackburn and Kesselring prizes.
Funding Credits
ISLANDER is made possible in part with public funds from Creative Engagement, supported by the New York City Department of Cultural Affairs in partnership with the City Council and administered by LMCC, and by the New York City Artist Corps.