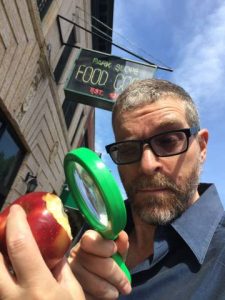 The New York International Fringe Festival will bring 200 shows to NYC from August 12-28. We spoke with writer Gersh Kuntzman about the musical comedy Murder at the Food Corp.
What was the first musical that made you want to make musicals?
As a boy with borscht in my veins, I have always been drawn to big, self-referential, shticky musical comedies, such as The Producers and A Funny Thing Happened on the Way to the Forum. The first musical that made an impression on me as a kid was City of Angels because of the dual plots of real world and "reel" world. Anything Larry Gelbart touches is gold! Gold, I say, gold!
Tell us about your show in 3 sentences or less.
Murder at the Food Coop is a mystery farce for our foodie age! The entire show is set inside the ultra-liberal, super-secret Park Slope Food Coop, where beneath a pristine, green, leftist exterior lurks unseen demons. When founder, Doris Chiang Kai Shenkman is found dead inside the yak-manure-powered Gore 3000 freezer unit, members ponder who could've done the dastardly crime, as well as which members are having their nannies do their shifts for them! Det. Dick Johnson from the 78th Precinct arrives and begins a free-range investigation that reveals far more than just whodunnit!
Describe the sound of your musical, it's like _______ meets _________
Our show is a rock-musical, so it's like Rent meets The Producers.
Who is your favorite classic musical theater composer? And your favorite composer working today?
I love Robert Lopez (Avenue Q, Book of Mormon). And how can you not love Lin-Manuel Miranda? Hamilton is just freakin' awesome.
Why is it important to bring your show to Fringe?
I love the NYC International Fringe Festival because it encourages wacky work and brings together audiences that are up for a good time. Plus, the festival is such a loving, warm environment. Elena Holy is a national treasure.
What's next for the show?
A post-Fringe Off-Broadway run…if you have $20,000 to invest, darling!