Interview: Betsy Wolfe on Revisiting 'The Pirates of Penzance' and How We Can Help Keep Opera Alive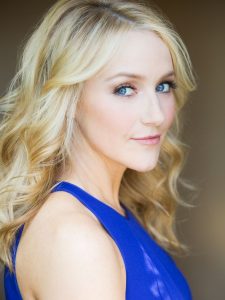 Betsy Wolfe craves a challenge. Traveling from coast to coast, from Broadway to opera, and Off-Broadway, there is not a single aspect of performing she will not try to conquer, and who can blame her? Blessed with a magnetic stage presence and a versatile, beautiful voice, she's able to play characters as varied as Rosa Bud in The Mystery of Edwin Drood to Ellen in Bullets Over Broadway. Unafraid to tackle extremely emotional parts she's given indelible performances in The Last Five Years (opposite Adam Kantor) and City Center Encores!'s now classic Merrily We Roll Along, both of which rightfully earned her great reviews.
After the West Coast run of Robert Lopez and Kristen Anderson-Lopez's Up Here, Wolfe is taking on a familiar part by reprising her role as Edith in the classic operetta The Pirates of Penzance with MasterVoices and the Orchestra of St. Luke's, but don't expect her to rest on her laurels, as she made it clear during our interview, in which we also discussed the role of women in theatre and her admirable worldview, she has no plans of taking time off to rest anytime soon and is in a constant search for exciting new parts to play, and aren't we all luckier for that?
Why do you think The Pirates of Penzance remains such a classic?

It's been around since the late 1800s so obviously there's an appeal that has gone on for generations. I fell in love with the piece and feel it's the rare comedic opera that has power, it's funny, incredibly witty, the themes are relatable to a wide variety of audiences and I just absolutely love the music.
That cast! Montego Glover, Hunter Parrish, Debora Voigt! How great is it to work with all these great performers?
We mounted a production of this with Ted Sperling at the Public Theatre in the Park a couple of years ago, and it speaks to the piece and its integrity, that so many of us are returning to do the show again, cause we all love it as performers. I did it with Montego and other cast members and it was so much fun, so it's no surprise to me so many of us are back to do it again.
Next year MasterVoices are also doing Dido and Aeneas perhaps a reminder of how necessary it is to preserve opera and how sad it is that so many companies keep closing. What can audience members do to keep opera alive in New York?
I think they had the right idea by doing it in a concert setting and also including artists from different genres, we have Broadway artists and Deborah Voigt who is obviously an opera artist, so I think they've been very clever by blending the talent which hopefully will create a blended audience, and that's what we can do to keep it alive.
Do you find that having a classic voice makes it hard to find parts in a musical theatre culture obsessed with belting?
Well I love to do both, I try to stay involved with both, I'll be back at the Met this winter with Die Fledermaus a production we did about a year and a half ago. I love doing both but I have to separate them at times, if you're focusing on a more operatic repertoire it helps if you're using your voice in a certain way. Pirates is Gilbert and Sullivan which has sort of a crossover appeal in its way, but for me it's about using a healthy sound and I'm not playing Mabel, I wouldn't be belting in The Last Five Years if I was playing Mabel next week. Playing Edith allows me to use what I believe my talents are.
You played Beth in the Encores! production of Merrily We Roll Along and Cathy in The Last Five Years, which means you have mastered the art of the wronged stage wife. Do you ever try to find similarities between characters you play to understand them better?
I think that happens to be just one common thread with those two, another would be they're both stories that happen to be told backwards which is a funny coincidence, but mostly I look for depth in characters. I look for flaws, it's so interesting to play roles which cross a wide variety of ranges of emotional states, I love that about Beth and Cathy, we see them in very different points in their lives. I like trying to find the connective tissue, I love the challenge of that.
Also, Sondheim and Jason Robert Brown are in a league of their own when it comes to musical theatre composers...
Yes, I've been very lucky to play roles by them. I respect them immensely.
After you did Bullets Over Broadway it came to my attention that you really haven't done any television or film. Are you interested in working on those? Perhaps if Woody Allen cast you in his upcoming TV series?
You know what, mention that in your next phone call to Woody, will you? (Laughs) Of course, I've been so fortunate to have been busy every season in the theatrical world, developing or originating a new piece and I love being able to devote my time to that, and the film and TV world haven't allowed for that kind of schedule yet. But I see myself crossing over, I don't know if anything will ever satisfy me like theatre does and being with a live audience, but I love the thought of working in different mediums. It's challenging and scary, but I've never avoided those  things before, so this might be my next step.
Articles about you often describe you as "ambitious" for going after the roles you want and being determined to be on Broadway from a very early age, all of which I find rather inspiring; however I have seen cases in which women think they have to apologize for being ambitious because they assume it's a bad thing. How can we make them see the world in a more unapologetic Betsy Wolfe way?
Interesting. I love that question. When I think about it, it's something that seems so gender specific, I feel like it's completely normal, fine and actually encouraged for men to be ambitious, so it's interesting to me that for women it's seen in an apologetic manner. For years we've been coming from a place where women tended to stay home more and career wasn't as important, things have changed so drastically in the last 30 years when it comes to women in the workplace, and I was lucky to have family that instilled in me that ambitious was not a negative thing. I've certainly had to find a balance and the older I get, the more I find a balance between personal life and career, but I look at today and think I'm achieving both equally which personally makes me very happy. I believe that having a balanced personal life enriches my work.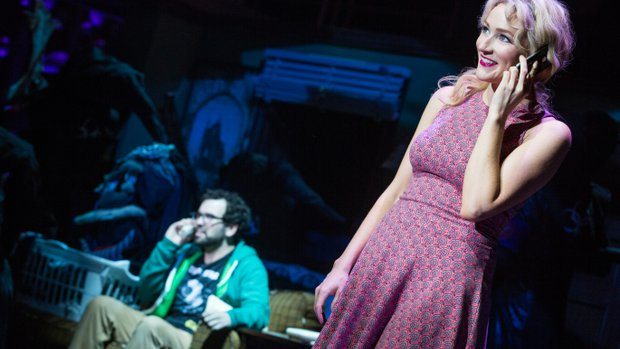 With this great worldview I can't help but wonder if you have any interest in pursuing direction or writing? Especially in bringing more women to the stage.
It's like you've been reading my mind for the past week (laughs) I very much want to collaborate, it's actually something I'm working on right now in deciding who I want to collaborate with, but certainly that's something on my mind and I would certainly say it's in the near horizon.
Any word on when we can expect Up Here on Broadway?
Oh my goodness I have no idea! We had such a great time in La Jolla and that creative team is a dream team, I would do anything with them, they're so witty and smart, incredible people, but your guess is good as mine. The show is good enough to be on Broadway but we have to wait for them to decide to bring it here because Broadway would be so lucky to see that piece, it's unique, vivid and everything you'd want in a piece of theatre.
I'll try my best to put in that request for Woody Allen but I have a request for you as well, you'll be joining The New York Pops and Jeremy Jordan next spring for a show at Carnegie Hall. Who do we have to see to turn it into a The Last Five Years symphonic concert?
(Laughs) I can guarantee we will be doing some music from that. We will definitely not disappoint you!
The Pirates of Penzance plays at City Center on October 15 and 16. Visit their website for tickets.