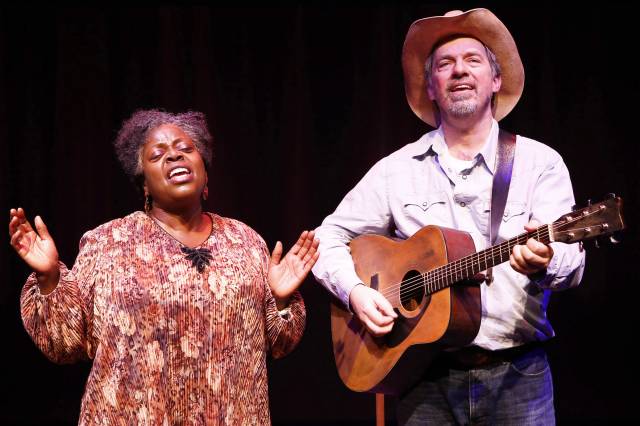 Tony-winner Lillias White has the kind of voice that's both majestic and soothing, qualities that perfectly fit the real-life character she's currently playing onstage in Alan Govenar's Texas in Paris. White plays Osceola Mays, an elderly Texan widow sent to Paris on the cultural mission of sharing Southern music with the French. Her travel companion is all-American cowboy John Burrus (played by Scott Wakefield), who first rejects Osceola based on the color of her skin, but slowly realizes they can bond through their music, and boy what music! Mays and Burrus do hymns and popular country songs, which give the actors playing them the opportunity to shine. White plays Osceola like a woman who has seen light and plenty of darkness, which is why her rendition of songs like "Oh Mary, Don't You Weep" cuts right through you.
With a career spanning more than thirty years, White has starred in shows like Dreamgirls, Barnum, Chicago and The Life, for which she won the 1997 Tony Award for Best Featured Actress in a Musical. When I talk to her over the phone, every other line is interrupted by jolly laughter and even a purr ("It's my cat," she explains). We discuss her career which includes oddities ("I don't even remember how I got to do that," she confesses when I ask how it was to do backup vocals for Madonna in "Rescue Me") and undeniable triumphs. Most of all we talk about her unique voice and as I try to decipher the secret to her magic, I find myself more and more enchanted.
You played Big Maybelle in Big Maybelle: Soul of the Blues and now Osceola Mays in Texas in Paris, two real life performers we know very little of. Is that part of what attracted you to play these parts?
Yes, Osceola not as much because nobody really knew about her, I thought for a while that because nobody knew about her, what was the importance of telling her story? I changed my mind about that, because it just goes to show that anybody from any walk of life can be discovered and make a difference to people.
How do you prepare to play a character who has to endure racism and bias at the hand of other characters?
Scott Wakefield's character is not very nice to Osceola (laughs) but I used to hear stories from my mom, who grew up in the South, about how black people were treated, and the kind of things they did in order to survive. I read as much as I could about Osceola, but just knowing how black people were treated back in that time was enough information to be able to play her.
Conversely you also played Dinah Washington, did you find that playing someone more famous restricted your performance a bit?
Dinah was a very specific character, she was quite sassy, so playing her was very different. She was a take charge person, a no-nonsense person and Osceola kinda had to take what she was given. I tried to play Osceola as I feel that she is and put part of myself into it.
Even your most harrowing characters, like Sonja from The Life and Osceola, always have a touch of humor in them. Is this something you seek in these parts?
I don't particularly seek it out, but I think that everyone has to have a sense of humor. You have to look at your life and find a sense of joy in it, what makes you happy, that's what I look for.
You're being honored at the Bistro Awards for the show you did at 54 Below. Having done cabaret, Broadway, recitals, Off-Broadway the one thing that remains constant is your ability to touch people directly regardless of the size of the venue.
Is that how people feel? (Laughs) I try to just be honest with myself and with the material I'm performing. I try to be true to the songs that I'm singing and interpret them according to my own truth and I think that's the best, biggest and clearest thing an actor can do: tell the truth.
In Texas in Paris, when Osceola sings, people in the audience had very interesting reactions. Some people snap their fingers, some tap their feet, others seem uncomfortable because they don't know what they should be doing. It made me think that this was similar to what Osceola went through in Paris.
Absolutely. In Paris people did snap their fingers with her and they seemed to get a charge out of accompanying her that way, because it gives them that special feeling. I wasn't in Paris with her, but I feel I understand why people reacted this way, because she invited them in to participate with her.
Does audience participation in this regard alter your performance on a nightly basis?
Yeah, it changes. Last night the people did not snap their fingers at all (laughs) and they didn't sing along at the end either.
You're a fairly plainspoken person, what are some challenges you have been through in the business?
(Chuckles) Challenges...with audiences?
For example did your Tony win have any sort of positive effect on your career?
It had a positive effect definitely but I will tell you that winning a Tony for a black artist doesn't necessarily transfer into the kind of success it does for a white artist. That's been shown time and time again.
Do you feel like there's been any changes in this?
Having a black artist win a Tony is always helpful if you have the right people around you representing you and the right team working on your behalf.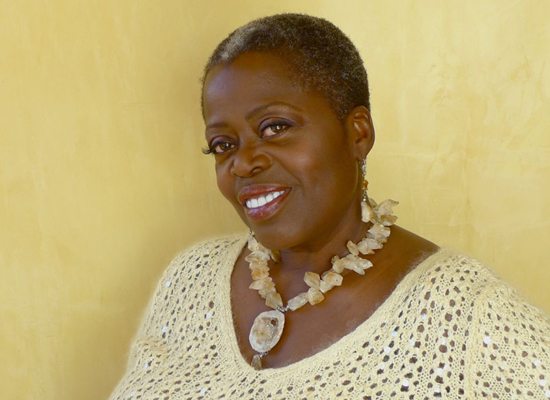 You've mentioned that you think Cy Coleman should be part of the Great American Songbook.
He is part of the Great American Songbook!
You mentioned that you felt he was being underperformed. So what other composers do you think are underperformed or would include in your songbook?
Duke Ellington, Alan and Marilyn Bergman...but I don't know for sure that they're underperformed, I just know they're some of my favorite artists. I love some of the stuff Peggy Lee has written.
You have a knack for taking famous standards and making them your own. What's your secret?
Honestly, it's no secret, it's up to an individual performer to interpret a song based on what's in their hearts and minds. It all depends on what it is they want to say, so these are just my bends on how I hear a song, particularly how I view the lyrics. But everybody has their own way of doing that, I just dig into the song, into the lyrics and take it from there.
You'd make a fantastic Mrs. Lovett! What are some of the parts you would love to play that you haven't had the opportunity to play yet?
I would love to play Mama Rose in Gypsy and Mame in Mame...off the top of my head those are the ones I can think of, but Mrs. Lovett would absolutely be fun! Ms. Hannigan in Annie would be fun too! But I would also love to do more straight plays, more of the characters from Tennessee Williams and the classics from No Exit and Antigone, I wouldn't mind playing any of those.
In Barnum you performed "Thank God I'm Old" but you never seem to age!
(Laughs) Tell that to my knees! I love that song, when I did it on Broadway I had to put lines on my face and walk a certain way and wear a great wig, and sometimes I still have to do that.
Texas in Paris runs through March 1 at the York Theatre Company.