Interview: Guillermo Calderón on 'Escuela' and Using Theatre to Recover What the Chilean Dictatorship Tried to Eradicate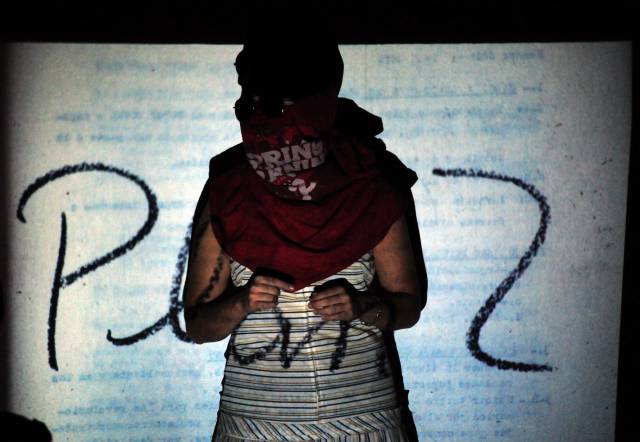 Guillermo Calderón's Escuela (January 13-17 at the Public Theater) takes place in 1987 Chile and focuses on the efforts of a group of young activists who are training to help overthrow Augusto Pinochet's military dictatorship. Concealing their identity from each other by wearing masks, the youths learn how to handle firearms, political theory and other methods they think will help them obtain social justice. Calderón, who came of age during the dictatorship, is no stranger to politically conscious theatre and through Fundación Teatro a Mil, is aiming to bring the best of Chilean plays to the rest of the world.

What do you find is the most unique thing about bringing your works to New York? The audience reaction? The critical perspective?
I find that a big part of Under The Radar audiences are theater makers, so performing there is an intense and engaged experience. I love to think that our work is going to influence, even in a small way, the unique creativity of New York Theater.
You came of age during Pinochet's dictatorship and have touched it before on your work. Do you think that Chile as a collective has dealt with the trauma of Pinochet in the best way possible?
Our national institutions failed to deliver timely justice for human rights violations so the arts have tried to deal with the trauma by addressing the subject from every angle. Theater has become a way of exploring that trauma and also a slight consolation.
Did art serve you as an escape during the dictatorship?
Yes. Mostly novels and forbidden music. My best memories of those years are evenings after school, listening to old political folk music with friends, always at a very low volume. Chilean poetry and Argentinean novels helped too.
I'm fascinated by the theatricality in Violeta Went to Heaven which you co-wrote. As a filmmaker do you find that theatre should become more cinematic? What would you say is the right balance between the two art forms?
I started as a theater purist, trying to stage my plays with a simple, spare theatricality. Eventually I stopped caring about purity. Film has been such a big part of theater since its birth that both are impossible to separate. Whenever I read I review that says a film is "theatrical" I run to watch it. For me it means that it happens in closed rooms with people talking and crying. I don't think balance is necessary. Both arts are almost always in conflict and that's always interesting to watch.
Escuela deals with the kind of history that books don't cover. Do you find that your mission as a playwright is to reclaim this for victims of the dictatorship?
The dictatorship was very effective at erasing the lives and ideas of the people who opposed it. I like to think that my plays bring back those ideas. Many people sacrificed fighting the dictatorship with all means possible could not find a political or social space in the neoliberal and restricted democracy that emerged after the free elections. That generation disappeared into oblivion when their radical energy became a liability for the new democratic process. Escuela tries to bring back to life their methods, ideas and portray their ultimate defeat. Theater can rewrite history and that's something we actively try to do onstage.
For tickets to this, and other Under the Radar shows click here.