Interview: Jenna Leigh Green on the Girl Power and Joy of 'The Marvelous Wonderettes'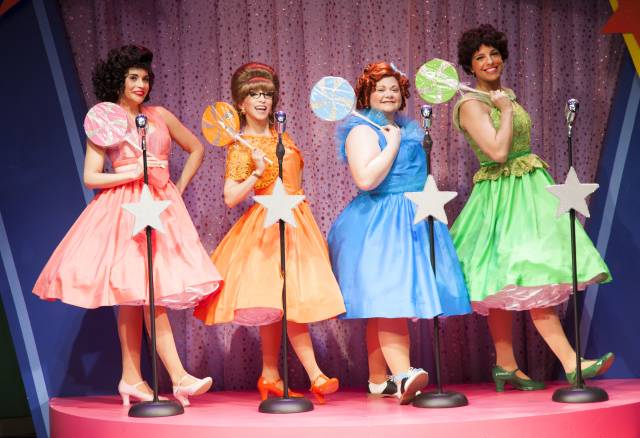 It's 1958 and the students of Springfield High School are in for quite the treat on their prom night, as they will be serenaded by their very own, sensational girl band The Marvelous Wonderettes! In between swoon-worthy numbers like "Lollipop", "Dream Lover" and "It's My Party", the four band members will unearth issues brewing within the group, leading to a night none of them will forget. One of the band members is the devilish Cindy Lou played with charm and poise by Jenna Leigh Green. Ms. Green is no stranger to playing "mean girls", first having gained prominence for her delicious turn as Libby Chessler in the popular TV series Sabrina, The Teenage Witch. She went on to making a big splash for her stage work, which included playing Ivy in the original reading of the seminal Bare: a pop opera, Maria in West Side Story and Nessarose in the first American tour of Wicked. We caught up with Jenna to talk about her delightful work in The Marvelous Wonderettes.
This is probably weird, but I was rooting for Cindy the entire time!
You were?
I was!
I love that you said that, nobody really roots for Cindy Lou (laughs)
I mean I can see why people wouldn't root for her, but I admired how the show makes us wonder if a different girl will win Prom Queen based on that night's performance, rather than the book. How did you guys create this suspense?
We didn't change anything from what Roger Bean wrote, the same person always wins, it's not like The Mystery of Edwin Drood. What we tried to do was to make each of these girls so individual that hopefully the audience does pick their girl to root for. Cindy Lou is written meaner than usual and I wanted to really dive into that. Everyone knew the mean girl in high school, the girl who doesn't really pretend to be nice, and I feel like my Cindy is possibly more of a mean girl than she's usually played, but it helps set up her 180 change in the second act.

The girls each have very specific archetypal characteristics, like the colors they wear, their personality. How do you find the character within this?
In rehearsals we spoke with our director about the relationships between the girls, and maybe a little bit of backstory. But the main thing to know about this show is that it's light and fun, it's silly. Trying to dig too deep into a show like this might have been to our detriment, if we had done crazy research, we're not putting on a big, dramatic piece. We're putting on a fun that's sheer fun, we want to take Baby Boomers to a place they remember, I wasn't even born when these songs were popular and I knew so many of them. We gave ourselves a basis and a foundation for who these girls were, and I feel that all the information is in the script. For instance at heart, Cindy Lou is a bit insecure, but she'd never let that show. She comes from a place where she thinks that being the best is the thing to strive for. I've said this in my career before, because I've played my share of "mean girls", but I feel that if you were a mean girl, you wouldn't know how to play one. I was the kind of girl who went unnoticed in middle school and I saw those girls and how they behaved. I always wonder where they are.

There must be something wrong with me because I also always rooted for Libby in Sabrina the Teenage Witch…

(Laughs) Thank you. Mean girls are fun to watch in this type of thing, not in real life! Playing the mean girl is a lot of fun.

I saw you in Tonya & Nancy: The Rock Opera and I actually found it interesting how Nancy also was the kind of character who maybe doesn't know she's hurting others, she's just trying to be perfect.
I never saw Nancy as a mean girl, I did a lot of research for that show cause I wanted to see who this person was. Our director sent us a lot of interviews and material, so I think that Nancy was just really shy, sheltered and she did what people told her to do. Her steely demeanor was more because she was uncomfortable. She had a passion for being an athlete, not a passion for cameras being on her. Her shyness and discomfort with being in those situations came across as being cold, but I don't know if she was that.
The media usually judges women this way, people like Hillary Clinton for instance who might be great at their job, but if they're not perceived as warm and fuzzy people will come up with crazy stories about them. Have you found that because you have played these types of characters people make assumptions about your real life persona?
I will say that I agree with you, unfortunately in life we're still at a place where for a woman to get ahead she has to have a bit more of a badass attitude, she needs to be very strong. That's unfortunate, it shouldn't be that way just because one is a woman. For me personally it hasn't been a huge challenge, I've been doing this for quite a while now, and I've been able to make some great relationships personally and professionally. Just as in any area of life people talk, I've met a lot of people for the first time who are very kind, when I was younger I do think I saw more preconceptions. Even your looks can turn people off. I remember doing a show when I was a teenager and getting halfway through the rehearsal process and one of the girls telling me she thought I would be so mean, because I looked like a mean girl. It was so funny and shocking to me, that someone who hasn't said a word to me would say that. It happens in life, so I think our personality has to speak for itself. There's lots of characters I want to play, but I gladly accept my place and I play the mean girl very well (laughs).

All of these songs in the show were made famous by women and they are songs about girl power. Do you think this is what makes them so timeless?
I love the difference between the first and second act, in the first we sing great songs like "Mr. Sandman" and "Stupid Cupid" and all these beautiful girl-group songs, they're fun and silly. But in the second act the girls have become women, they've been through a bit, and I love that the 60s songs really reflect what they've been through. The songs are there to encourage them to be strong.
How does the energy of the audience affect the show?
That's definitely been something I've been getting used to, I don't think I'd done a show before where audience participation and reaction were so important. It's definitely been a learning curve. As actors we're programmed mentally and emotionally to, and I hope this doesn't come off as vain, but the audience reaction means a lot to us. We feel their energy, when we have a show like the opening night, the audience was with us, laughing, clapping, they were excited to be there. But in New York you deal with the elements, if we've had a rainy afternoon, those shows won't have audiences as vocal and receptive. But we've also realized that because the songbook lends itself to an older generation, we have audiences who are slightly older, and I've realized that just because they're quieter doesn't mean they're not enjoying themselves. At first we had a couple of shows where I thought they didn't feel us, but then they'd give the warmest ovation at the end. So you realize how different generations react to shows. Each person out there enjoys the show in their own personal way.
You did West Side Story in Los Angeles. So what are your other dream roles and favorite songs written by Stephen Sondheim?
Oh my gosh. I would say I've already played two of my dream roles, I played Maria back at a time when I was younger and had the vocal quality to do it. As you get older your voice matures and changes, and getting to sing a role like that was something I never thought I'd get to do. I also played Little Red Riding Hood in Into the Woods and I love every second of it, I hope I can do the show again and play one of the adult roles. I would also love to play Petra in A Little Night Music.
The songs would be... "No One is Alone", I absolutely adore it, it's so beautiful. This is hard! There are so many to choose from! "Not a Day Goes By", I've actually performed it in concert, it's one of my favorites. The next one is not a female song, but it's a song I've found myself singing time and time again in the shower, "Johanna" from Sweeney Todd, in a different key obviously. But it's so beautiful, one of my friends uses it as his audition song often, and it's so beautiful. It's not for me, but it's a beautiful song.
The Marvelous Wonderettes is now playing.