Interview: Jonathan Raviv and Troy Iwata on Why It Was Important for Them to Do 'The Boy Who Danced on Air'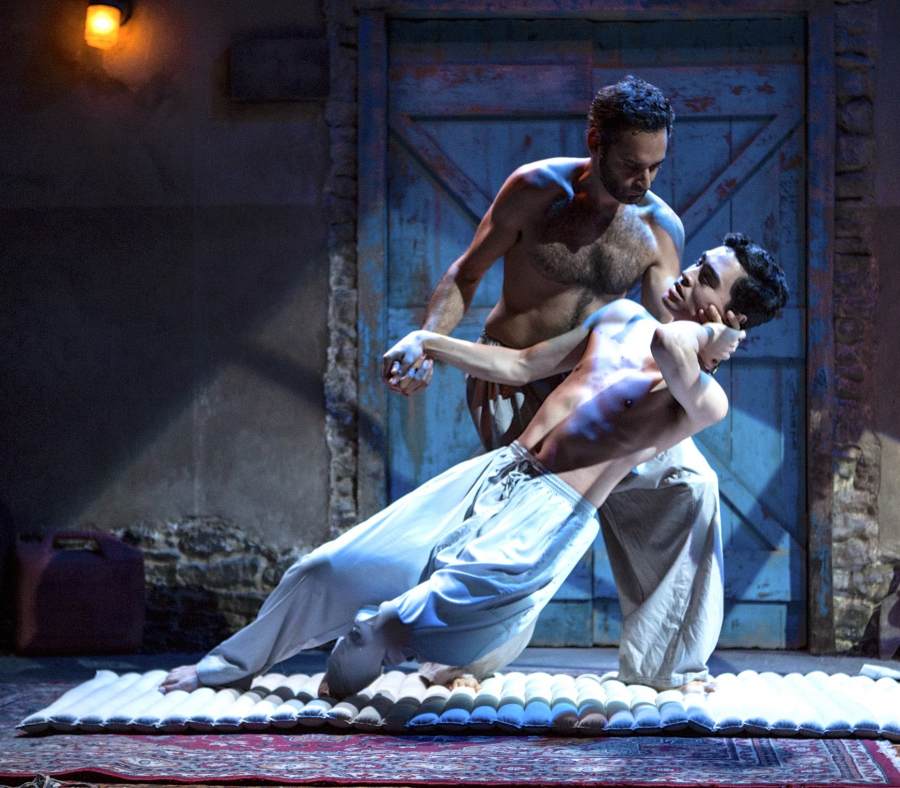 In The Boy Who Danced on Air Jonathan Raviv and Troy Iwata play unlikely lovers, given their characters are bound by an ancient tradition that combines slavery, dance and pedophilia. Raviv plays Jahandar, an Afghan man who practices bacha bazi, which sees him procure the services of teenaged Paiman (played by Iwata) who dances for him and fulfills the sexual needs forbidden for men to have with unmarried women, in exchange for dance training and a life of limited "privilege" within the rules of their society. Rather than shock us with sensationalism, the show's creators, Tim Rosser and Charlie Sohne, have crafted a complex piece which forces us to deal with cultural differences without the "benefit" of having a white savior to guide us through.
The musical challenges audience members without forgoing the parameters of the medium, meaning it works perfectly as a musical, and as an anthropological study. Given the characters in the play see the world in a unique way, notions of homosexuality and love have nothing to do with anything we associate them with, giving the actors the opportunity to explore a relationship between two men in which eroticism and brutality live side by side. Rather than allowing us to pass judgment on the characters, the musical humanizes them to the point where we can't do anything else but see parts of us in them, an achievement that makes us embrace it, rather than try to escape it.
I spoke to Raviv and Iwata about the traits that attracted them to the piece, why doing art with a social message is more important than ever, and what other shows they'd like to do together in the future.
The show was great, but it was quite an experience to sit through. What made you want to play these characters?
Jonathan Raviv: I've actually been with the production since its first read-through at NAMT in 2013. First, as a performer to be able to sing the beautiful music is a gift, Tim Rosser and Charlie Sohne, wrote beautiful lyrics and music. Second, I love that brings awareness to a topic most people don't know exists. A lot of the criticism of the piece, if I can call it that, is that it's difficult, that it's a difficult subject matter, but that's precisely why I think that we as people of privilege need to sit through this and watch it. Selfishly I also wanted to play a character who does evil things, and how he justifies them, it's a great challenge as an actor, but it's also important to understand what motivates people to do bad things. Charlie wrote a piece that doesn't make the villain an evil person, you understand his pain and why/how he can justify the things he does.
Troy Iwata: I worked with Tim and Charlie on another show, they approached me with this show when they were doing readings and asked me to be a part of it. I was originally doing Feda and then a few months after that they told me about the premiere in San Diego, but I asked if I could audition for Paiman instead. I was drawn to his vulnerability and strength. Paiman scared me a little bit more than Feda, who has a wall put up to protect him that's very similar to me, so I was attracted to Paiman's vulnerable side.
Does it become easier to play these characters after each performance?
Jonathan Raviv: I don't know if easier is the right word, I keep finding different layers. For example at one point my character shoots someone and the first time around I was struck with how difficult it was, but by this production it seems logical. So it changes, it's not easier or harder, you just find different elements within the production that you didn't know existed.
Troy Iwata: One of the first things actors do is try to find something relatable to the character so it can be easier to like them. Paiman is on this totally different world than mine, we didn't have a lot of resources other than the documentary that inspired the musical. Luckily when we did it in San Diego we had people from Afghanistan who helped us with cultural references. The most difficult part of playing Paiman was to just see him as a 14 year old rather than a dancer from Afghanistan. I was 14 once too, I know what it's like to start making decisions for yourself and to go after your own goals.
Rather than just exoticizing Afghanistan, the show draws parallels between their culture and America, for example the way the dancers are used like sexual objects in the same way many women are in the US, or the treatment of child artists who are disposed of once they grow up. Did you find other parallels that might make audiences in America realize they are not that different?
Jonathan Raviv: Those are all good points, also the idea of repression in America. Look at the Catholic church, someone from my family saw the show and said it felt so foreign to them, but I disagreed, like you said, pedophilia does occur in our culture, it is seen by some as a disease and by others as a product of repression. In Afghan society homosexuality is much more repressed, but I went to school in the South and it's very repressive, I saw people who came out, then found Jesus and went back inside the closet. Religion and conservatism in this country have led to war and some of the biggest conflicts we've seen. Also, children nowadays have more of a voice with social media, which is something new, we are seeing a change in society. In our Trump America those things exist, the good thing about Trump is he brought into focus what was lying underneath the surface, so now we're aware of the issues.
Troy Iwata: At the beginning there were things we didn't understand, but the Afghan experts explained the cultural norms to us and things made sense, we had to accept we were coming from different worlds. Tim and Charlie have done a great job introducing this world to Western audiences, they have eased the themes as much as possible and made it less "in your face". We see someone like Jahandar who on the surface seems to be a monster, but he's just human. Someone at a talkback said it was the first musical they'd seen that took place in the Middle East and didn't have any white people in it. Things like The King and I have a white lady as the hero, but our musical is about the people from there.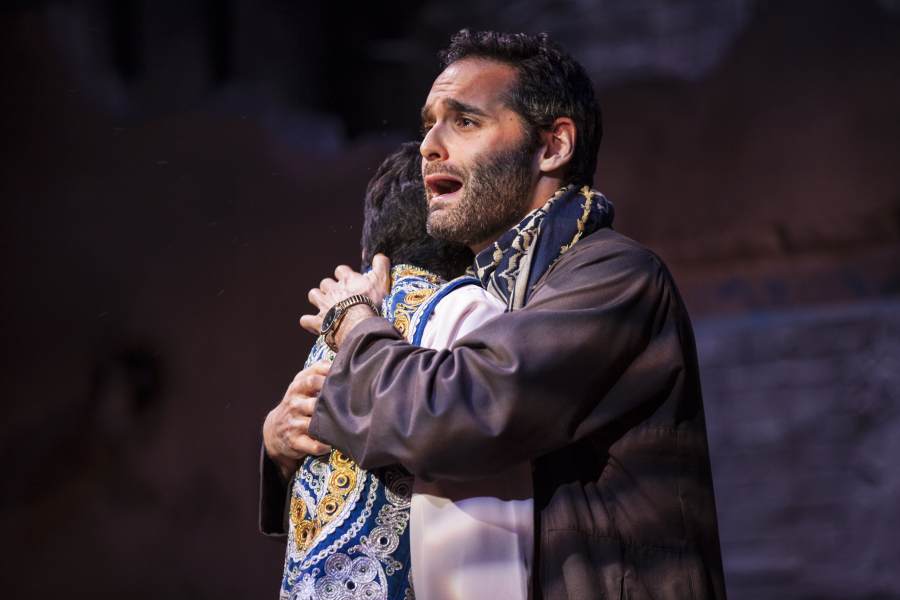 The show also makes a case for the negative effects of the American invasion in Afghanistan and it was refreshing to see the show could be critical of both cultures equally. 
Jonathan Raviv: There's been some criticism about this storyline which humanizes and puts into context historically what the Afghan people have endured over the centuries, and over recent wars. Just this week there was a report of a horrible bombing, and it's important for a Western audience to familiarize themselves with Afghanistan beyond the fact we're at war with them. It's very smart the way Charlie Sohne has put this story there because it invites to reflection. I did a production of Homebody/Kabul the Tony Kushner play, and we had a talkback after the show, and a white American woman mentioned she appreciated the play because she had gone to Kabul in the 70s and was struck by how beautiful the culture was and was sad by what it had become.
Troy Iwata: A lot of actors like to look for work that will challenge audiences but also broaden their own minds, to realize there is more in the world than we know. I love that we're telling a controversial story, people tell me the show taught them things, or changed their perspective on things. It's an honor to tell a new story, preferably one that needs to be told.
Troy, you're very young still but people might start associating you with characters that address social issues, besides this show you're also recognizable as the gay guy from the Apple ads, is it important for you to find parts that have something larger to contribute to society?
Troy Iwata: Absolutely, every actor wants to be part of something that feels important, something that feels like it's bringing progress to society. Tim and Charlie always seem to come from very unique places, they can tell a Romeo and Juliet story in a way that feels new and dangerous.
Do you remember when you first realized art could address social issues rather than just be entertaining?
Troy Iwata: I got into theatre pretty late, I was 16 or 17, I remember when Next to Normal came out and I would listen to the soundtrack and cry in my college room. It was the first time I realized holy crap, musicals can be dark and tell controversial stories. In high school we had done The Wizard of Oz and things like that but you can only smile for so long, Next to Normal affected me.
Jonathan Raviv: Ideally that's what art always should be. People appreciate the escapism of musical theatre, they want to have fun, see beautiful dancing and listen to great singing. I was part of The Public Theatre's Under the Radar Festival in 2011 or 2012 and the Belarus Free Theatre did a performance that was so inspiring and brave, just to hear the story of living under a dictatorship and how their families were targeted because they were using art as a tool was incredible. Art can be a weapon to speak against oppressive regimes or anything really, look at Urinetown which speaks about capitalism. It's incumbent upon us to share that and make the world listen. Some of the criticism of our show disappointed me because some people found the show too icky, this came from a very prestigious, supposedly liberal media outlet. It's exactly those icky things we don't want to see that we should see, we need to be aware of the atrocities going on in the world. I think our show is done in a beautiful way and we should reward our writers for tackling subjects people don't want to see.
Right, the question shouldn't be why would people make a musical about this, but why wouldn't someone make a musical about this?
Jonathan Raviv: Exactly, they compare it to Sweeney Todd and other difficult shows done in a more palatable way, but Sweeney is a made up story, this is real. The further we stick our heads into the sand, the worst, especially now.
Jonathan, I've seen the three shows you've done recently, The Band's Visit, The Lightning Thief and now this. Was doing the Percy Jackson musical in any way more relaxing since you did it in between two socially minded shows?
Jonathan Raviv: I don't think I would call that show relaxing, I played so many characters and had so many costume changes, I was exhausted. Comedy's hard too, drama moves people, but in comedy when you don't have laughter it's soul crushing. Our director in Lightning Thief was great, he told us "the stupider the better", acting stupid was a good thing in the show. I also think the show had a great message for the kids, it allowed them to see themselves as special in their own odyssey, it told kids to love themselves even if they weren't like all the other kids. We also had feminist characters who kicked ass, it gave a voice to female characters who we don't see otherwise. It was a lot of fun to do too! It seems the show will have a life after the last production too which is so great.
Did you ever get to do Lightning Thief together?
Troy Iwata: No, I did the tour like two years ago, so we never got to do that together. But we knew each other for a while before he booked the Percy Jackson show, so we bonded over that when he got it.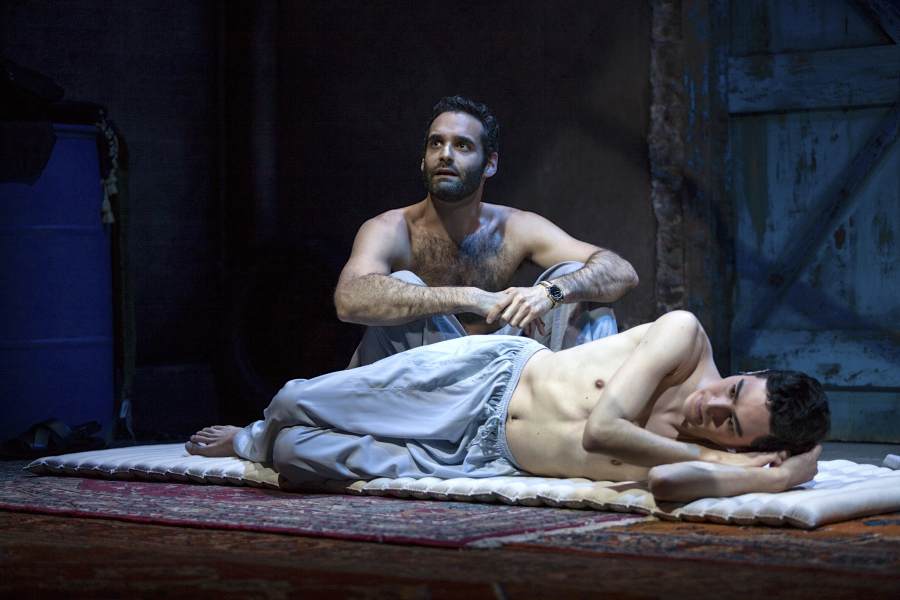 You both have great chemistry onstage, if you could reunite for just a fun, light musical what would it be?
Jonathan Raviv: Troy is a comedian, he's dry and sarcastic, he's nothing like Paiman. It's not an easy role, it has the dancing, complex singing, he also experiences such pain every night, he's great. So I'd like to do a comedy with him so we can have the same relationship onstage we have off stage. He's so open and gracious, allowing me to navigate my role, I'd love to work with him again.
Troy Iwata: As far as musicals I'd love to do Next to Normal with Jonathan, he can play the dad and I'll be the son. That doesn't really help the situation though, I don't want him to play my dad next that's weird (laughs) I would love to do a farcical piece with him, something where we could play buddies.
What's on your Stephen Sondheim bucket list in terms of shows and also songs?
Jonathan Raviv: I love Sondheim, he tackles difficult subjects with beautiful poetic prose. I'd love to do Sunday in the Park with George, it's theatre that deals with art and how difficult it is to be an artist and give up your life for art. And do you have to? That would definitely be on my bucket list. I love Company, navigating what it means to be in a relationship. I love Into the Woods, just because it's done in such a smart way, the fairy tales are very realistic and talk about who we are as a society. I love "Being Alive" from Company, people tell you not to do in auditions because it's so overdone, it's such a sad, beautiful piece. I love Sweeney Todd too.
Troy Iwata: I'd love to play Toby in Sweeney Todd! I love his journey and I love that he literally goes insane at the end of the show. I like dark things.
For more information on The Boy Who Danced on Air click here.