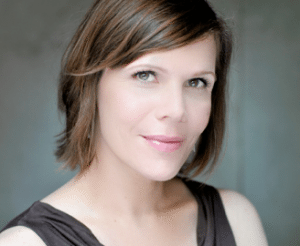 In the 1990s, Laura Eason was a singer, songwriter and bass player for the Chicago indie rock band Tart. Today, she brings her rock origins to the stage with The Undeniable Sound of Right Now, a play about the eponymous owner of Frank's Bar, a legendary rock club, struggling to stay afloat in the changing musical landscape of the '90s. When Frank's daughter Lena begins dating an up-and-coming DJ, the consequences of their affair prove cataclysmic.
In addition to Undeniable Sound, Eason is also the the author of more than 20 full-length plays and a writer for the original Netflix series House of Cards. We had a chance to chat with the Illinois native about her prolific career, what it was really like to be a musician in the indie rock scene and her favorite things to do in NYC.
Was there a real life Frank's Bar?
No. But I was in a rock band [Tart] in Chicago in the '90s, and we played a bunch of different venues. There were guys who were sort of notorious and had a particular following. [As a musician] you get to know them and they help book your band. There are guys like Joe Shanahan who's been at the Metro for a really long time, so there were some people who served as loose inspiration. It's more about the idea of the place than absolutely modeled on one particular venue.
There's a venue I played a lot called the Lounge Ax [an important ground for live rock music, especially indie rock], but it was actually run by two women [Julia Adams and Sue Miller]. The neighborhood got gentrified in Lincoln Park, where the Lounge Ax was located, and they were forced out. The new neighbors thought the bar was too loud, too noisy. The inspiration [for Frank's Bar] is somewhat personal but also a universal idea. I think most big, or mid-size cities have these places that have their moment and then time moves on. It's more of an amalgamation of people and places, not just in Chicago, but in other places as well.
How did you feel back then about the shift in the music scene?
It was pretty interesting because there really was an underground at that point in time, the internet was still very new. YouTube didn't exist. Music-sharing platforms didn't exist, so the notion of becoming super successful as a musician, the kind of overnight success that can happen now, just wasn't so possible. Now anybody can put up a video on YouTube, and people around the world can watch it instantly. The mindset was really quite different; there wasn't necessarily the hope that you were going to become a sensation. There was an aspect of doing it for the love of it and a little bit of pride in your obscurity. I can remember having arguments with friends in bands in Chicago over things like not wanting to be in commercial radio. You'd be such a sell-out. It wasn't about how many people heard you, it was about having the people you respect hear you. It was just about the music.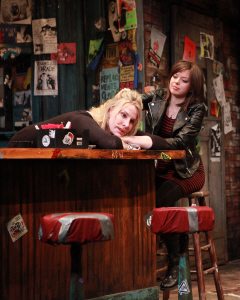 What was it like to be a female musician in a so-called "boy's club"?
The only issue I ever encountered was with the sales guys at Guitar Center. They would never pay attention to me because they assumed I was some musician's girlfriend just waiting for them, not that I was there to buy strings. The other bands and clubs in the '90s rock scene in Chicago were very welcoming.
Were you involved in the riot grrrl scene?
That was a more Seattle-based scene. I was a part of the local indie scene in Chicago around the time bands like Veruca Salt and Liz Phair were breaking.
What came first for you, writing or music?
I was an actor first, actually, then playwright, then musician, then artistic director of my theatre company in Chicago, Lookingglass. But it wasn't a progression. I did all of those things at the same time while working other jobs to make ends meet. Then I moved to New York to focus on my writing.
Do you connect with one [music or writing] more than the other?

I'm very focused on my writing now and, honestly, music has mostly slipped out of my life. I still occasionally play at home but I have a little kid now. I'm either working or with her. I did recently go see the reunited Sleater-Kinney, which was so fun.
What are some of your favorite bands or artists now?
At this stage of my life, I'm actually listening to a lot of jazz (laughs). I'm listening to a lot of classics like Dave Brubeck and Miles Davis, the masters of jazz and vocalists like Billie Holiday and Ella Fitzgerald. I listen to that a lot when I write. I'm a huge Arcade Fire fan, so I also like indie rock -- we don't call it indie rock, anymore -- the rock scene. But I'm not in touch with music the way I used to be when I was playing.
StageBuddy is a NYC-centric website. Now that you're based here, what are your favorite things to do in the city?
As I said, I have a little kid so we actually do a lot of family stuff. We love the Farmers Market at Grand Army Plaza on Saturday and appreciate the bands that play there (often bluegrass or folk-y). We love Suzi Shelton, who plays kids music you can love as a grown up, and we see her in Brooklyn. We often see theater at the New Victory, the best family theater in the city and spend tons of time in Prospect Park, which we live very close to. If my husband and I get a night together -- which is rare as he's an actor and often works nights -- we love picking a fancy restaurant of the moment and going out for a long dinner.
Can you tell us about what it was like to work on House of Cards?
It's very cool! It's one of the most interesting, challenging, exciting, collaborative jobs I've ever been lucky enough to have.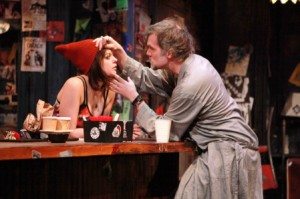 What advice would you give to young girls who aspire to have a successful career in the arts?
That's a much longer conversation than I can have here. In short, they should believe in themselves and read about other women for inspiration and guidance. A good place to go is The Interval [www.the-interval.com] which has a lot of great interviews by amazing women artists.
Are you working on any new projects?
Yes, two musicals, two original play commissions, an adaptation, a screenplay, and a few TV ideas.