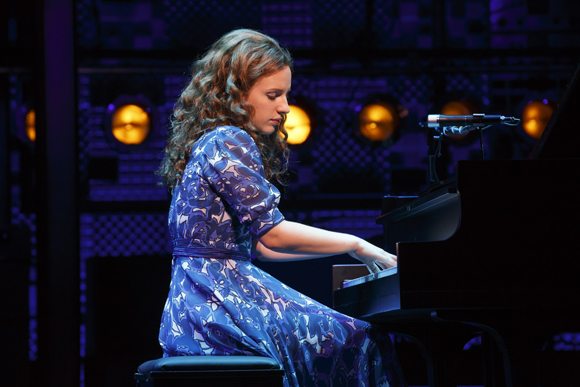 If anything, the Original Broadway Cast Recording of "Beautiful: The Carole King Musical" (now in stores from Ghostlight Records) proves that Jessie Mueller does pure magic with her voice. The breakout star is poised to win the Tony Award for Best Actress in a Musical at the Tony Awards on June 8, and with reason, she does more than embody the larger than life persona of Carole King, what she does with her voice is bewitching. In order to prove that, we are ranking the five best Jessie Mueller songs in the cast recording (which needs to be in any Broadway lover's collection by the way)
5) "So Far Away"
It's the very first time we hear her voice in the album and it's one of those moments that will literally make the hairs on the back of your neck stand. Mueller's clear vocals and her delicate piano playing immediately let us know that while she may sound a lot like Carole King, she is also allowing her own talents to come out. As she sings "can't say much of anything that's new", we honestly don't care, because we're already hitting "repeat one".
4) "It's Too Late"
Carole King's Grammy Award-winning hit has been covered myriad times. From the likes of James Morrison to Gloria Estefan, it's often regarded as one of the most perfect pieces in all of pop music. As performed by Jessie Mueller, the song is suddenly reenergized, she allows the song to become a metaphor of Carole King in the show: she begins small and shy and by the end simply takes over you.
3) "Will You Love Me Tomorrow"
It's impossible not to spend 3:07 minutes sighing and sobbing as Jessie - accompanied only by the piano at first - revisits one of Carole King's most touching songs. "Tonight the love is in your eyes, but will you love me tomorrow?" she asks as the bass joins in. By the end of this one you can't help but shout "yes, tomorrow and always".
2) "(You Make Me Feel Like) A Natural Woman"
This song unsurprisingly gets some of the loudest applause during the show. The premise in the book has us understand that Carole King meant to leave this song out of her "Tapestry" album. However her producers advise against it, leading to a moment of pure pop bliss.
1) "One Fine Day"
Jessie Mueller only performs in the last minute or so of this track (the first part is performed by Rashidra Scott, Ashley Blanchet, Alysha Deslorieux and Carly Hughes playing The Chiffons), however, as the dividing song between the show's two acts, it packs an emotional punch that will leave you exhilarated. As the doo-wop of The Chiffons gives way to Jessie's barebones approach, the song turns from something grand into something even grander, it reminds us that the power of pop music - as Carole King rightfully knew - is that it sneaks up on you. As she sings "one fine day, we'll meet once more" we feel Carole winning her will to live back, all leading to one of the most powerful closing statements in any Broadway show. It's a bona fide show-stopper.
What are some of your favorite numbers by Jessie Mueller in "Beautiful: The Carole King Musical"?