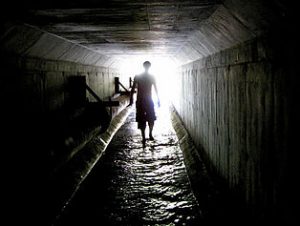 Life is all about change, often referred to as "metamorphosis" by the natural science folks. We all do it as we grow, but some do it more than others. One such person is young playwright and leading actor J.B. Alexander, the author and star of the Prague Fringe Festival's successful play The Metamorphosis, a brilliant original work inspired by the famous Kafka classic.
Alexander graduated Yale College and the University of Michigan Law School, and went on to develop a successful law practice, all the while holding down the desire to write and act.
"Like many, downsizing during the great recession gave me the opportunity I had long wanted. And I took it," says Alexander. "I took off a year and told myself I would see where I was in 12 months. I would spend my time writing, and studying the craft of acting."
A year later Alexander found himself as the proud author of a play going into its first production at the 2012 United Solo Festival in NYC; he also received increasing offers to play various acting roles in a number of other productions.
The Metamorphosis was a success and its premiere was quickly followed with select tours through Europe. It will return to New York for a performance at the Drama League Theater Center on May 13. More details here: https://stagebuddy.com/event/the-metamorphosis