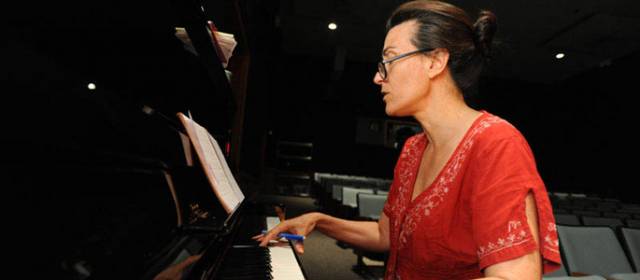 Who knew that if it wasn't for Robert Redford we wouldn't have Spring Awakening, The Light in the Piazza, Fun Home or A Gentleman's Guide to Love and Murder? Yes, that Robert Redford, the same guy who made Barbra swoon in The Way We Were and who won the 1980 Best Director Oscar for Ordinary People. The Redford who also created the Sundance Institute, which turns out, does more than help make indie films; it also serves as a creative nest for composers and playwrights trying to make their art. It's through the Sundance Institute that Robert L. Freedman and Steven Lutvak were able to take a classic Alec Guinness film and turn it into the musical that would go on to win the 2014 Tony Award for Best Musical. But the process wasn't so simple, as told by Lutvak to a captive audience last night, he and Freedman would have to wait for decades, sit through a lawsuit and make endless changes to their delightful show about love and murder.
Lutvak shared his story during an all-star event titled Sundance…Sings! which reunited composers, musicians and some of the industry's brightest performers all of whom came together to celebrate the great works that have come out of the institute. Directed by Leigh Silverman and featuring musical direction by Chris Fenwick (who we last saw in Rocky on Broadway) the show included songs like "What You Left Behind" from Little Miss Sunshine, "Love to Me" from The Light in the Piazza (performed by Joshua Henry and Aaron Tveit respectively) and "Poison in My Pocket" from Gentleman's Guide (performed by Tveit, Shuler Hensley and Catherine Walker, who we learned, will be taking over the part of Phoebe in the Broadway production) along with other less known numbers, some of which are included in shows that haven't even premiered. Todd Almond gave us a preview of his show Iowa coming next spring, and as any good teaser is supposed to do, left us craving more. It helped that the sassy number, "Fun", was performed by Betsy Wolfe in full bombshell mode.
Other numbers in Sundance…Sings! included the magnificent Judy Kuhn doing "Days and Days" from Fun Home, Christine Ebersole performing the delicious "The Revolutionary Costume For Today" from Grey Gardens and David Driver singing "Work the Wound" from Passing Strange. In between songs we heard stories and anecdotes about the goings on at the Sundance Institute, and were treated to comedic routines by some of the composers (Heidi Rodewald and Stew should have their own sitcom!), but in the end it was all about the music and being reminded that beautiful art requires nurturing and hard work. It was a celebration of craft, the likes of which award shows were once great at, but seem to have forgotten as time has passed. By the time the company did an encore with a song from Spring Awakening, there was no one in that theater who wasn't inspired to go home and create something!