Q&A: Composer Timothy Huang on the Bechdel Test, Theater Economics, his New Musical "Costs of Living"
The National Alliance for Musical Theatre will hold its 27th annual Festival of New Musicals on October 15 and 16 at New World Stages. We caught up with Timothy Huang, whose Costs of Living is one of eight new musicals at the festival this year.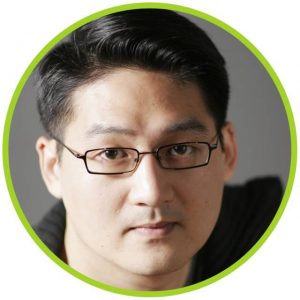 Costs of Living would be the child of these two musicals:
American Idiot and Sideshow.
Pitch the show in 3 sentences:
Inspired by an actual event.  Two immigrant cab drivers take opposite shifts off the same medallion and discover what happens when you're working class and a non-native speaker.  There is a grisly attack but also funny songs.
How open are you to changing what you've written during the rehearsal process?
My goal in rehearsal is always to make my performers look amazing.
What is your earliest musical theater memory?
Coming to New York City on a school trip to see Phantom of the Opera.  The charter bus was late to pick us up after so I got some chorus friends together and we started singing acapella out in front of Theater Circle.  People threw money.  And shade.  But mostly money.
When did you realize that you wanted to make musical theater?
When I realized I was only ever going to get to DO it if I made it myself.
How did pursuing an education in musical theater help to shape your voice?
I'm very grateful for the opportunities that have been afforded me due to my proximity to the greatest musical theater writers/teachers of our time.  Truly.  But my voice was shaped mostly due to my proximity to intolerance and injustice in the world. Heavy handed?  Absolutely.  Untrue?  Nope.
Who is your favorite classic musical theater composer? And your favorite composer working today?
I'm not even joking here, but 75% of all the composers on Broadway right now have been generous to me with their time and support.  That number goes even higher if you count last season and the season before that.  Am I allowed to say "all of them?"
Considering that theater is often able to touch on important social issues in ways that Hollywood and TV haven't, what kinds of stories would you like to tell through musical theater in the future?
I think it's absolutely ridiculous that it's 2015 and there's a test called the Bechdel Test that people still fail.
What would you change about the current state of musical theater?
The economics of making it.  I wish there was a way to market or value theater for what it is: a shared storytelling experience.  Not for what it has become lately: an expensive novelty that mimics what we've seen on a screen.
What is more important to you: entertaining audiences, or making them think?
All I want is for my audience to laugh their face off.  And then immediately following, cry their eyes out
As a musical theater creator, do you think of Broadway as your ultimate goal?
It's definitely a dream of mine.  But if being able to change the national conversation meant never being on Broadway, I'd probably do that.
Do you have any wise words for people who may want to submit to NAMT next year?
Just a story: I submitted a different show a few years ago and didn't get in.  The following year, as I was submitting it to things again I looked back at the old draft, the old application and was amazed by how much better the new one was.  And more than a little embarrassed that I thought the old draft was the best it could be.
The National Alliance for Musical Theatre's Festival of New Musicals will be held October 15-16 at New World Stages.  For more information visit: https://namt.org/