Q&A: Matthew Minnicino and MJ Halberstadt on Taking Part in the Inaugural NY FRIDGE Fest
In a FringeNYC-less summer, other theater festivals promoting the work of up-and-coming artists are taking the lead, including the Ice Factory Festival at New Ohio, Broadway Bound Theatre Festival at the Theater at the 14th St. Y, and the Corkscrew Theater Festival at the Paradise Factory. Among them is the NY Fridge Fest, a brand-new festival of multidisciplinary work at IRT. All genres are welcome, there's just one catch: every work must feature a fridge.
Presented by The Arctic Group, the festival runs August 31 through September 10; half of the performances are "Fill Our Fridge" nights, on which tickets can be purchased with non-perishable goods instead of money. We spoke with playwrights Matthew Minnicino and MJ Halberstadt, whose plays will be performed on the same program, about participating in the festival's inaugural season.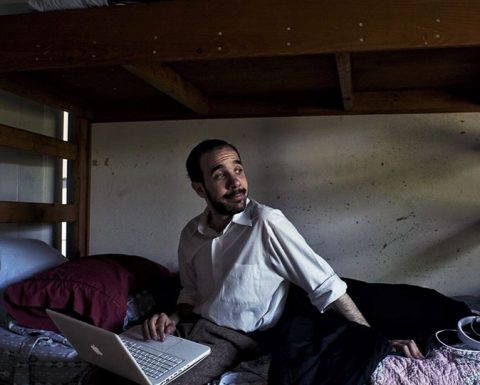 Matthew Minnicino, Funny Voices (or a Thing I Cannot Name)
Tell us about your show!
Funny Voices is sort of hard to pin down. It's about two people, doing some things, and saying too much else would be force it to make more sense than it actually makes. Basically, it's about love, or Not Love, or Attempted Love, or the Science of Love, or the Art of Love, or the Love of Love, and also some silly accents.
What have been the most exciting things about seeing your show come together?
In this case, seeing it come together at all! Thanks to a spate of logistical snafus and scheduling mayhem, I ended up committed to a residency at Trinity College in Dublin for the entire duration of the rehearsal process -- I'll arrive back in NYC to see the finished result hardly in time for opening night. The festival has been incredibly supportive of my absence, and I'm frankly thrilled (maybe a little terrified, sure) to be so far away as the cast and crew whacks and thwacks this weird little play together while my chair in the rehearsal room grows cold. Though I'm being well-updated, I'll be almost as new to the final product as its first live audience when it goes up in September -- and I couldn't be happier about that surreal turn of events.
Who are your favorite playwrights, past and present?
Past: Shakespeare unequivocally, the master for a reason and my start in theatre. Present: a hundred, but lately debbie tucker green, Branden Jacobs-Jenkins, Suzan-Lori Parks, Tarell Alvin McCraney (maybe it's just people with three names?), Jiehae Park, Alistair McDowall, David Grieg, and Duncan Macmillan. Also shout out to my colleague Celine Song, whose plays are never less than tremendous.
What famous (or not so famous) line do you wish you'd written?
Might be cheating, but in the intro to Anne Carson's stunning translations of Euripides' tragic plays (called Grief Lessons), she writes these lines:
Why does tragedy exist?
Because you are full of rage.
Why are you full of rage?
Because you are full of grief.
I mean, how good is that?
What would you change about the current state of theater?
Loads of things, but, today: adding a heightened awareness that there are countless works by non-cis-white-males that should be inherently and obviously part of the theatrical canon, performed constantly and widely known as part of dramatic literary history -- and that all the best playwrights of today, whose work should be all over the major theaters in the cities and the regions, are women and POC. Besides that, the influence of the non-white-male and the energy of the young should course more viscerally through the veins of theatre all over the country, otherwise the whole institution becomes a museum, and not a fun museum either.
Also ticket prices, naturally.
How important is it to you that your work relate to our current political/social climate?
You've cut me to the quick! My answer is yes, though Funny Voices happens to be one of my only deeply apolitical plays. I think all art is political, though sometimes its politics can be almost microscopically subtle -- but an artist pulls away from the political at their own peril. In these roughshod days, I think we must be aware that everything we do is a statement about the world in which we live, and as that world starts to crack and shiver, and the seams holding it together get weaker, we have to be aware that the stories we tell onstage exist in that world -- either to heal it or set fire to it or whatever. Everything, from a silly surreal relationship fantasy to an ancient Greek tragedy to a kitchen-sink melodrama can potentially have its fingers on the pulse of the Now, and I believe it's our responsibility as writers to always be feeling for that heartbeat and writing in rhythm with it, or pushing it faster.
---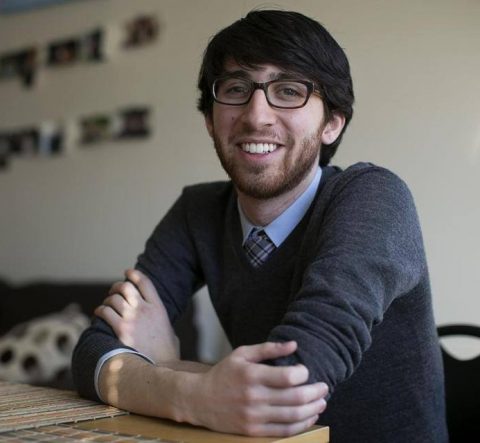 MJ Halberstadt, Two Below Zero
Tell us about your show!
Two Below Zero is a comic drama about the conflict that (literally) snowballs between Cali, an "amateur scientist" escaping to Antarctica for a mysterious research project, and Zara, her persistent but distractible sister coming to retrieve her. It's a play that employs heavy-handed metaphors; my hope is that audiences see the ways that the sisters and geosciences serve as metaphors for one another. My longterm goal with the full play (we're presenting half of the hour-long play at Fridge Fest) is to pair it with an "act two" call-to-action with a community member who will instruct audiences on how to use their voices, choices, and votes to support climate justice.
What have been the most exciting things about seeing your show come together?
Allyson Condrath has graced me with the gift of her talent in a few of my plays over the years, and I'm crafting this role with her in mind. I gave her free reign to choose her scene partner, so now I'm getting to know Lauren T. Mack as well! There's a tremendous amount of discovery happening as I watch them work; they're nailing things that I intended, and conceiving new things that I didn't. You can bet that the next draft will lean into some of the things these women bring to it!
Who are your favorite playwrights, past and present?
Number one is Paula Vogel. Some of the others, alphabetized: Julia Cho, Melissa James Gibson, David Ives, Rajiv Joseph, Donald Margulies, Walt McGough, Lynn Nottage, Young Jean Lee.
What famous (or not so famous) line do you wish you'd written?
Pretty much everything Belize says in Angels in America, but especially "It's no fun picking on you Louis; you're so guilty, it's like throwing darts at a glob of jello, there's no satisfying hits, just quivering, the darts just blop in and vanish."
What would you change about the current state of theater?
The theatre community would come together to hire a giant finger to push down and spread theatre from places where it is deeply concentrated to places where it's less common or non-existent.
How important is it to you that your work relate to our current political/social climate?
At best, I find it lazy not to honor the amount of hurt and corruption in the world in some way. That said, I don't know if work needs to relate to social/political themes... but it should absolutely be cognizant of it; some escapism is nice, but even that can be a form of response, and it can be executed in ways that is empathic and socially progressive. As for me, I don't go out seeking areas of social/political climate to write about; they find me, keep me up at night, and make me write a play so I can sort out my conflicted feelings and crystallize them into characters who I put in dialogue with one another.