Murder and Millennials: Ross Howard Talks About His Dark Comedy 'No One Loves Us Here'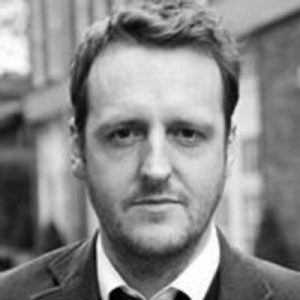 Ross Howard is a British playwright whose plays have been seen in London, Last Vegas, Minneapolis, San Francisco, and New York City. His dark comedy No One Loves Us Here, which was a finalist for the New York Stage and Film Founders Award in 2012, is receiving its U.S. Premiere with the New Light Theater Project. Mr. Howard was kind enough to sit down with StageBuddy and discuss his play, his playwriting influences, and his upcoming projects.
How did No One Loves Us Here come into existence? What was the process of writing/developing it?
This play has been with me awhile. And I wrote it in maybe three stages over the course of two and half years maybe. I initially just started writing about this childless Mr and Mrs Beaumont in suburban California, who take in a teenager from the video store and the Mr Beaumont wanted to kill his wife because he couldn't afford to divorce from her and gets the kid to help him. I spent seven years in the US at this point, but one of my earliest memories there was the case of Scott and Laci Peterson and I think I wanted to write some revenge play of that and some sort of reversal to August Strindberg's Miss Julie. I remember thinking all that anyway. So I wrote the first couple of scenes as it is now and maybe one scene in the second half of the play. Then I got distracted with other stuff life brings and then only picked it up again about 18 months later. By which time, we had the global recession and this sort of evaporation of a middle class and I started to think more in terms of that and also the aspiration or prospects of young adults and what they could really hope for and whether there would be any blowback from that. Whether there would be some kind of uprising and whether it would be violent or not, where white picket fences will be torn down and the thresholds breached, so to speak. So I went with all that. I knew the kid was "displaced" for want of a better word, then sort of polluted by The Beaumonts and sought to be removed by others in the play but I didn't know his name or where he came from. Then I learned that the operation to kill Osama Bin Laden was called "Operation Geronimo", this sort of cowboys and Indians thing came to mind and a light bulb went off, and I decided the teenager was of Native American descent and I named him Washington.  I've had a couple of staged readings of the play here in London which went great, but no theatre committed to produce it. So I'm thankful to New Light Theater Project for this opportunity after what has felt like a long wait and I'm really happy with what we as a company achieved in this production. The cast and the creative team have been brilliant.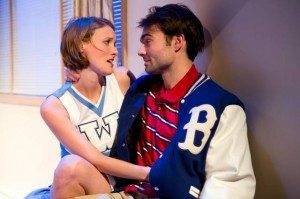 The play explores some pretty dark themes, such as death, desperation, infidelity, classism (which is a very pertinent theme in American society today), the list goes on and on. However, it has more than its fair share of dark humor. What sort of reaction/discussion do you hope to spark with it?
Well I hope people enjoy it and see some things in it that represent the way things work and how things are for some people. Beyond that, I think most playwrights like to experiment with form and structure now and then, but my thing with this play was that I wanted to experiment or tweak a couple of things stylistically or tonally. I like a good comedy and I like a good psychological drama or thriller but not one or the other totally and I wanted to steal what I think are the best bits of both genres and come up with something theatrical, has a dramatic momentum but anchored in a familiar reality for this particular play. All that really is achieved in concert with some specific details within the story and the specific nature of the relationships between the characters. It's not something I've been as preoccupied with as much in my plays written since, or not as much anyway, but I saw the opportunity here and I suppose, my wish is that it works for an audience.
Who are your biggest theatrical influences, if you have any?
I was having a conversation with someone the other day about how late I got into writing and theatre. It was quite late really and I told them precisely how it occurred and the precise order of playwrights I studied. So apart from Shakespeare obviously, it went Samuel Beckett, Harold Pinter, Joe Orton, Arthur Miller, Anton Chekhov and Sam Shepard. All white, male and almost all dead, I'm aware. Then I would say I was fully sold on theatre and just read and saw a lot of plays after that from whomever. But I reckon you can see a small trace of at least one of those playwrights I mentioned in almost anything I've written. I also try to be better at some of the things they weren't perhaps so strong at, as well as improving myself. So maybe that's what true influence and emulation is, to answer your question. But, I like a lot of playwrights and there's some good ones who are still around and writing too. I also got to spend a bit of time with Edward Albee over a month in the summer of 2008 and he was a huge influence on me as a person who is a playwright and how to accept the responsibilities of that.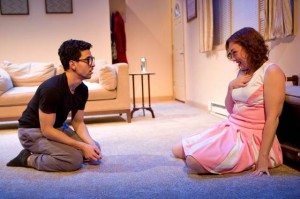 You've had plays produced in America and England. What do you find are the differences between the two theatre scenes?
Well I wasn't until relatively recently affiliated to any institutions in either, so it'd be inappropriate to comment totally on the inner workings of either. But I suppose as a broad sweep regarding the content of the work, the British are really into the political and the American's preoccupation has been largely with the personal. But that's a very broad generalization and of course there are exceptions and crossovers all the time. But I think plays are at their best when a sweet spot is found between both the political and the personal. Where you actually remember the character's names a couple of days later after seeing the play and that you know that the play was saying something that needed to be said about something important.
What are some projects you're currently working on now?
Immediately, I'm developing a play for a reading in London in February about Mark David Chapman and his wife Gloria and I've just got a commission from an organization raising mental health awareness within that specific profession. Then, just finishing up some stuff I already started. A monologue play and also a family play about a Latino family in California. Then something else I have in mind for New Light Theater Project. It's going to be a busy year. I can tell that already.
No One Loves Us Here runs through February 7th at Urban Stages. Ross Howard's blog on Samuel French, Inc. can be found here.