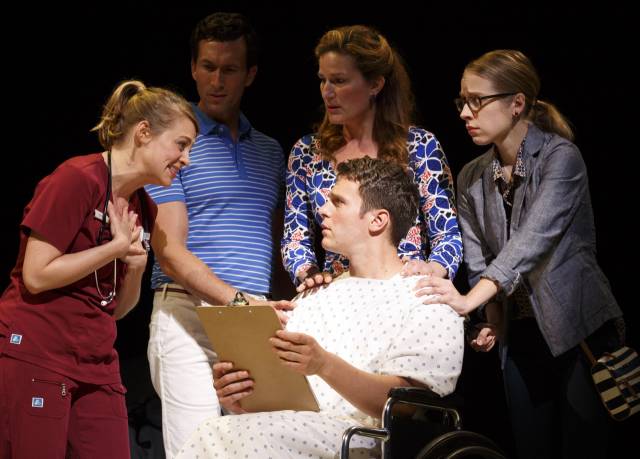 Jonathan Groff's greatest strength must be his generosity, he is the rare kind of actor who allows himself to listen and observe his stage companions, which ironically, makes him even more compelling to watch. Playing a man with a rare neurological disorder in William Finn and James Lapine's A New Brain (presented at City Center's Encores! Off-Center) he very well could've hogged the spotlight, and out-sing and out-act his castmates. While he certainly fulfills his singing/acting duties wonderfully, he's at his best when he's reacting to others; whether it's smiling at the over-the-top woefulness of Ana Gasteyer who plays his mother, or basking in the comfort of Aaron Lazar's tenor, who plays his character's lover, Groff appears to be the most empathic of scene partners. This certainly comes in handy, as he's playing a character who the audience needs to root for, as he faces what seems to be imminent death.
Based on Finn's own experiences (he underwent brain surgery shortly after winning two Tony Awards for Falsettos) A New Brain focuses not only on mortality, but on something that preoccupies all artists: what will be their legacy? When we first meet Finn's alter ego called Gordon Michael Schwinn (Groff), he is trying to write a song for a children's television show. Gordon clearly despises wasting his talent composing music for a singing frog named Mr. Bungee (played by a hilarious, mordant Dan Fogler) and when he falls ill unexpectedly and is informed by his doctor (Bradley Dean) that he must undergo potentially mortal surgery, he begins to wonder if people will remember him merely for putting words in the mouth of an anthropomorphic amphibian.
In the hands of a less likable actor, Gordon would be insufferable and we might find his concerns to be egregious, but as played by Groff he is a lovable neurotic, who we pity as much as we like. His obsession with music comes off not as a mere plot device, but as the concern of someone who hasn't amounted to as much as he wished for. A New Brain then is as much a celebration of life, as it is a timely piece that deals with our generation's "fear of missing out". We come to see how Gordon is so concerned with things outside his control, that he has neglected the people who love him most.
This is where the lovely ensemble circling Groff matters the most, as we see their characters become concerned with Gordon's plea. In what amounts to the greatest audition for Mama Rose in recent years, Gasteyer is a revelation as Gordon's mother Mimi, belting out her numbers with equal amounts precision and emotion. Lazar, looking more muscular than anyone has a right to, is touching as Gordon's lover, while Josh Lamon and Rema Webb steal all of their scenes playing a "nice nurse" and a wise bag lady, respectively.
If at times the musical sometimes seems to be a little "all over the place", we realize that it's only because Finn's realization that he had survived and was given a second chance perhaps made him want to include every single thing that he thought made life worth living for. This is why characters as the nurse or the bag lady, who seem to come out of nowhere, are the ones who end up delivering the showstoppers. The production under Lapine's direction, with musical direction by Chris Fenwick and new orchestral arrangements by the one and only Jason Robert Brown, may have been small in scale, but it was huge in its emotional scope. It's safe to assume that all attendees left the theatre with newfound appreciation for life, music and love. It was pure bliss.