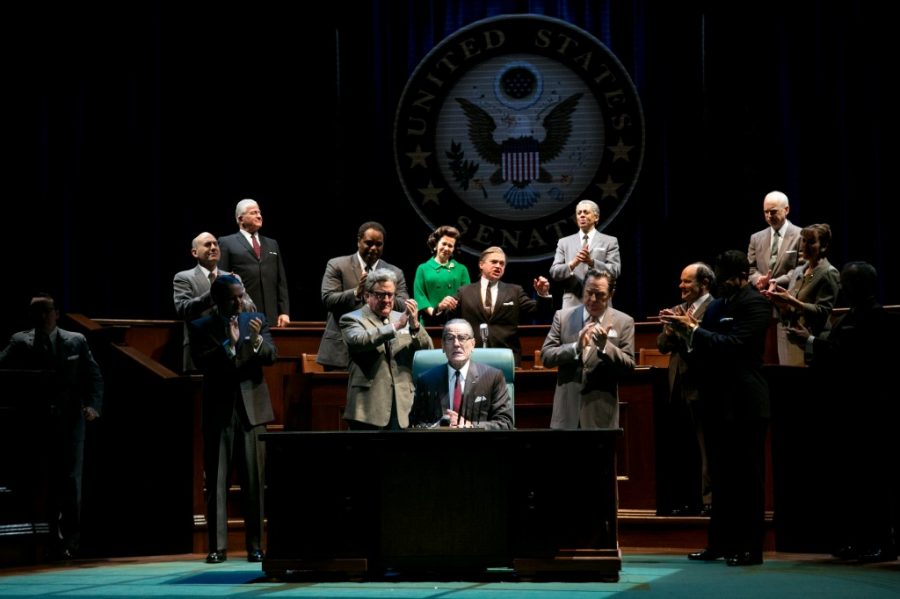 Lyndon B. Johnson (Bryan Cranston) calls himself an "accidental President" several times during the first act of Robert Schenkkan's "All The Way", and it seems as if his only purpose, and that of the play, is to justify his unexpected ascent into power. As the curtain rises we find LBJ coming to terms with JFK's assassination, he asks about Jackie, subtly shudders when he hears she refuses to change her blood-stained dress. Suddenly as the stage lights up we see a congressional chamber, with the President's desk set in the middle, through which more than fifty characters will make appearances, as we come to understand of the set as a representation of the extreme scrutiny LBJ was under.
Set during the first year of LBJ's presidency, the play focuses on the groundbreaking passing of his Civil Rights Act of 1964 and his presidential campaign. During the course of the three-hour play we meet characters like Senator Richard Russell (a terrific John McMartin) who LBJ loves deeply as a mentor, Sen. Hubert Humphrey (a dignified Robert Petkoff) who must endure the President's constant mood swings as he seeks to become his vice-President, and Dr. Martin Luther King (played with cool ferocity by Brandon J. Dirden) who proves himself to be both an acerbic ally and a perilous adversary.
At times it seems as if the whole world is out to get poor LBJ, and we literally see the weight of the world on him as Cranston hunches and frowns with sudden bouts of paranoia. Slowly though, he begins to find his true persona and reveals himself to be a first class manipulator, who can easily charm and destroy. "It's not personal, it's just politics" he exclaims nonchalantly as he begins to tower over every single character onstage (an impressive feat given that at 5'11, Cranston, is by no means as tall as LBJ who was 6'4).
As LBJ becomes more powerful, it's as if the entire play becomes an organism that adjusts to the changes he's enduring. The set becomes less claustrophobic, the characters that once seemed like an accusatory jury or an ominous Greek choir, turn into members of a band where the President is conductor and Cranston delivers the performance of a lifetime, making the most out of his expressive lines, his oft-diabolical smile and a wryness that flirts dangerously with caricature, but comes out on top, as if, ironically, the only way to contain LBJ was by making him proudly no-holds-barred.