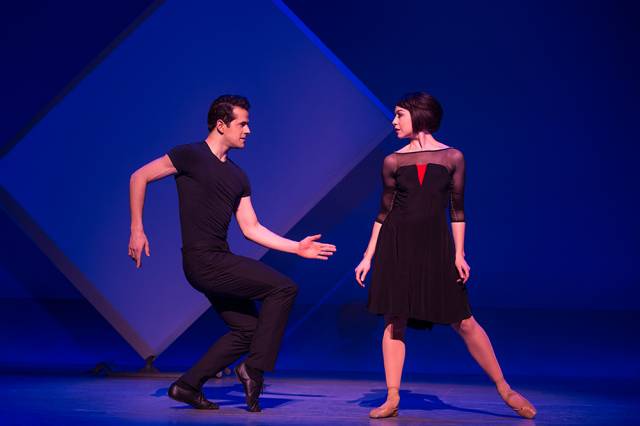 The 1951 film version of An American in Paris ranks among the many titles that had the misfortune of winning the Oscar for Best Picture. More than sixty years after winning the most famous film award in the world, An American in Paris can't help but feel like a mistake considering it defeated Elia Kazan's A Streetcar Named Desire and George Stevens' A Place in the Sun for the Academy's highest honor. It certainly wouldn't be the last time the Academy embarrassed itself, the 1952 winner makes An American in Paris look like Citizen Kane, but it would certainly lay a weight on Vincente Minnelli's little musical that it would never be able to live up to. It was inevitable then, to think that any adaptation would only manage to improve on the original, and such is the case with the Broadway production that opened on April 12 at the Palace Theatre.
With a reworked book by Craig Lucas, the musical now aims to present us with a portrait of post-WWII Paris, rather than a Technicolor fantasia like the film did. The show opens with an evocative ballet sequence, choreographed by Christopher Wheeldon who also directed the show, in which we see vignettes about how Parisians tried to resume their life after the occupation. Among the people in the streets is American soldier Jerry Mulligan (Robert Fairchild) who has remained in Paris looking for love and trying to make it as a painter. His eye is caught by the fleeting vision of Lise (Leanne Cope) a beautiful young woman who seems to be as elusive as Alice's white rabbit. Jerry ends up in a charming café where he meets musician Adam (Brandon Uranowitz) and Henri (Max von Essen), a textile heir who dreams of nothing else but to become a performer. Little does Jerry imagine that he'll end up competing with both of them for Lise's love.
We learn that Lise is a dancer, and a brilliant one at that (we never question that all of the characters are the cream of the crop in their fields) and soon the four of them are collaborating in the creation of a ballet under the patronage of Milo Davenport (Jill Paice) who develops an infatuation on Jerry. As much as Lucas tries to make the book more profound, the truth is that An American in Paris is ultimately a romantic comedy which complicates itself more than it should in trying to keep its lovers apart long enough so that the characters will be able to do as many numbers by Ira and George Gershwin as possible. And who can blame them? The musical features standards like "I Got Rhythm", "The Man I Love", "S'Wonderful", "Shall We Dance?" and "But Not For Me", all of which make the audience tap their feet or swoon in unison, but in most cases the songs don't make much sense and sometimes feel like they've been forced upon the scenes only to feature as many of them as they could. The most egregious of all is the inclusion of "Liza" which Jerry sings to Lise after deciding he'll call her that instead of bothering to utter her actual name (it would've made more sense if it had been featured in the film given that Minnelli's daughter was four around the time the film was shot).
While it's impossible to dislike An American in Paris, it must be said that the show coasts on the familiarity of the songs and the stunning choreography which sometimes makes one wonder if it would've worked best as a full on ballet rather than a Broadway musical. Fairchild and Cope are quite serviceable as the romantic leads, their dancing is undeniably exquisite, but they fail to be as interesting as other cast members with more acting experience. Pace for instance who injects Milo with longing that not even her suave cynicism can hide, or the always delightful Veanne Cox, who plays Henri's mother and steals every scene she's in. Best in show might be von Essen who not only has a voice to die for - his "I'll Build a Stairway to Paradise" perhaps a better musical in itself than the show it's in - but also a sensitive actor who knows how to underplay the "issues" his character is given.