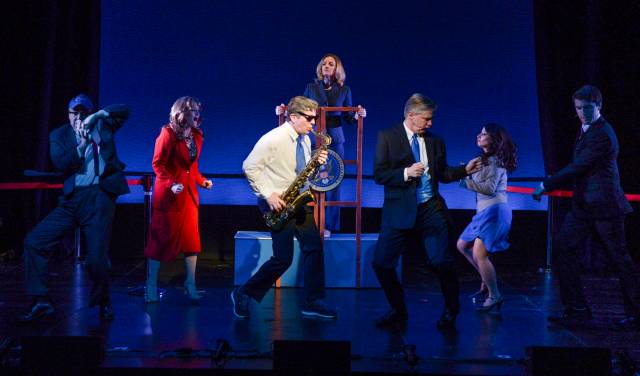 The eight years of Bill Clinton's presidency are turned into a musical extravaganza in the completely crass, delightful CLINTON, a musical with a book by Michael Hodge & Paul Hodge (who also wrote the music & lyrics). Perhaps what this tired story needed was an international perspective, as we see the Australian siblings turn this well-known plot into a darkly comical fable that teaches us that for all the good we do in the world, we will always be chastised for lying about sex.
The show begins as Clinton is first elected President. We see him, ahem, them, take the stand to administer the inauguration oath under a sea of flashes and cheers. Who is them you might ask? The Hodges have gone and divided their Bill Clinton into two characters who share every scene together, one of them WJ (Karl Kenzler) is tidy and talks about health reform, the other, Billy (Duke LaFoon) refuses to wear a jacket and sings "forget about that tax, here's some more sax", as he charms the pants off the audience. These two characters cleverly represent the dilemma at the center of this man (or at least who we think he is), as we see him try to reach a compromise between his carnal desires and his need to be a good politician.
Clinton is joined in most scenes by his wife Hillary (Alet Taylor) whose thirst for power and recognition is only second to her love for her husband. "You voted for one President, you've got two" she says, not with a shrill tone, but with heartbreaking conviction. Through the show's two acts (each about one of the President's terms) we see him deal with health care reform, battle Newt Gingrich (a hilarious Tom Souhrada) and Kenneth Starr (a truly scene-stealing Kevin Zak) and suffer over his skirt-chasing peccadilloes, which lead him to wonder what will become of his legacy.
The Hodges have a keen eye for objective criticism, and you can see how their work was influenced by the way in which the Clinton presidency was portrayed in the news. There is a song performed by vicious press members in which they confess the need to come up with their own "gate" (as in Watergate) in order to become famous, and Starr's main number which has him strip down to his sheer undies as he confesses he will do anything to be known, reminds you of Billy Flynn's "Razzle Dazzle" from Chicago. Yes, politics are a spectacle and this show is a perfect reminder that Clinton's terms helped redefine the way in which the media manufactured news.
Featuring catchy numbers and a sense of humor that's the perfect mix of reverential and offensive (Al Gore is "played" by a cardboard cutout) CLINTON is not to be missed. Kenzler and LaFoon are pitch-perfect, the latter getting hilarious one-liners ("I have never been more flaccid" he exclaims when he listens to WJ prepare the State of the Union), while the former revels in a lovable combination of paranoia and pride.
Best in show is perhaps Taylor, who like the character she portrays undergoes an evolution onstage. Her Hillary begins as someone who is too obsessed with power for her own good (she has conversations with the ghost of Eleanor Roosevelt who at one point tells her to stop changing the meaning of her words), but by the end, she has turned into the show's most human character. You can even hear it, as Taylor's first numbers seem meek, but by the end are bona-fide showstoppers which highlight the raw beauty of Taylor's voice. This CLINTON sure gets our vote!