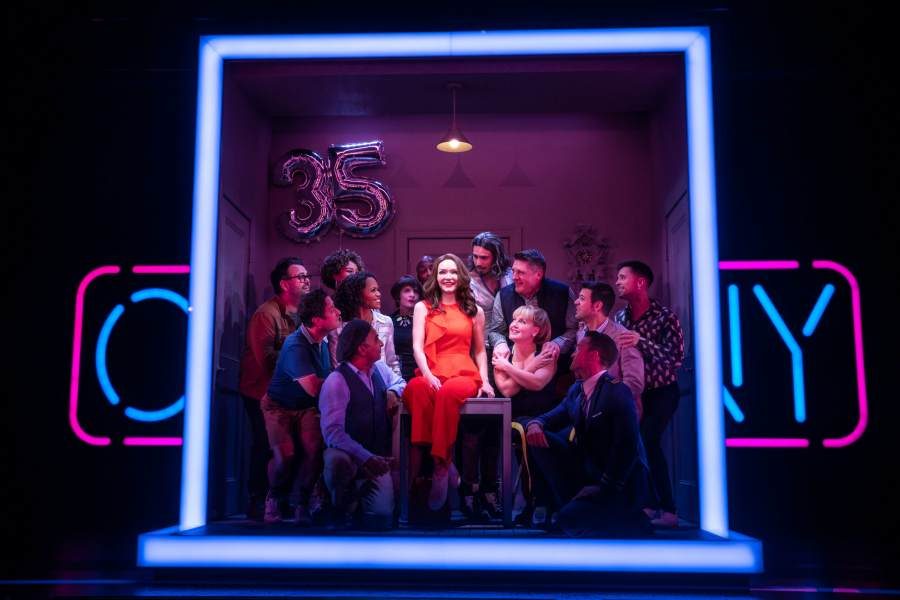 By now, everyone associated with musical theater has written a tribute to legend Stephen Sondheim who died Nov. 26, 2021 at age 91. Productive until the end, Sondheim died while working on another musical. Every season, even truncated ones like 2021, has been represented by Sondheim's work as directors revisit his works and re-imagine them. At the movies, a new generation of viewers is falling in love with Stephen Spielberg's adaptation of "West Side Story." Off-Broadway, Classic Stage Company has mounted "Assassins" and from London, a gender- reversed version of the 1970 musical "Company" opened on Broadway.
The original show focused on Bobby, a 35 year old single man being pressured by his friends to settle down and marry. The new version acknowledges changing times and the realization that it is more likely that women would feel pressure to settle down than men. To that end, the casting has been gender reversed and Bobby becomes Bobbie. So instead of a philandering playboy, "Company'' features Bobbie, a beautiful woman and her friends, five couples, representative of all stages of partnership.
Directed by Marianne Elliott, the musical begins with Bobbie's friends gathering in her small dining room, waiting to surprise her with a birthday cake. Later as each pair invites her to dinner, Bobbie ( Katrina Lenk) watches them intently, mentally taking notes while comparing their lives to her own.
The story is told in a series of scenes and the order doesn't seem to matter. Bobbie is an almost passive observer of her friends throughout most of the show. She notes their flaws but also their connections, and she's getting mixed messages about marriage. In addition, Bobbie has an active social life and is dating three very attractive men.
While she was wonderfully sultry and appealing in "The Band's Visit," Lenk is unable to carry this show. Bobbie should be the character around which the story revolves. Lenk stands out visually because she's beautiful and is the only character dressed in vivid red. But most of the time, her acting is reduced to observing and reacting, and she rarely does more than watch and respond with a facial expression. Her voice is powerful and strong in some numbers, but at other times, far too weak. Her scenes often feel slow and her character bland. For many fans of the show, the best song is the final number, "Being Alive" when Bobbie sings emotionally of her anxieties and pains. When this song is done well, it can be heart-rending, but here it merely felt merely adequate. I wanted to feel chills! Not chilly.
Fortunately, the supporting cast is superb. Jamie (Matt Doyle) and his partner are getting married but he's getting cold feet. As the hesitant bridegroom, Doyle sings rapid-fire about how he's not getting married even though the church is filled with waiting friends and family. Doyle's marvelously comic performance leaves the audience breathless and hysterical. As David, Christopher Fitzgerald is sweet and endearing, experimenting with marijuana. In another humorous scene, Christopher Siebert and Jennifer Simard play a competitive married couple that winds up wrestling on the floor.
As Joanne, an older woman who's had several husbands, Patty Lupone blows the audience away with her version of "Ladies Who Lunch." Lupone is a master of voice and timing and the 'Luponettes' filled the audience, cheering her every entrance, note and gesture. (The man next to me told me that this was the third time he'd seen "Company" just to see Lupone. Undoubtedly, her fans will keep ticket sales healthy.)
The staging is eye-popping, especially Bobbie's apartment that looks like a neon-filament picture frame. Later Bobbie crawls through a too-small room and swims up through a hole in the ceiling while the set moves around her. (Scenic & Costume Design by Bunny Christie.)
For those of us who are Sondheim fans, "Company" is really all about the wonderful and memorable music. Days later I'm still replaying the glorious melodies in my head. Sadly, the man has gone but the genius of his music remains.