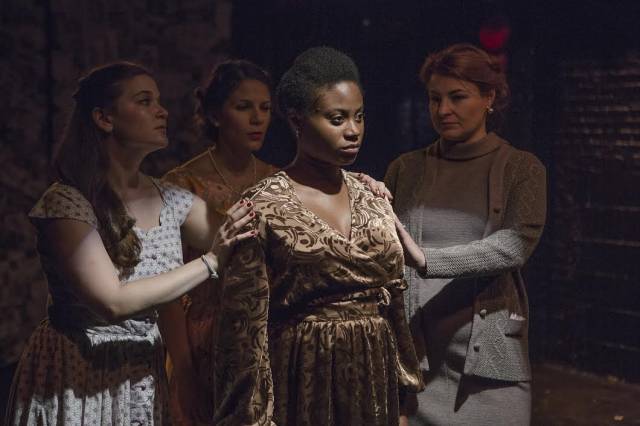 Abortion: A Race Redux brings to the stage an honest, provocative and 'in your face' storyline that does not tip-toe around the topic of how we view race in American culture. This modern adaption of Eugene O'Neill's work, directed by Heather Lanza and produced by Taryn Wisky, challenges the audience from the very beginning to take a closer look at pre-conceived ideologies that are associated with race, class and skin color.
Set in a college dorm, we are immediately drawn into this timeless conversation on race with clichés, stereotypes and statements like: "You goddamn coon, you forgot to leave a tip!", "Am I your angry black woman…your forbidden fruit?" and "America's economy was built on the free labor of slaves." The storyline is simple, yet so complex as the story is told twice throughout the play, in the same way. The only difference is: one story is told by a white family, and the same exact story is told by a black family. Both families use the exact same words. This deliberate, mirroring affect is done in such a way as to pose the question, "Does the color of a person's skin make you see the story differently?"
The acting is intense and captivating, and it is evident that the ensemble truly identifies with the text. While the cast worked cohesively together standout performances are had by Taryn Wisky, who gives a multi-layered and gracious turn as Evelyn Sands, and Molly Stoller as a very sweet and endearing Lucy Townsend.
The set design, lighting and props are deliberately simplistic, though a large backdrop filled with race propaganda makes a powerful statement and is centered on the stage throughout the show. It is hard to miss the images of Frederick Douglass, Trayvon Martin, and Malcolm X and messages that read: 'I am a man', 'Honor King, End Racism' and 'Coffee makes you black'. The sound engineering of Emily Auciello is to be noted, as the soft and eerie melody of "Strange Fruit" lingers through the air at all the perfect times.
While the topic of race is nothing new in American culture, the timing of this production is subliminal, and timely as it foreshadows a need for a more in depth conversations on race, murder and injustice in our society. This production is a definite must see for the conscious theater patron, as this show is intriguing, thought-provoking and definitely aims to shift paradigms.
Abortion: A Race Redux is part of the Dream Up Festival at Theater for the New City.  For more info, click here.