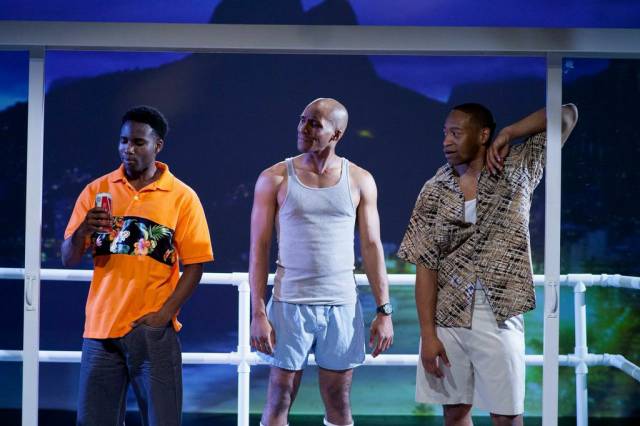 Dr. Barbara Ann Teer's National Black Theatre presents Carnaval a modern, provocative play about the sex tourism industry in Brazil, the commodification of the female body, the exploitation of the lower class and the consequences of what often happens when a sub-culture begins to blur the lines between fantasy and reality. The playwright, Obie Award winner Nikkole Salter, takes us on a cutting-edge journey that gives us a glimpse into the history of carnival and through the use of three male characters gives us an empathetic glimpse into the psyches of men who take advantage of of the sexual tourism industry, as well as the women who use their sexuality as a means to "finance their lives" as a result of oppressive economic systems that force them into this alternative lifestyle.
Demetrius (Bjorn Dupaty) is a responsible, married police officer, Jalani (W. Tre Davis), a young reckless college student who epitomizes the spirit of a free-spirited, reckless youth reveling in lasciviousness, and Raheem Monroe (Gabriel Lawrence), an entrepreneurial-minded opportunist who represents the ideology "Pimp or be pimped. Play or be played. Life's a bitch, and then you die." On a cold winter day, these three twenty-somethings head to Rio de Janeiro with the intention of getting a taste of the good life: sexual freedom, tropical weather and partying in the hottest Brazilian nightclubs to commemorate the life of a deceased friend. Rio is all that they imagined it to be with its supple Brazilian women with "full lips, tight waists, nice hair, big butts and Southern hospitality" who, in the words of Jalani, "Know how to treat a man…They treat you like a king down here." All is well until the fantasy of no restraint begins to take a negative turn and these three men have to begin dealing with the consequences of their choices.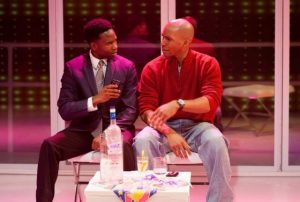 Under the direction of Awoye Timpo, the heavier topics associated with the sexual tourism industry are presented with balance and great care against a well-designed, modern sleek set, all white furniture and a party-like atmosphere. From the onset, the audience is well aware they are at a party thanks to the great lighting design (Alan C. Edwards) and sound design (Eric Sluyter), as the sounds of Rick Ross, Trey Songz, Jay Z, Lil' Wayne and many other cutting edge artists pump through the theater, while strobe lights pierce through the space elegantly. The use of Western hip-hop artists by no means undermines the serious context of the play, but rather prepares the audience for topics and realities that are very much in the "now", and not necessarily political correct.
Jalani is played with such genuine naiveté, humor and youthful zeal by Davis that you can not help but have compassion for him, even when he makes irrational decisions and comments like "Who's counting time? I'm counting pussy." Gabriel Lawrence plays Raheem, a witty business man, with great flexibility, intensity, and skill.  And Bjorn Dupaty plays Demetrius with ease, focus and skillful maturity.  This electric and charismatic cast at times had the entire audience on the edge of their seats waiting to experience what would happen next. This ensemble of men flows very well together, at times making us laugh and at other moments making us want to cry. This is definitely the type of play that you will want to see more than one time. Get to the National Black Theatre in Harlem to see this amazing, thought-provoking show.
---
The New York Premiere of Carnaval is running October 21-November 16, 2014 at the National Black Theatre, 2031 Fifth Avenue (between 125th and 126th Street) New York, NY 10035.  Written by Nikkole Salter, directed by Awoye Timpo, sound design by Eric Sluyter and lighting design by Alan C. Edwards.  Starring Bjorn Dupaty, Tre Davis, and Gabriel Lawrence. For more information and tickets visit www.nationalblacktheatre.org