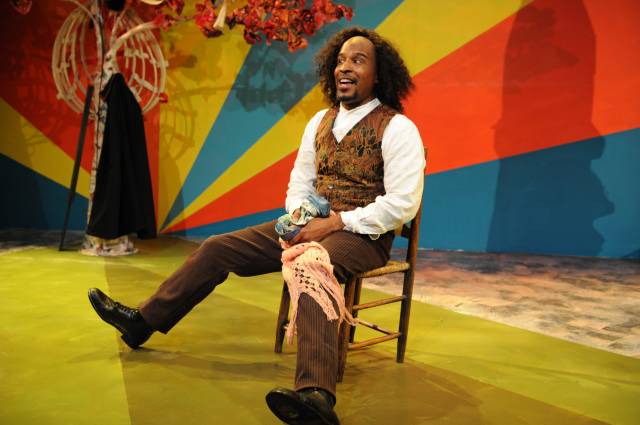 Self Made Man: The Frederick Douglass Story takes the audience on heartfelt journey to another time and place not so long ago. Frederick Douglass was the son of his slave mother and a plantation owner who learned to read, escaped, purchased his own freedom. He later went on to write his own autobiography and create publications such as "The North Star", and became known as the father of the Civil Rights Movement. Self Made Man's actor and playwright, Phil Darius Wallace, depicts Douglass with great virility, vulnerability and magnetic charisma. Using Negro spirituals, African and African-American folklore and tradition, songs from the "chain gang" and historical accounts and adaptations from the writings of Douglass, Wallace colorfully brings to life 14 different characters that give a glimpse into the life and time of Frederick Douglass.
Under the direction of Melania Levitsky, Wallace skillfully steps into the personas of these characters seamlessly, in one moment personifying a young Frederick Douglass, and in the next stepping into the identity of one of his vicious and oppressive slave masters. Set against a bright reddish-orange sunset in the distance, the setting and props are decidedly minimal. A small wooden chair, front porch, podium, and whip are coupled with detailed lighting and sound design and the verbose language eloquently delivered by Wallace, allowing for the prolific writings and speeches of Douglass to speak for themselves.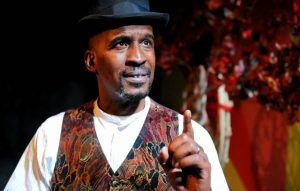 Self Made Man is the type of play that will inspire one to want to re-learn history, honor the legacy of those that came before, and adapt new ideologies that will prevent history from repeating itself. While the content of this play is authentic, with quotes from Douglass's speeches like, "No generation can be independent of its previous generation," humor is applied at all the right moments to balance out the scenes that bring you to tears.  This play offers delicate reminders of the peculiar forms of agency that were adopted by the slaves to maintain their sanity under such cruel and unnatural circumstances that they were forced to endure, such as "singing to keep from crying," the elders passing down history orally so that it could not be erased, and passing down songs like "Wade in the Water" so that they would be imprinted in the psyches of the next generation. Frederick Douglass later recounted that it was this song that was in his psyche when he himself had to hide in the river when escaping from slavery.
Self Made Man helps us to remember an important part of America's history, and is highly recommended to any individual who wants to learn, experience truth and leave the theater hungry to learn more about those who paved the way for our country's current civil liberties. Douglass's victorious legacy is definitely worth revisiting, and this show will definitely not disappoint. This kind of history is not the history of the "other", because it is embedded in the fiber of this entire country. History unspoken repeats itself.