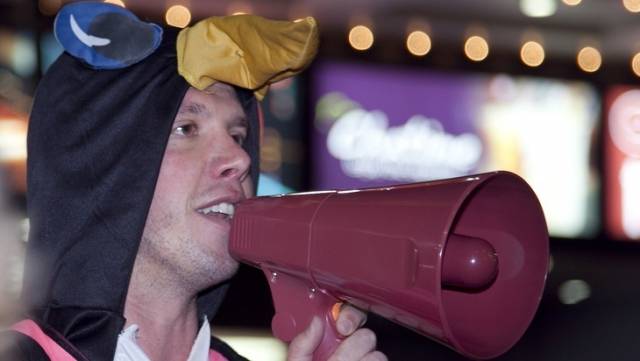 Allow me to tell you something that nobody told me: 2014 - When We Were Idiots: A Comedy Walking Tour at the Fringe Central theatre, is really, legitimately, actually a walking tour.
You may be thinking, "How did you not know it was a walking tour? The phrase 'walking tour' is in the name. That's a clue that it's probably a walking tour."
You're correct. A little condescending, but correct, and all I can say is... Wishful thinking?
Personally, theatre that involves such a high level of audience participation usually makes me very uncomfortable. I want to bear witness to the make-believe, not be a part of it. One of the most rewarding aspects of seeing a play is sitting in the dark and losing a little self-identification; the feeling of anonymity in a crowd.
Once again, however, this is not a play. It is a walking tour.
That is not to say that When We Were Idiots is not theatre, because obviously theatre is not confined to the physical boundaries of a theater. I make the distinction to explain that reflecting on this format comes with a different set of criteria and expectations than would a play.
The most important thing about a tour is the guide; fortunately, Melbourne actor and comic Xavier Toby is just the right mix of charming, cynical and goofy to pull it off, and his ability to wrangle a crowd of 30 through the Lower East Side is impressive.
Before beginning, Toby lays out the rules of the premise. The year is 2114, and scientists have just discovered a city in America that has been buried under a pile of trash for nearly a hundred years. That city is New York; all of its inhabitants are dead, but the technology, stores, homes, and infrastructure has been preserved beneath the trash. In the name of science and history, we, the citizens of the 2114 utopian world society, are participating in a walking tour of this preserved city to learn about the follies of the 2014 lifestyle. That walking tour is given by a talking Australian chicken (or penguin, apparently, depending on the day), played by Toby.
Since everyone in New York is dead, the chicken-penguin explains, that means that everyone we encounter on the street is an actor there for our amusement and education.
"And they love hugs!"
With that, Toby creates a wonderfully skewed lens through which we his audience can look at the many eccentricities of the city, and does so in a neighborhood with a literally endless supply of crazy characters and questionable life-choices. Often, Toby advises us to applaud these "actors" for their ability to perform the basic archaic tasks of 2014: a group of diners for drinking alcohol, an old woman for shopping in a market, and one guy for his ability to open a car door.
The main hurdle for me was that being on a walking tour made me feel, like...well, a tourist; if you've lived in New York for one day or 37 years, you know what a foul and wretched thing it is to look or feel like a tourist. When We Were Idiots amplifies that experience by making its participants wear neon-yellow "high-visibility vests," then leading them around by an Australian chicken-penguin who keeps yelling at strangers with a bullhorn. People stare, you block pedestrians, and it's difficult not to think about how silly you look.
Ultimately, however, Toby's charm won over my awkwardness, and his willingness to embrace the absurdity of dressing up and playing make-believe is something I wish more proper plays had. It was a fun and mostly well-executed experience, and it made me very interested to see Toby in a more traditional theatrical setting. Fortunately, he has another show in Fringe that offers just that.
2014 - When We Were Idiots runs (or walks...) through August 23rd with the New York International Fringe Festival.  For more on FringeNYC shows, click here.