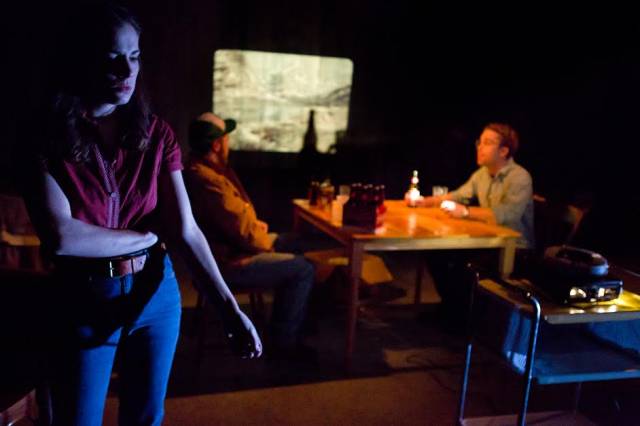 January is here, and many of us are still recovering from the two to six days we were forced to spend with our families over the holidays. Whether it's the tone your mother used when she asked about your current skincare regimen, your stepfather's insistence that you've had enough Riesling, or your grandmother's attempts to gauge your weight by squeezing your love handles during hugs, no one can drive you completely batshit insane quite like your family.
It's no mystery why these douchebags we call loved ones are so capable of pressing your buttons. Even in the happiest of families, the people who have known you the longest have a running list of your deepest flaws and regrets hidden in their back pocket at all times; even worse, they're ready to reference it at any given moment because they know you have the same list.
Wyoming, at its core, is about an unhappy family with a traumatic past, and each member in it has a particularly heinous list.
The family's trauma is laid out early in the production at Theater for the New City as the two youngest brothers try to sort out the details of their past, searching for photos of their eldest brother, Adam, who has been all but erased from family record. The reason for that is quickly revealed: at the age of 12, Adam took a nail gun and – seemingly out of nowhere – pumped two nails into his dad's chest at the dinner table. The father died in the kitchen shortly thereafter, and no one has had any contact with Adam since.
Or have they? With Thanksgiving around the corner, fourth sibling and single mother April is hosting the holiday for her brothers and mother. Emotionally exhausted by the family's longstanding don't-talk-about-Adam policy, April has decided to blow the lid open on their past. Unbeknownst to all of them, she's been writing Adam for the past year, and has invited him to join for the dinner.
Lesser America has an intense dedication to exploring the underbelly of the American psyche in their productions, and Wyoming falls right in line with that ethos, offering an emotionally jarring look at how secrets can warp an entire family.
Company co-founder Laura Ramadei, always a delightful stage presence, offers a wonderfully adept turn as the family's matriarch. Ramadei, a good thirty years younger than her character, makes the very intelligent choice to focus less on playing age and more on portraying the complexities of a woman who hides so much from the ones she loves.
Nate Miller and Daniel Abeles, also co-founders, give wonderfully grounded performances as two brothers simply trying to pick up the pieces of their broken family. Both actors approach their characters with an endearing sense of humility and honesty; in doing so, it's these actors who fill out the emotional world of the play.
To find the heart of the production, however, one must look no further than Sarah Sokolovic, whose turn as April is a palpable blend of wit, heartache, vulnerability, and strength; it is in her exhaustion, rage, and attempts at affection that we see the toll Adam's actions have truly taken on this family. It's a profoundly nuanced performance, reminiscent of Amy Morton in August: Osage County, and I recommend seeing the play if only to watch her face at the dinner table as the family tries unsuccessfully to play a word game.
Having seen a number of Lesser America productions, I will say that I wish this outing had a more consistent sense of humor about its themes; the production is at its best when it balances the horror of the patriarch's murder with the absurd hilarity of a family gathering. At other times, the script can feel a touch overwrought; having said that, those moments do aim successfully at the universality of the familial themes, even if they stray into a bit of heavy handedness.
Overall, this is yet another competent and impressive production from a theatre company with a history of competent and impressive productions, and I strongly recommend taking it in.