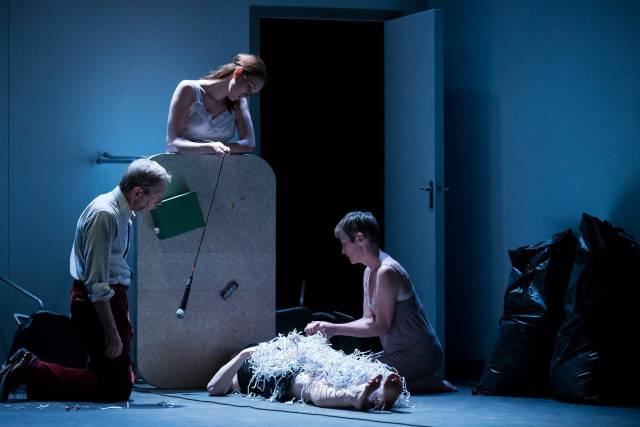 Fourteen years ago in Ireland, an aunt and three nieces locked themselves in their home and began a forty day hunger strike that ended in all of their deaths. While some say it was a political action, others suspect they did it for puritanical religious reasons; in reality, nothing is known about their motives.
As Lippy is quick to tell you: "This is not their story."
The mysterious suicide pact between these women is the starting point for one of the most evocative theatrical experiences in recent memory. Lippy is likely to leave you speechless.
Created by Irish theater company Dead Centre, the production is making its American debut after winning numerous awards at the Dublin and Edinburgh Fringe Festivals. The production is essentially two different shows, starting at first as the relatively straightforward fictional post-show Q&A for a completely different play. The "Q&A" then transitions to a metaphysical, avant-garde exploration of the four women in the midst of their hunger strike.
Acknowledging immediately that there is no way of knowing what was said between these women, Lippy is more about the attempt to understand than it is a fictional portrayal of real events. The horrifying and baffling nature of the event inspiring that quest takes it to the darker corners of humanity. The threat of violence is ever-present and deeply unnerving; in that sense, the piece often resembles a piece of horror. Yet the violence is of a deeply emotional nature: the hierarchy of control as the family watches television, the sense of betrayal at the sight of a Snickers bar, or the slow decay of four hungry bodies.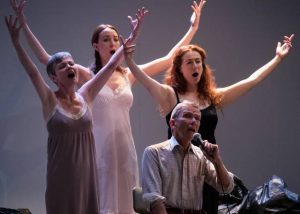 While I can't pretend that I completely understood all the nuances of the piece, I can say that I was repeatedly overwhelmed by a wide spectrum of emotion, largely due to a brilliant sound design that guides the emotional undercurrent of the experience with near perfection. It is moody and jolting, and says as much about human connection as the text itself.
That's to say nothing of the commitment of the ensemble to the piece. Many of the actors have the extraordinary task of being on stage the entire time with very few actual lines. The specificity of their intent is a testament to the profound questions at the heart of this production.
Lippy is a metaphysical experience that creates a fifth wall and then breaks it. It may leave you slightly confused, but will undoubtedly toy with your emotions and expectations in a deeply moving way.
Lippy plays at the Abrons Arts Center Playhouse through November 2nd. For more information and tickets visit https://www.abronsartscenter.org/