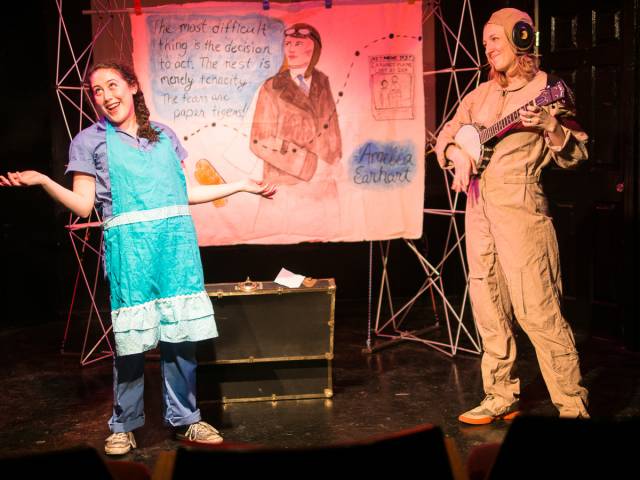 Amelia Earhart has been a fascinating figure for adults and kids alike ever since her disappearance in 1937, and as a subject for heroic storytelling there is no sign of her slowing down. The children's play Amelia and Her Paper Tigers does more than just tell the story of Earhart's life and mysterious disappearance (although it does do that too) it creates a thematic spine around this quote of hers: "The most difficult thing is the decision to act, the rest is merely tenacity. The fears are paper tigers. You can do anything you decide to do."
Heddy Lahmann and Ilanna Saltzman perform the play together (although which one of them portrays Earhart is not specified in the playbill) with a copious amount of jokes and silliness thrown into the mix. We learn of Amelia's very first plane ride, a special gift from her father, as well as her relationships with her editor George Putnam and her first flying instructor. And we join her in her initial forays into long distance flying. In a highly competitive field, Amelia was one of the best.
The energetic pair of performers often tries too hard to be silly, but some of the theatrical moments are quite nice. My favorite was the image of the duo recreating Amelia's first solo flight: one performer as the daring aviatrix herself and the other actually becoming the plane with a whirring propeller beanie and outstretched arms. It was a wonderful image, both reminiscent of children playing airplane and yet evocative of Amelia flying alone in her craft.
The duo spends a lot of time making silly faces and sounds and dancing about in a comical manner, often while belting out contemporary songs, and I think this sometimes gets in the way of the story they are trying to tell. They could perhaps have a bit more faith in the subject matter; the story of Amelia Earhart is pretty interesting, even for young children, and probably doesn't require a lot of silliness to make it engaging. But the power of Amelia's story manages to come through again and again, and the addition of costumes, stilts and other theatrical tricks adds to the fun.
As the quote indicates, the play depicts Earhart's fears and how she dealt with them. This makes it more than just an educational biography. Overcoming fear is something any child can relate to, and this theme makes Amelia and Her Paper Tigers something children can enjoy in the moment and hopefully remember when the going gets tough.