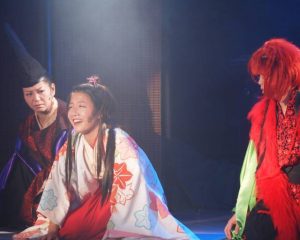 Theatre fans have a marvelous opportunity to experience a highly unusual musical from Japan currently running at The Flamboyan Theatre at The Clemente as part of The 20th Annual New York International Fringe Festival. The Legend of Oni is a theatrical telling of a mythic tale of spirits interacting with mortals in 11th century Japan.
Performed by Musical Company OzMate, an all-female theatrical troupe from Takarazuka (a city that actually specializes in all-female theatre), The Legend of Oni is staged in a highly visual manner with elaborate costumes, colorful screens, and stylized movement accompanied by traditional Japanese drums and flutes played by members of the cast. The songs and dialogue are in Japanese (titles are provided on a screen house right) and everything, right down to the movement of the scenery, is performed with precision and skill.
The book, music, lyrics and staging are all by the enormously talented Naoko Tsujii, who has rehearsed her troupe very thoroughly. The production evokes traditional Japanese theatre forms, yet is as light and nimble as a contemporary musical. The acting is quite fine; Roko Hidayama is utterly convincing as the stern father Nagamichi, and Hiro Matsumoto creates a haunting figure in the character of Ebuki, Nagamichi's son who literally becomes Oni, a frightening ogre-like spirit who dwells in a bloody cave in the mountains and occasionally descends to punish mortal wrongdoers. Saki is quite moving as Ebuki's strong-hearted sister Toki, who realizes that her father himself, in his own way, has also become Oni.
The rest of the cast is terrific, right down to the smaller roles. The English titles are a bit muddled at times, but it is not difficult to keep track of the plot, which is often reminiscent of Greek tragedy. The play's themes are common to traditional Japanese storytelling, the impermanence of things as well as the ongoing tragedy of human-caused conflict and the inevitable anguish it brings about. But the color, exuberance and music make The Legend of Oni a delight. Far from depressing, it is a production full of warmth and magic.