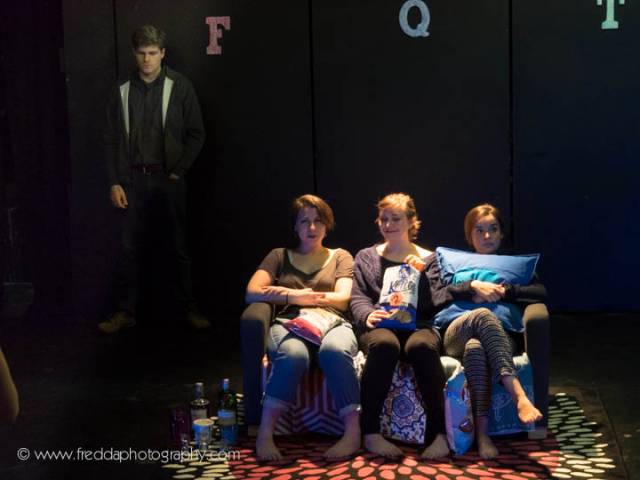 The Elephant in the Room begins with a distinct atmosphere of menace, and at first I could not put my finger on what was causing it. Three young women: roommates Felicia, Quinn and Talia, squeezed tightly together on a small couch, address the audience and introduce themselves. Their behavior is odd, are they nervous? Excited? Or just plain disturbed? Felicia, played by Leila Teitelman, likes whiskey. Quinn, played by Emily Altschul, likes sex and pills. And Talia, the "talkative one", played by Samantha Walsh, is actually mute and habitually tips the small glass she is holding on its side only to have it immediately righted by Quinn as if this is to be expected. This slight quirk is amusing at first, but as it is repeated again and again it becomes increasingly unsettling. And there is the young man in the back of the room, a tall blond fellow played by Nate Houran, who repeatedly announces that he is "The Elephant in the Room". Do the others know he is there? What makes him so creepy? He sure looks clean cut and unthreatening. Why is he the Elephant in the Room? As the introductions awkwardly continue, it is obvious that something is very, very wrong. But what?
The Elephant in the Room, presented by Graydon Gund Productions and FringeNYC, is a play about rape. And yet, the idiosyncratic, unabashedly theatrical script has no intention of presenting things directly. Playwright Anna Fox obviously wants the audience to wonder what the hell is going on here. There are unavoidable questions. Is this play about what I think it is about? Is it a comedy? Is this going where I think it is going? Am I seeing the past or the present? These questions, and the ability Fox has to generate them in the minds of the audience provide an experience that is very rare in contemporary plays. So many new plays being staged today are too direct, too obvious and too much like television. Not The Elephant in the Room. The audience is kept intrigued and even puzzled until long after the play is over. I, for one, still haven't sorted it all out. And the director, Molly Clifford, stages it so expertly that I could not tell where the playwright's work left off and the director's work began. It is a very focused piece, detailed but without empty gestures.
The three young women could be three separate characters or three components of one person. Each one has a distinct storyline but they could be three stories within one person's experience. Or the experiences of a thousand women.
There are moments that are light and amusing, and others that are like pinpricks that sting for a while. One of the most memorable is what happens after a kiss between Peter (the Elephant, at times, has a name) and Quinn. After their faces part there is a single, straight drop of blood running down the very center of Quinn's chin, bifurcating it with a thin red line. Emily Altschul actually looks for a moment like this was not supposed to happen. It is quite startling. And perfectly done; more blood would have diminished the effect.
What does this play ultimately say about rape? Most importantly, that it happens. The Elephant in the Room is no preachy, message play that sets its theme before its audience with a dull thud. Its contents are delivered in an indirect way that is nevertheless as precise as a scalpel.
The Elephant in the Room continues its run at the New York International Fringe Festival through August 24. For more on FringeNYC shows, click here.