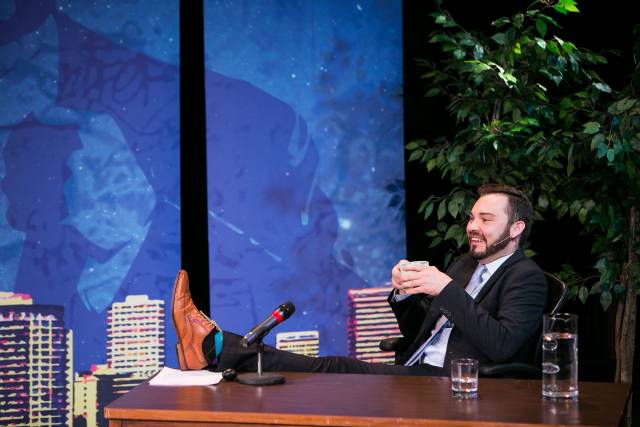 Patrick Burns is a raconteur to be reckoned with. His autobiographical cabaret, From Foster Care to Fabulous, playing at the New York International Fringe Festival's lounge-y Venue #5 (a basement bar and concert space called Drom), details his travails ping-ponging from one home to another around the Bay Area through his mid-to-late adolescence. A showman, Burns uses the talk show model, but for one night only--or at least until closing on the 25th--he puts himself in the guest chair.
Mr. Burns and his brother were born in Oakland to drug-addicted parents and by the time Patrick was a freshman he was surrendered to the foster care system. I know, it sounds like a hanky-wringer, but Burns isn't out for sympathy. In fact, there's a great amount of glee in his picaresque gaming of the oftentimes indifferent system, and when broaching darker material like the gay-bashing at the hands of Patrick's foster siblings, the show never delves deep into self-pity, nor does it read as too saintly of a bootstraps narrative.
Backed by a rock-solid band, Burns' hosting style is more classic Merv Griffin than Conan, as he croons original songs (from Latin lullabies to Tin Pan Alley ballads of resolve to a Funk vamp and Jamba Juice ballet). This is not to call him a mimic as he is very uniquely, and archly himself, even when rendering bit and major players like a scatting jazz singer mentor who willed herself to lose three-hundred pounds, a kinky-haired cow murderess foster mom and three potential caretakers presented in Dating Game-style.
The evening, briskly directed by Richard Israel with music direction from Graham Sobelman, is dynamic and rich in incident and though it's a bit flabby with false-endings, Burns' charm and steady storytelling make the work near-ready for prime time -- even if its format is late night.