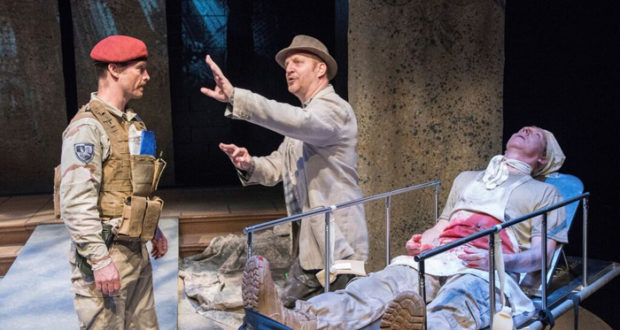 In Pity in History, Howard Barker posits that history is a continual work-in-progress. A political satire with the feel of a parable, the play documents the travails of Gaukroger, an English mason in a time of Civil War. Under normal circumstances, the war would be a windfall for the stone-cutting profession, but as we soon learn, the nature of the Cromwellite rebellion and the movement's rejection of idols extends to monuments for the dead. Even if history, as Barker presents it, works in cycles of destruction and rebuilding, Gaukroger has some poor timing--maybe there's the pity.
This world premiere production, directed by Potomac Theatre Project (PTP/NYC) co-Artistic Director, Richard Romagnoli, transplants the text, originally produced as a 1985 BBC teleplay, into a modern-feeling ethos. Gaukroger (an affecting and funny turn by Steven Dykes), his apprentice, Pool (the excellent Matt Ball), and a unit of soldiers that take up residence in a cathedral play in Mark Evancho's set, decked out with contemporary metal furniture, canvas drop-cloth and patina-colored banners that, lit by Hallie Zieselman, reveal the outline of an apse. PTP/NYC's cast of Middlebury College students and New York pros are dressed for the 20th century by costumer Danielle Nieves with some hints of old heraldy over the usual kevlar. Barker, like Brecht before him, often shifts his settings to a distant past to obscure modern analogues and invite more universal resonances. The resonances here are sprawling and work as well for the Thatcherite regime originally in its crosshairs as it does for today's zealous administrations both in Barker's native England and in the States.
There's a spot of hope in the proceedings through a lot of levity--much if it coming from a mortally-wounded chef, Murgatroyd (a standout performance by Jonathan Tindle), who can't seem to die for too much love of life--even when the play gets heavy as the "God on our side" chanting soldiers hack away at Gaukroger's "idolatrous" work with sledgehammers, accompanied by footage of past armies doing similar demo work. As Gaukroger tells the young Pool, "because we work in stone we think all things last like granite, like monarchy, like peace, like marriages. But no. One clean blow of the mallet and the air is full of fragments." A welcome message for today. Nothing's set in stone. We have lived this moment before, and it too shall pass.